Fram Lodge Cemetery Plot

Ocean View Cemetery, Eureka, California
How many Sons of Norway Lodges have their own burial plot?
We believe not many, if any.
Early in our Lodge's history there was concern about single Norwegian men who had no biological family in the area. If such a single person were to die, where would he be buried? With the philosophy of "taking care of their own," the Lodge purchased a cemetery plot in the Ocean View Cemetery south of Eureka. Shortly after this plot was purchased, charter member and founder, Hans T. Trollnes,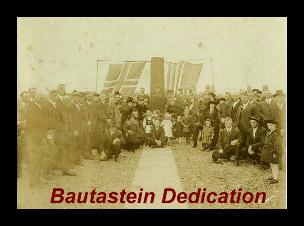 traveled to Norway and acquired a black granite monument (bautastein) to be placed on this hill overlooking Humboldt Bay. The first person buried in this plot died in 1912. Though the years, over two dozen individuals have been laid to rest at this site. This is an active plot with more places for future Lodge members.
CLICK HERE for a Google Map Satellite snapshot showing the plot's location in the cemetery, or paste in these coordinates in to Google Maps: 40.772280, -124.188190
We are in the process of providing more history on this cemetery plot and those buried there.
Here are a few photos of this special and lovely site:
Thebautastein is nicely faced and engraved on the side facing the Lodge's plot to its south.

The monument holds a commanding position over the low lying grave markers.

Humboldt Bay and the Samoa Peninsula can be seen in the distance in far right photo.

EXAMPLES OF EARLY GRAVE MARKERS

Nils Martensen

1891-1912

Haakon Thommassen

1896-1919

Jens C. Olsen

1879-1925

C. Emil Iversen

1895-1933
A MORE RECENT MARKERS
See Memorial Day 2015 Photo Album
Those resting in the Lodge's plot in order of death year:
Click on name below for photo of grave marker + individual information.
order north to south

Birth

Death

EAST SIDE:

1
Nils Martensen

1891

1912

2

1896

1919

3

187

9

1925

4

1889

1932

5

1895

1933

6

1877

1935

7

1891

1936

8

1889

1937

9

1906

1937

10

1862

1941

11

1882

1949

12

1881

1950

13

1893

1953

WEST SIDE:

1

1873

1956

2

1881

1956

9

1884

1957

3

1873

1959

4

1882

1960

5

1882

1962

6

1898

1963

7

1886

198

4

8
Torrey M. Larsen

1906

1984

10

1920

1996

13

1931

2002

11

1936

2003

12
Fred W. Elliott
1936

2003

7a
Doris M. Gildesgaard
1928
2014
* US Military Veteran