"There are more things in heaven and earth, Horatio, than are dreamt of in our philosophy.."
William Shakespeare in Hamlet
---
FOR INFORMATION ABOUT THE FMF JAPAN TRIP, Learning in Japan,

CLICK HERE
FOR OUR YEAR 2000 NORWAY TRIP
CLICK HERE & OTHER TRAVEL CLICK HERE
***
Southern Trinity High School, Mad River, California, USA
| | |
| --- | --- |
| | Mrs. Wheeler's Web Site |
Junior Class puts on Play May 2003 Cast Party photos
NEW - Campus photos
---
The purpose of this site is to provide students, parents, and friends with information that might be interesting and/or useful in understanding what happens in my classes at Southern Trinity High School which is part of Trinity County Schools in Trinity County, California.
For more information about our Southern Trinity community, check out the Ruth Lake Community Services District page.

---
TABLE OF CONTENTS
---

For comments or questions contact: Peggy Wheeler
---
Arts and Cultures
Speech and Drama
English III
English IV
Senior Project
Senior Projects 2000 archive [lost in the transfer from the Southern Trinity School's web site]

---
Links for sites of interest to parents about schools
Partnership for family involvement in education
The Alliance for Parental Involvement in Education
Reading Improvement -- suggested programs to help your kids
Publications for parents -- several categories of help sources
The Teaching of Reading -- site is designed for teachers, but parents can learn as well
Educational CyberPlayground -- a fun "learner" friendly (new to computers) environment for families
California Department of Education -- how to read your student's STAR test results
2001 Colleges, College Scholarships, and Financial Aid page -- Designed to offer college bound students, parents, and counselors easy access to information on: colleges and universities throughout the United States, free college scholarship and financial aid searches, SAT and ACT test preparation tips, and more.
See also: Counselor's Corner on the ST Home page
Single Parenting Network You're not alone
Parent's Guide to helping your kid in school
BACK TO TABLE OF CONTENTS

---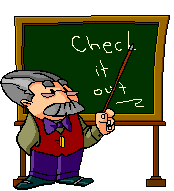 Search Engines
Learn the basics of search engines; what they are, how they operate, whom they serve. Also, you will find tips and reports of numerous search engines' performance and competence.
Google.com - a really good search engine
Metacrawler - a dependable search engine
Dogpile.com - you'll like this one too
If you need help composing an effective search strategy, or are having trouble finding good information try the following:
Search Strategies
English related (writing and inspiration)
Homework help - Study skills
Poem of the Day
Favorite Poem Project a site by former U.S. Poet Laureate, Robert Pinsky
Poetry 180 regarding newly appointed (2001) Poet Laureate, Billy Collins
Bibliography assistance - reference citation
Grammar Help - Big Dog's Grammar Page
More Grammar Help
The lives of and links to: FAMOUS AUTHORS
Shakespeare's Globe theatre
2,000 articles, files, poetry, fiction and assorted other published writings
Do-it-yourself grammar lessons
Research MLA
Recommended reading lists
General Interest
Young Adult titles for recreational reading
More Young Adult titles
The English Teacher's Reading List
The Arts and Cultures
Famous Art Works and links
Artswire lots of great art links
Museums of the World
Mythology - everything you always wanted to know
Music - old songs from 50's,60's and 70's on RealAudio
BACK TO TABLE OF CONTENTS

---
My personal philosophy of teaching and learning
---


Archives (work done by previous students and classes)

Senior Projects 1999
The Cannery Row Project by English III students in 1999
Academic Challenge Team 1998-99
Senior Trip to Catalina Class of 1998
BACK TO TABLE OF CONTENTS

---

My grading policy
---

Personal stuff
My Hobbies: Gardening
Textile art
Reading
Traveling:
CANADA -- Summer 1990
MEXICO -- Easter 1995
We were visiting our Project Amigo Friends, Ted y Susan
THAILAND July 1998
temple ruins
river through Bangkok
steps of a wat
IOWA -- summer 1999: Norwegian-American Bygdelag Centennial, Decorah, Iowa, &
Family ancestry research in Pottawattamie County, Iowa
(Find out more about this by going to the Bygdelag Home Page or "What is a Bygdelag?")
(And here is the site for our "lag" -- Rogalandslag.)
Photo of Rogalandslag banner.
Photo of Wheeler Grove Cemetery
IDAHO -- Christmas 1998 family photo
JAPAN -- Nov. 1999
NORWAY Trip, summer 2000 -- more than you'll ever want to know -- many photos & pages of travelogue.
OREGON COAST, August 2001
My cats: Willa CATher and Kate Choppin'
Family: Husband's genealogy projects (genealogy website)
Husband's car hobby (Sunbeam Alpines)
Tomo Restaurant (son Richard)
Cafe Tomo
Kent's Quality Gardening (photo of son Kent)
K. Patrick Wheeler (son Kirk's consulting business - web site currently off line)
"Alpineing in San Francisco" - comments on the joy of driving an Alpine
His Sunbeam Alpine
Photo outside his home
Cheryl's cat shelter project at "All Cheryl's Cats" page
BACK TO TABLE OF CONTENTS

Visit our WheelerFolk.org family home page.
---

This page created with NetscapeŽ Communicator 4.51

---
This page undergoes revisions so check back for updates. It was last updated on June 17, 2003
Please let me know of any links that need further updating.
.
Visitor
since 12/02
when this site was moved from Southern Trinity's web site