IT HAPPENED !!
Saturday, May 15, 2004
An early Syttende Mai (Norway Constitution Day) celebration!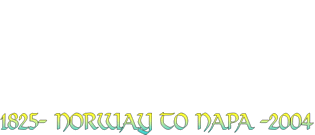 Many honored those Norwegian Slooper Pioneers
who settled farther west than any other Sloopers.
.
THE GATHERING:
11:30 AM - Fairview Park just south of Tulocay Cemetery east of downtown Napa (see map - NEW DETAILED MAP). Hundreds met our Norwegian & other special GUESTS.

1:00 PM - Norwegian dancing by members of the Bay Area's Nordahl Grieg Leikarring dance troupe - opportunity to join in & learn! The popular Hanne Krogh sang! Many spectacular Norwegian bunader & other ethnic/period dress were worn! (See photos!)
THE PROCESSION:
2:10-2:20 pm - We had a great procession behind the dancers. Sons of Norway lodges marched as groups with their flags, banners, regalia and Norsk dress. Other groups and individuals joined in. --- Pioneer or folk costume was seen. Cemetery docent Nancy Brennan was procession route guide pointing out other prominent figures buried at Tulocay. (See photos!)
THE DEDICATION:
3:00 Procession arrived at the Tulocay Cemetery gravesite of Jacob and Serena Anderson for a formal ceremony of dedication. The monument was unveiled, proclamations were declared by dignitaries and brief speeches were made by officials from both countries; the site was officially dedicated. More songs by Hanne Krogh + other Norwegian visitors! See planned program. (See: Dedication & Unveiling.)
THE BANQUET:
About 140 attended a fun and comfortable evening event at the Napa Elks Lodge, 2840 Soscol Ave (north of town - see map).

Bob Sather's 100 & 150 year Norwegian Immigration Commemorative Memorabilia Collection was on display -

Wheeler's Rogaland book collection & Viking auction items were also on display.
5:00 -- social hour; soft drinks; no-host bar (Viking auction viewing/selections - special displays, including Sather Collection, Tysvær bygdebøker & other relevant Norwegian books)

6:00 -- banquet * (Menu link)

7:00 -- Program:

Welcoming messages, Viking auction & drawing for "Artist's Study" (won by Floyd Stone of Napa) , Napa Major Ed Henderson read "Proclamation" declaring May 15th, 2004, "Norwegian Heritage Day."

8:00 -- Hanne Krogh Concert! (Starting with exclusive Norwegian video footage dramatizing the Sloopers leaving Tysvær and rowing to Stavanger to emigrate!)
MUCH GRATITUDE: We have been fortunate to receive a most welcome grant of $600 from the Sons of Norway Heritage Foundation. For this, we are very grateful. The Royal Norwegian Consulate General of San Francisco graciously provided funding to facilitate the attendance of singer Hanne Krogh & an additional $500 donation to the project. This project could not have been completed without the practical help and the significant financial underwriting of handling the stone by Turlock Marble & Granite Works and artist Ira Kessey. Many northern California Sons of Norway lodges have provided various forms of support and encouragement. Many Slooper family members, friends and interested individuals provided valuable assistance as well as financial donations.
Thank you for your interest & assistance.
Intro-Index Background The Sloop The Project Time Line Maps Photos Slooper Links
visitors since 21 Feb. 2004