Long interested in Norwegian-American immigration history, we (Peg & Keith Wheeler) have developed a close friendship with Einar and Rotraud Slogvik, the family currently owning and living on the ancestral farm from which Jakob Slogvik emigrated on the Sloop in 1825. As we explored the Norwegian connection to this history, we learned that many individuals and history groups there are also quite interested in Slooper history. Emigration from Norway to the US is an important part of Norway's history. It was from this Tysvær part of southwestern Norway that many key players in early emigration history came. Jakob and his wife Serena were the "Sloopers" who settled farther west than any of the others aboard that historic ship, yet there was nothing in California to tell this story. We toyed with ideas of ways we might honor this pioneer from Tysvær and his wife Serena. We felt recognition was needed about the role these pioneers had in the history of both Norway and the United States, as well as California.
On a Christmas visit in 2001, the idea first arose as to how we could appropriately honor this part of the history we shared. It was Einar who suggested the placing of a bautastein (monument stone) at the site of Jakob's grave in California. Placing such an historical marker is not an uncommon practice in Norway having roots back to Viking times. Of course the stone would come from Tysvær. Einar and Rotraud then enlisted the support of local groups, Tysvær Kommune (municipality) and Tysvær Historielag (historical society). We had early indications that such a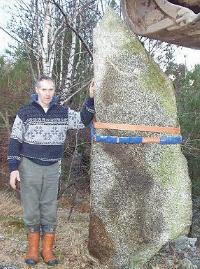 stone might be donated by the municipality from where many of the Sloopers came, Tysvær, but we worried that shipping costs from Norway to the San Francisco Bay area in California would be prohibitive. Ultimately, by February 2003, a perfect stone was found on the very farm not far from where Jacob's home was situated. With the help of our internet friend, Knut Hildal from Odda, NRK TV (Norwegian national TV) got wind of it and came to interview Keith and Einar with the stone (see photo album). Eventually, Einar located a shipping company that was more reasonably priced than expected. He crated it up and shipped it off on midsummer's day 2003.
The stone was sent from Norway in 2003. It arrived in Oakland, cleared customs, and was processed by Turlock Marble and Granite Company owned by a Norwegian-American family in the San Joaquin Valley of California. Stone sculptor Ira Kessey carved a beautiful image of the sloop on one side to which was added some wording that explains the significance of the tribute. For placement on the other side, a plaque was sent from the Tysvær kommune describing the historical connection of that region of Norway to US immigration. The stone was on display at the San Francisco Norway Day Festival held at Crissy Field on May 8th and 9th, 2004. The stone was then transported to Napa the following week for installation at the Slooper grave site.

Over twenty-five friends and family came from Norway to be part of the dedication ceremony on Saturday, May 15, 2004, at the Napa Tulocay Cemetery. Numerous local folks, dignitaries and groups also attended. It was a fun and happy occasion and we extend a very hearty "THANK YOU" & "TUSEN TAKK" to all who helped and supported this project. Check the "We Did It!" page for the latest information.
There has been an incredible amount of interest and support from the various Sons of Norway lodges, Slooper descendants, historical associations and just interested people. Review the progress of this project up to the dedication on the "Updates" page.