INSTALLMENT #5
[Day 9 - Sunday, July 2, 2000]
Peg & Keith Wheeler's Norway trip report, Summer 2000
<![if !supportEmptyParas]> <![endif]>
See Photo Album #11
<![if !supportEmptyParas]> <![endif]>
Haugesund, Karmøy, Slogvik Farm Greeting, Aksdal/Tysvær Emigration Festival Concert - a very special day.
<![if !supportEmptyParas]> <![endif]>
We were up early with Keith taking pictures of old boats from our hotel balcony.  Soon it was time for a pleasant breakfast in the hotel dining room where we noticed a lack of American tourists and English sub titles to the labels on some of the food and drinks.  The goat cheese needed no label in any language.  It had become our favorite much to the surprise of Norwegians.   Keith's fruit juice from the dispenser turned out to be grape rather than grapefruit (his language problem, not a labeling mistake).  Peg's waffles stuck to the griddle, but that wasn't the fault of translation.  We are learning.
<![if !supportEmptyParas]> <![endif]>
Einar picked us up to take us to the "Heather Nursery"  (not to be confused with an old folks home, but that is another story).  This would take us over the Karmsund bridge [ http://www.haugalandet.net/hgclkbro.jpg
] to the large island (and kommune) of Karmøy.  On the northern end of Karmøy, Einar first took us by the home of Kjell Ebne and his wife Sigrun (from Høydal near Flåm) who are serious gardeners.  Kjell used to teach but has become a full-time gardener, nurseryman and plant seller. Sigrun still teaches.  Their garden of herbs and flowers was a work of art.  It was great fun to walk along and compare the names of the plants.  Always the botanical names would help if we could but remember them.  This delightful couple accompanied us to the heather place (lyngsenter).
<![if !supportEmptyParas]> <![endif]>
No one could quite believe that Peg was so interested in heather ("lyng" in Norwegian) - it gave many a farmer a good laugh.  It grows everyplace in the countryside there and is considered almost a nuisance.   Keith enjoys saying it is like someone coming to northern California from Norway and being interested in getting a start of star thistle.  However, there is a preservation society for heather in Norway -- I doubt there is such an organization in California for thistle.  The Heather Center was on the north west part of the island of Karmøy.  This is facing the North Sea and is south of Haugesund.  They had an interpretive center that explained the uses of lyng, propagated several varieties, and sold numerous products such as soap, honey, t-shirts and a surprising "gem stone" of heather twigs that have been subjected to great pressure, polished and set into findings of pewter.  Peg bought a necklace for herself and wishes she had bought several for friends and family.  It was quite unique.  The principle message of the lyngsenter was to try to re-establish sheep grazing on the heather since without it, the heather doesn't do as well.  Now, there's a different take: someone actually WANTS sheep to graze something. 
<![if !supportEmptyParas]> <![endif]>
Right next to the heather place was the old copper mine and mining museum.  The old Visnes copper mine was closed down in 1972, but its claim to fame was being the source of the green copper skin of the Statue of Liberty.  We were short of time so we didn't visit the museum and only walked by some of the old equipment and water filled pits.  It was now time to go to have lunch with the Slogviks before the afternoon concert.
<![if !supportEmptyParas]> <![endif]>
What happened next is probably the single most touching event of the whole trip for Keith.  It takes some special introduction and we're not quite sure how to do that.  You have to realize that up until now, we had no idea of what lengths people would be going to in our honor and to make us feel welcome and special.  We knew they were friendly and helpful, but what happened next brought tears to our eyes.  Really!  We were driving down the road from Aksdal and Keith was thinking, "This is the country my ancestors knew so well."  We turned from the paved road down the lane toward the Slogvik farm house.  Einar brought the car to a halt beside "two women" all dressed in long skirts and hand knitted shawls and raking the grass by hand with wooden pegged rakes.  Einar asked them in a loud voice:  "Is Jacob (pronounced "Yak obb") here?" 
            "Nei, he is gone to Stavanger with his brother, Knut, to see about emigrating to the United States,"  says she.  "He has left his animals … (here she enumerates the kind and number having done her research in the local history books)."
            Rotraud and Sonja, her daughter, were role playing Slogvik family womenfolk who had stayed behind when Jacob went off at 18 to join the Quakers on their voyage to "Amerika."  It was all wonderful fun.  Keith got out of the car, quite beside himself, and greeted them.  For once, he was speechless and brushing away tears.  What a thoughtful and touching way to begin our stay at Slogvik.  We walked the rest of the short distance down to the house, all the while soaking up the view that we had only been imaging for years.  We learned later that this had been Einar's idea. 
<![if !supportEmptyParas]> <![endif]>
      <![if !vml]>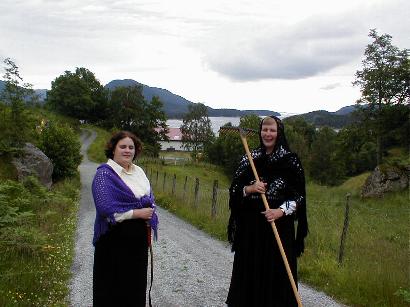 <![endif]>  < A Slogvik greeting.
<![if !supportEmptyParas]> <![endif]>
                                                <![if !vml]>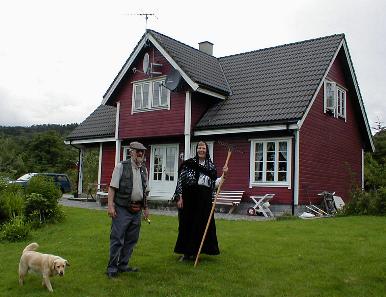 <![endif]>
< In front of the Slogvik home - PC, Keith & Rotraud with wooden rake made the old way by Einar's father Edvard.  Sadly Edvard had passed away just a couple of months before our arrival. >
<![if !supportEmptyParas]> <![endif]>
Rotraud had prepared a wonderful meal of organic ox from their farm.  This gave us the chance to sit down together and meet the family, which also included daughter Ellen, son Terje, and PC (short for Pelle Cæsar), the family canine (we would meet Ellen & Terje later). 
<![if !supportEmptyParas]> <![endif]>
It was a pretty tight schedule as we were expected at the concert in Aksdal before long.  We were to meet a fourth cousin there, Ingrid Austerheim, whom Rotraud had contacted for us.   We didn't realize it, but we were also to be guests of the Tysvær Kommune's Mayor, Reidar Pedersen, his wife, and the Cultural Officer, Ingvar Frøyland, for coffee with Ingrid and the Slogviks before the concert.  This would all take place at the attractive and modern Tysvær Cultural Center.  We also didn't realize that we should have dressed a little less casually. This wasn't an outside concert (don't know where we got that idea) and what was suitable for traipsing around the heather nursery wasn't for the evening concert in the beautiful new community concert hall.  This was a major faux pas but there was nothing for it but to act like Californians, Peg in slacks and Keith in a short sleeved sports shirt and vest of 100 pockets.  It was not too noticeable until during the program when we were announced as Sloopers and asked to stand and be introduced by the star of the program.   (For photos of Aksdal, see: http://home.online.no/~eihustve/ht9810ad.htm  )
<![if !supportEmptyParas]> <![endif]>
It was a great international concert.  The sweetheart of Norway, singer Hanne Krogh, was a very popular feature and MC.  Representing the U.S. were Tom Russell and his partner, Andrew Hardin.   Mick O'Brian from Ireland played the uilleann pipes (a type of bagpipe that is pumped by the elbow rather than blown - see:
http://www.aniar.com/pipes.html   
for more information on this unusual instrument) and an Irish flute.  An apparently popular Haugesund rock (?) group named Vamp helped fill out the program.  Many of the pieces were in Norwegian, but a few were in English (for our benefit we later learned). 
<![if !supportEmptyParas]> <![endif]>
                     <![if !vml]>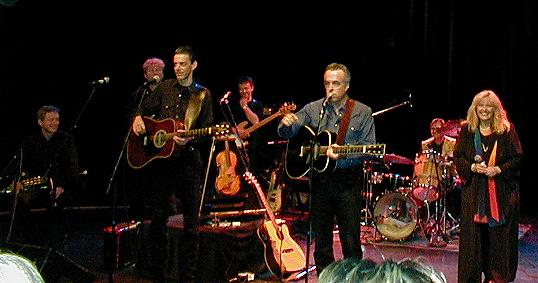 <![endif]>
< Stars of the concert - left to right: Mick O'Brian (seated), Andrew Hardin, Tom Russell & Hanne Krogh.  Members of Haugesund group in background. >
<![if !supportEmptyParas]> <![endif]>
Peg was especially interested in Tom  Russell, an American singer/song writer who appeared with his "long legged side kick" and guitar virtuoso Andrew Hardin, as she had used some of Russell's work in her classes.  His songs from his album "A Man From God Knows Where" are a lot about the immigration period of American history and are powerful stories about the people who struggled and made the sacrifices to build a new life in a new land.  She took advantage of the chance to meet him after the concert as he was autographing CD's and to tell him about how she used his works.  He may have been a little taken aback.  Maybe it's not a particular complement to hear some old gray-haired English teacher in California uses your songs in her high school classes. Not that he was impolite in any way, quite the contrary; it was probably just an odd response from a fan. 
<![if !supportEmptyParas]> <![endif]>
Keith missed out on meeting the "real" celebrities because he was at that moment being interviewed by the local press (Tysvær Bygdebad) correspondent, Martin Eike, a young man all of 16 who was extremely astute, articulate and asked a number of quite relevant questions.  He was clear that he planned a career for himself that involved journalism and that he had an excellent handle on it already.  After this young man took photos of Einar and Keith outside of the Tysvær Cultural Center it was time to leave.  (See our Newspaper Articles pages for the resulting article.)
<![if !supportEmptyParas]> <![endif]>
Rotraud and Ingrid had returned early to prepare supper, and Einar was again acting as our chauffeur to bring us back to the Slogvik farm.  As we entered their home cousin Ingrid was at the piano playing God Bless America.  Rotraud had prepared a wonderful smorgasbord spread for our evening meal.  Einar showed us some of the work he had done on tracing the descendants of Jacob's sister.  Too soon it was late and time for us to return to our hotel in Haugesund.
<![if !supportEmptyParas]> <![endif]>
What a wonderful and eventful day!  But at this late hour it wasn't over yet.  Terje was appointed to drive us back to the hotel.  This young man, on vacation from college in Kongsberg near Oslo, spoke English very well, as did most young people we met.  Having gone to school in rural Tysvær as well as spending time in larger towns and cities, he seemed very knowledgeable about the activities of his age group.  Keith, because of his past professional interests, questioned Terje regarding drug/alcohol issues in Norway.  Yes, there is a growing problem, especially in the larger cities and it is spreading out to the smaller areas.  And it seems that the treatment programs for drug addition were not greatly successful in Terje's opinion.  While this was all very interesting to Keith, of even greater interest and importance was the form of communication that was going on.  Keith was fascinated with what Terje was saying and fell quiet to listen and to encourage Terje to continue on.  Terje, after a while stopped his explanations and mentioned that we were probably not very interested in what he had to say.  When Keith went up to the hotel room to get some bags we were going to store at Slogvik for a week, Peg explained to Terje that Keith was VERY interested in what he had to say.   Terje explained to Peg that Keith's quietness tended to be taken as disinterest.  Terje was able to help us understand one important difference between the ways many Norwegians and Americans communicate.  Where we often do not speak when another is talking, maybe giving only nods or "um-hums," Norwegian conversations tend to be more active with the listening person interjecting often with "ya" or "ya, ya, ya" during slight pauses in the other's speech.  What a valuable and interesting lesson!  Thank you Terje.
<![if !supportEmptyParas]> <![endif]>
Back at our lovely hotel room at the Rica Maritim Haugesund with its nautical décor, Peg and Keith were exhausted but basked in the flood of memories this day had given them.  Yet another spectacular day in Norway.
<![if !supportEmptyParas]> <![endif]>
NOTE:  If you have any interest in the city of Haugesund or this particular area of south west Norway, we highly recommend the "haugalandet.net" web site for a huge number of outstanding photographs depicting this scenic area and the events and everyday life that take place there.  We heartily thank web master Eirik Hustvedt for his excellent artistic and professional work in providing this, our most favorite, Norway site.
<![if !supportEmptyParas]> <![endif]>
See Photo Album #11
<![if !supportEmptyParas]> <![endif]>