INSTALLMENT #6
[Day 10 - Monday, July 3, 2000]
Peg & Keith Wheeler's Norway trip report, Summer 2000
<![if !supportEmptyParas]> <![endif]>
See Photo Albums #12, #13, #14
<![if !supportEmptyParas]> <![endif]>
Haugesund & Stavanger - Walk around Haugesund & to Haraldshaugen, Express Boat to Stavanger (& Concert Stars), Drive to Seldal & Maudal with Cousin.
<![if !supportEmptyParas]> <![endif]>
Relishing a chance to sleep late and luxuriating in what we later voted as our favorite hotel of the whole trip, we enjoyed a leisurely breakfast and walk around the facilities of the Rica Maritim Haugesund.  Reluctantly, we packed and checked out, stowed our bags at the ferry terminal for later retrieval, and struck off for a walk around the town.  We had already decided we liked this size of town and the pace of fewer tourists, so we wanted to see what other benefits Haugesund had to offer.  We were discovering it was always beneficial to stop at tourist centers for information -- that must be their reason for existence.  Browsing the pamphlets, we decided a good walk was what we wanted and proceeded to get directions and a map (always a map) to a National Monument, Haraldshaugen.  The monument was about a mile north of the town center, so we took a slightly circuitous route through an extra street or two of the town center and noticed a good selection of shops.
<![if !supportEmptyParas]> <![endif]>
We then walked through some residential parts of town.   It was a fine, sunny morning as we chanced first upon Krosshaugen, an ancient stone cross from the early Christian days of Norway in about the year 1000.  It was atop a grassy mound and provided a classic view of the neighboring farms at the edge of town, and in the near distance, the National Monument, Haraldshaugen.  This is reputed to be the burial place of the 8th century Viking King Harald the Fairhaired who united much of Norway and died of the plague near here.  It was a nice monument with representative stone pillars from each of the 29 Norwegian counties to symbolize unity. [ http://www.fjordway.com/ht991026.htm  & http://www.fjordway.com/hhautonj.jpg ]
<![if !supportEmptyParas]> <![endif]>
<![if !vml]>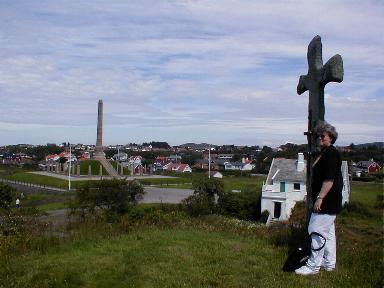 <![endif]>
< Peg at the old rugged stone cross with the Harald's monument in the background. >
Walking back through town and noticing the sign that said the  Museum was open this day, we detoured, crossed the bridge to Hasseløy and followed signs.  We came upon the Dokken Museum and were greeted by a terrific, well-spoken young lady who was skilled in English and proceeded to give us a personal tour of the grounds of this traditional fishing village.  The boat house was recently built to house several boats in various stages of restoration.  The fish salting and barreling works were explained and we saw authentically furnished rooms of the family's residence and a pilot's house.  Unfortunately, our express boat to Stavanger was due to leave shortly, so we had to leave a little early.  
<![if !supportEmptyParas]> <![endif]>
We found we were a little reluctant to leave this pleasant town.  At this point we felt that if there were a town in Norway where we would want to live, it would be Haugesund.  We still highly recommend that you check out one of our favorite Norwegian web sites: "haugalandet.net" with many great pictures of this town and area.  It can be found at:
<![if !supportEmptyParas]> <![endif]>
Keith's too often told "celebrity story."   As we were boarding the 3:20 Flaggruten express boat to Stavanger (<a "must see" on-line photo of this boat at the Haugesund ferry terminal), we noticed directly behind us were the entertainers of the evening before: Tom Russell, Mick O'Brian, and Andrew Hardin.  We greeted one another and laughed at the coincidence.  While Peg visited with Tom Russell for a bit inside, but was too shy not to grant him his privacy, Keith bent the ear of Mick O'Brian outside on deck.  Keith made it a point to ask Mick O'Brian if he always tuned up his pipes in the lavatory.  It turns out, our son, Kent, at an Irish music festival in Seattle a few short months previously, had encountered Mick O'Brian in just this manner.  Thinking he was all alone in the john, Kent was alarmed to suddenly hear pipe music emanating from the stall nearby.  When Keith reminded Mick of this, he remembered the incident and commented that he "hasn't been arrested yet."   Mick was enjoying the ferry ride and the magnificent views, as was Keith, as we sailed close by the many rocky islands.  Mick commented that this type of seascape reminded him of western Ireland.  Keith also found that Mick saw himself less as a performer and more the high school teacher in a boys school that he also was.  It was enjoyable to get acquainted with this very friendly and talented person.  As we neared our destination of Stavanger we all went inside and when Peg found that Mick was also a high school teacher, she joked with him about getting her Southern Trinity girl students in e-mail contact with his 800 boys.
<![if !supportEmptyParas]> <![endif]>
As we were disembarking at Stavanger we realized that we had misplaced the map to our hotel.  We asked Tom, Andrew and Mick if they knew where the SAS Atlantic was and if they knew if it were within walking distance or if a cab would be required.  Being unfamiliar with Stavanger also, they indicated that they had no idea, but said that they would ask Hanne Krogh, the Norwegian singing star, who was at that moment coming to pick them up.  (She had driven from Haugesund with all the instruments so they would be free to enjoy the express boat cruise.)  Ms. Krogh, in her warm and charming way, greeted us like old friends and assured us that we would need a cab to get to our hotel.  Without blinking she hailed a cab for us!!  We and our luggage were quickly loaded into the cab.  The cab driver then turned to us with eyes as big as saucers and asked, "Was that Hanne Krogh?!"  When we assured him that his eyes were not playing tricks on him, he seemed honored to be hailed by her.  Of course, he was a great fan of hers - this made his day.  He also seemed impressed with us as we must be pretty important people to have our cab hailed by such a popular star.
<![if !supportEmptyParas]> <![endif]>
Wow, what a greeting to Stavanger, the city from which the Sloopers sailed 175 years ago! This made Keith's day also.  Of course Keith could not resist telling this great story over and over (and over) again during the rest of our trip.  Peg's reaction to these retellings soon went beyond a wifely cringe.  Okay, so Keith has not let this go too much to his head and he agreed not to expect Tina Turner to be waiting upon our return to the States to hail his cab.
<![if !supportEmptyParas]> <![endif]>
When we checked into our very nice hotel with a room overlooking the small lake, Peg noticed a tour bus pulling up in front below us.  It looked to her like American tourists were getting off.  Thinking it might be the Brekke Tour group with its bus carrying our large suitcase from Oslo, we ran down to check it out.  Sure enough, this was the bus.  We helped the tour director and bus driver unload all the luggage so that we could get our bag that was stored in the very back.  It, of course, was in good shape and the tour director assured us that it had had a wonderful tour.  Thank you Brekke.
<![if !supportEmptyParas]> <![endif]>
<![if !vml]>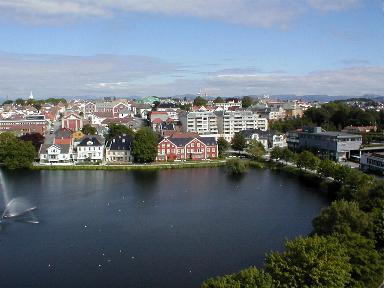 <![endif]> 
< View from our Stavanger hotel room with the "Gazellen" monument barely visible
to the right rear of the lake.    What is a Gazellen? - stay tuned. >
<![if !supportEmptyParas]> <![endif]>
Back in our hotel room we were greeted with several messages.  Two of these were from the Norwegian Emigration & Genealogy Center located in Stavanger and gave the schedule of planned activities for the next day's Emigration Festival celebration.  Keith had contacted them previously asking for information about this 175-year anniversary of the beginning of Norwegian emigration to America.   As a descendant of the Sloopers that left Stavanger 175 years ago, we were invited to be the Center's guests during the activities.  The Center's web site is at:
 http://www.emigrationcenter.com/
<![if !supportEmptyParas]> <![endif]>
Another message was a request for Keith to call Ernst Torkelson.  Keith had previously made e-mail contact with a few folks from the area and had hoped to meet them during his visit to Stavanger.  However the Torkelson name was a new one to him.  Placing the call, Ernst explained that his 3rd great grandmother, Ingeborg Seldal, was a sister to Keith's 3rd great grandmother, Siri Seldal (who also sailed on the sloop Restoration in 1825 and whose youngest daughter later married Jacob Slogvik).  This would make Ernst and Keith 5th or 6th cousins.  Apparently the Emigration Center had found this family relationship between Ernst and Keith and had already given some publicity to the planned meeting of these distant cousins; one who descended from the emigrant and one who descended from the sister that stayed behind.  This was all a confusing but pleasant surprise for us.  Ernst offered to drive us the next morning before the scheduled celebrations to the area where Ingeborg and Siri were born.  Keith and Ernst worked out the details for meeting.
<![if !supportEmptyParas]> <![endif]>
Since it was still daylight, we left the hotel to walk around a bit to get a feel of this city.  We walked around the lake, past the old, large Stavanger Cathedral and down along the waterfront.  In the older shopping district we found a pleasant restaurant where our young waitress had a southern twang to her English having been an exchange student in South Carolina recently.  Another long eventful day and we were tired, so back to the hotel we went.
<![if !supportEmptyParas]> <![endif]>
Day 11- Tuesday, July 4th - Emigration Festival Day
<![if !supportEmptyParas]> <![endif]>
Peg woke up this morning utterly exhausted.  She felt like she could just not get out of bed.  Keith too was very tired but he was energized by the anticipation of meeting a new cousin, seeing new country and participating in the day's activities.  Urging Peg on, they made it down to the hotel restaurant for another excellent Norwegian breakfast.  Here we happened across David Cross, his wife and daughter.  David, from Minnesota, is the genealogist and web master for Rogalandslag  ( http://www.rogalandslag.org ).  We had met him last summer at the Bygdelag celebration in Decorah, Iowa.  Keith had corresponded with David and had hoped to meet him in Stavanger on the 4th, but did not know that we would be staying in the same hotel.  We found that they too would be participating in the day's activities so we decided we would be able to visit more later.
<![if !supportEmptyParas]> <![endif]>
Ernst met us in the hotel lobby with his 79 year old Uncle Sverre.  With Peg in the back seat with the uncle that spoke no English, we were off on a whirlwind tour of the Sandnes and Gjesdal areas south east of Stavanger. The weather was a little overcast this morning, but would later clear up nicely.  Driving across beautiful countryside on back roads, we first came to the area of the original Seldal farm where our mutual 3rd great grandmothers were born and raised.  We then drove further south and came across another picturesque farm named Morka (or Mork) where some of Keith's ancestors lived in the 1600's and 1700's.  Further down a long valley and over a high mountain pass we came to the Maudal area where Ernst's 3rd great grandmother married and settled.  Here many subsequent generations were raised and current generations make regular pilgrimages back to visit the old family farm area. What beautiful country, or have we said that before...?
<![if !supportEmptyParas]> <![endif]>
It was in this area that we drove to the end of a road that is now blocked by an electrical power generating station.  Out in front, on display, was a large Pelton wheel brightly painted red.  This was a particularly interesting site for us as we are very familiar with this make of water turbine that was invented and developed in the Sierra Mountains of northern California.  Keith and Peg had used a small Pelton wheel to generate electricity at their Humboldt County mountain home.  Of course we all had to get out of the car and take photographs.
<![if !supportEmptyParas]> <![endif]>
<![if !vml]>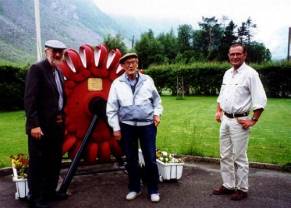 <![endif]>
< Keith, Uncle Sverre & Ernst in front of Pelton Wheel manufactured in San Francisco. >
<![if !supportEmptyParas]> <![endif]>
On the way back we stopped at several interesting places including a view spot overlooking Uncle Sverre's summer home near the south end of the Høgsfjord.  Despite his lack of English Peg made it clear to this elderly widower that she would be glad to come to live with him in this picturesque setting.  He indicated that he too was in favor of this arrangement.  However, time dictated that we must hurry back to Stavanger through more beautiful countryside.
<![if !supportEmptyParas]> <![endif]>
<![if !vml]>
<![endif]>
< Uncle Sverre's summer home. >
<![if !supportEmptyParas]> <![endif]>
See Photo Albums #12, #13, #14 for more photos from these days
<![if !supportEmptyParas]> <![endif]>
PREVIOUS REPORT              BACK TO TRAVEL REPORTS INDEX                NEXT REPORT
<![if !supportEmptyParas]> <![endif]>You are Visitor
since 12/1/01