INSTALLMENT #4
[Day 8 - Saturday, July 1, 2000]
Peg & Keith Wheeler's Norway trip report, Summer 2000
<![if !supportEmptyParas]> <![endif]>
See Photo Album #10 for photos related to this Installment.
<![if !supportEmptyParas]> <![endif]>
Bergen Fish Market setup & Art Galleries, bus to Haugesund, meeting the Slogviks
<![if !supportEmptyParas]> <![endif]>
Peg was up very early before breakfast and out in a light drizzle.  She has been interested in fish markets ever since her visit to the famous Tokyo fish market last year.  Her quest this morning was to see how the Bergen fish market is set up since they take it down and it totally disappears each day.  She figured they must have a system that was efficient and practical.  Also, where did the fresh fish come from?  She arrived as the street sweeper was sweeping up the litter from the night before.  There was a LOT of litter and garbage.  The first vehicle appeared pulling a string of carts and trailers and collapsed equipment such as sinks, cutting boards, etc., that had <![if !vml]>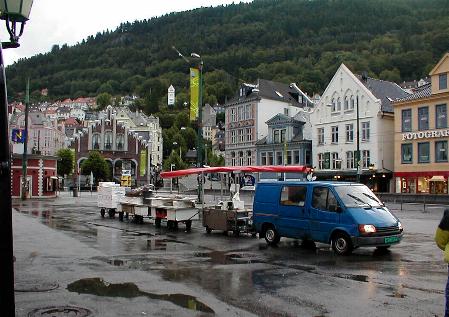 <![endif]>been stored in the gray nondescript buildings along the waterfront.  The farthest vendor pulled his string of carts into position first, and began unloading, unfolding, setting up his tables and unrolling awnings.  Soon other vendors in pairs or by themselves, arrived and began what was obviously a daily, routine process of arranging table tops, awnings and inventories of fish and fish products which were displayed on large counters of ice.  There seemed to be particular attention paid to the cleanliness issue as each spent considerable time hosing down and scrubbing all surfaces.  Hopefully a series of photos will be available on a web site in due course. 
<![if !supportEmptyParas]> <![endif]>
<  Bergen fish market begins setup
<![if !supportEmptyParas]> <![endif]>
<![if !supportEmptyParas]> <![endif]>
Peg returned to the hotel in time to join Keith for breakfast among numerous tourists, many of them Japanese.  This hotel supplied an additional Japanese breakfast corner and Peg enjoyed the nori and rice and a chance to say her all purpose "sumimasen" ("excuse me") to a nice lady she bumped into.   Memories of her FMF Japan tour flooded back. 
<![if !supportEmptyParas]> <![endif]>
During breakfast we overheard an interesting conversation among a group of Midwest farmers on tour.  We suspected their wives had taken them to the Grieg home the previous day.   The men were either bemoaning or bemused by the fact that so much attention was being paid to a music composer when it was the tunnel builders of the nation that deserved recognition and their own museum as well.  We often thought of this conversation as we gained tremendous respect of the tunnel building in Norway during the rest of our tour. 
<![if !supportEmptyParas]> <![endif]>
It was time to check out and walk our luggage across town to the bus station.  The desk attendant recommended the best and most direct route which took us along some of the less traveled side streets of downtown Bergen.  It was here that we passed a paint store.   Since early in our travels, Peg had been noticing a unique set of color varieties used on Norwegian buildings, especially a mustard yellow that we saw nowhere else.  The paint store window had a color chart of paint choices.  It was clearly the very same palette she had been noticing.  Thinking she might want to develop it into a unit on color for her art class, she asked the store clerk to let her have one.   He was very obliging and even included another pamphlet showing some sample painted homes.
<![if !supportEmptyParas]> <![endif]>
We proceeded on to the bus station, taking a brief rest at the Leprosy Museum (Norway has a museum for everything, it seems) and getting to the station in time to put our bags in lockers, buy two sweaters, and take a walk before the art museum opened at 11:00.  Up a hill while at the Johannes Kirken (the church) we met a friendly church cat.  Yes, we were suffering from cat deprivation.  This fact is clearly borne out by the number of photos we have of Norwegian cats. 
<![if !supportEmptyParas]> <![endif]>
We finally got to see the three adjacent museums that house the art collections of Bergen.  They were quite different and each enjoyable in its way.  The presentations and lighting at "The City Art Collection" were exceptional.  Here there were two Lars Hertivig pieces that we were able to view in detail.  (Lars Hertivig is a very famous Norwegian artist from the island of Borgøy in Tysvær, Rogaland county, and Borgøy is a prominent part of the view from the Slogvik farm where we would be staying in a few days.)
<![if !supportEmptyParas]> <![endif]>
The comfortable 2:00 pm bus took us south to Haugesund through tunnels and two ferry rides in just over 3½ hours.  This route took us also through many interesting small towns and beautiful countryside along many lakes and fjords.  The ferry rides were an interesting experience in themselves and a good display of transportation efficiency.  In both cases, our bus arrived just shortly before the ferry was scheduled to leave.  The loaded bus drove on these large ferries along with many other vehicles.  We all left the bus for the enclosed lounge (complete with cafeteria) or the exposed deck.  Notice was given shortly before arriving at the ferry terminal and everyone returned to their vehicles.  As the ferry docked, the large jaw at the end of the ferry opened up and the vehicles flowed smoothly out onto the highway.  
<![if !supportEmptyParas]> <![endif]>
As we neared Rogaland fylke (some Americans translate fylke as "county," but this makes many Norwegians cringe - They just divide their country into different administrative units than we do in the States), the weather changed and it began to rain.  We arrived at the Haugesund bus station not knowing how far the hotel was, nor did we know how far we were from the center of town.  The few passengers that got off, quickly disappeared with the exception of one man there to pick up his daughter.  We asked him for directions to the hotel and how we might get a cab.  He insisted on loading up our bags and taking us there himself.  What a helpful and friendly reception to this interesting town of Haugesund! 
<![if !supportEmptyParas]> <![endif]>
We checked into the Maritim Hotel on the waterfront, and were impressed with a very nice room and with the balcony and superlative view of the water below.  Below our balcony, was a statue of Marilyn Monroe.  Apparently Ms. Monroe's biological father was a Norwegian from Haugesund.  However our special memory of this view is of the numerous antique wooden boats that were nicely restored and moored across the waterway.  Occasionally one would come putting by. 
<![if !supportEmptyParas]> <![endif]>
<![if !vml]>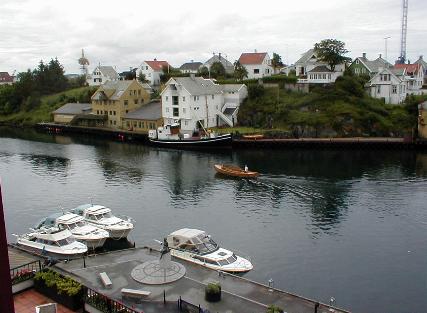 <![endif]>
< Hotel room view - Marilyn in foreground - old boat passing through. >
For some additional photos of the Marilyn Monroe statue from our favorite Haugesund site:
http://www.haugalandet.net/ht010113.htm
http://www.haugalandet.net/smssmmon.jpg
<![if !supportEmptyParas]> <![endif]>
At 7:00 PM we met Einar and Rotraud Slogvik* in the hotel lobby to go out for dinner.  We had never met these people, yet it was amazing how quickly we settled in to a comfortable relationship.  We took a leisurely stroll  down the waterfront to a  local restaurant they recommended.  It was on the second floor and offered a nice view of the water below as well as an excellent selection of fish entrees.  With good food and pleasant conversation, the time passed far too quickly.  We parted having made arrangements for Einar to pick us up the next morning. 
<![if !supportEmptyParas]> <![endif]>
For those of you that have not previously had an explanation about this couple or the relevance of the Slogvik name, let us try to briefly tell you how we became acquainted.

 

Keith's great great grandfather, Jacob Anderson Slogvik, at age 18 left his family and farm in Tysvær, Rogaland fylke, Norway, to emigrate to America on board the sloop Restoration in 1825.

 

This marked the beginning of the large emigration of Norwegians to America.

 

Keith had contacted the Cultural Officer in Tysvær Kommune (municipality) last year asking if he knew of anyone currently living in this area that was descended from Jacob's family.

 

Ingvar Frøyland, the Cultural Officer, put us in contact with Einar and Rotraud who currently own and live on the farm where Keith's Jacob once lived.

 

They are very interested in the history of their farm.

 

It is important here to point out that Norway in the past had very different naming customs that often confuse us Americans.

 

Each person usually had 3 names: a given name (e.g., Jacob), a patronymic name (e.g., Anderson or son of Anders), and the last name was the farm name (in this case Slogvik or Slogvig).

 

Anyone living on the Slogvik farm would have this last name whether or not they were related.

 

After Jacob and some of his siblings emigrated to America, this youngest brother Anders, who had married but had no children, gave the farm to the Quakers.

 

About 1900 Einar's grandfather bought the Slogvik farm from the Quakers and this family has lived there since.

 

While Einar has the Slogvik name, he is not necessarily related to Jacob's family line.

 

However as both families have lived in this vicinity for many generations, there is a good possibility that the lines are connected several more generations back.

 

Anyway, Einar and his wife Rotraud invited Peg and Keith to visit them on the Slogvik farm.

For more this, see

Keith's SLOOPER ANCESTORS

page.
<![if !supportEmptyParas]> <![endif]>
See Photo Album #10
<![if !supportEmptyParas]> <![endif]>
PREVIOUS REPORT              BACK TO TRAVEL REPORTS INDEX                NEXT REPORT
<![if !supportEmptyParas]> You are Visitor
since 12/1/01<![endif]>