INSTALLMENT #3
[Day 6 & 7 - Thursday, June 29, and Friday June 30, 2000]
Peg & Keith Wheeler's Norway trip report, Summer 2000
See Photo Albums #6, #7, #8 & #9 for photos related to this Installment.
<![if !supportEmptyParas]> <![endif]>
Leaving Balestrand, Out Songnefjord & down coast to Bergen, Bryggen, Edvard Grieg's Home, Museum of Fisheries, Rosenkrantz  Tower, Mt. Fløyen
<![if !supportEmptyParas]> <![endif]>
Somewhere around 4:30  we coined a new quote:  "Jet lag is a terrible thing to waste."  After two sleepless hours we decided to give up and get up.  Then we remembered the hot tub in the basement of the hotel.  When we had checked it out the previous night, we noted that no one was there.  Sure enough, at 4:30 nobody was still there.  We enjoyed a very brief dip because we had forgotten Keith's need to not get his circulation rearranged.  AND he was getting rose colored. 
<![if !supportEmptyParas]> <![endif]>
Again we were struck with the fact that it doesn't get dark at night here at this time of the year.  This was as far north as we would come on this trip.  The sunshine was noticeable after 11 pm, the darkest of the night was what we might call dusk (you could read in this light), and then we noticed sunshine again before 4:30 am.  Something else that was quite noticeable was the quiet here.  During the day there was the noise of a few vehicles, the occasional ferry, and of course, the tourists.  In the evening there is little to no traffic.  By listening carefully for awhile you can hear a dog or two barking in the distance.  Other than that there is the calling of the few seagulls that live in the area.  Maybe the reason there are so few seagulls here is that we are over 100 kilometers from the ocean…?
<![if !supportEmptyParas]> <![endif]>
We took another walk to the English church before returning to the hotel for our last meal in complete and utter luxury with the view of the fjord.  It was a mostly clear morning.   We checked out of the hotel and rolled our suitcases down the hill to meet the 7:55 express boat to Bergen.  It was windy on deck so we stayed inside for the trip.  Here we met newly retired teachers from Mass.  We sat behind a Norwegian who was traveling with a friendly Burmese mountain dog.  This was another modern catamaran express boat which made several but not too many stops. This boat had the same feature we enjoyed on our SAS flight; a computer generated map showing the boat's changing location during the cruise was displayed on monitors positioned around the interior of the cabin.  Again, Keith was enjoying this feature as he plotted the boats progress on his map.
This cruise began in the high snow-capped mountains of the middle Songnefjord.  As we cruised toward the coast, the fjord gradually widened and the mountains became somewhat lower and as we were coming closer to the coast there was little snow visible.  After 4 stops, the terrain definitely changed.  It seemed more rocky and the sparser vegetation made it seem comparatively barren.  As we came close to the entrance of the fjord, the influence of the open sea could be felt by ocean swells.  After one more stop, we continued down the western coast of Norway, sheltered most of the time by a few islands to the west.   At times it seemed like we out at sea and then shortly, we would be cruising through narrow breaks in these rocky islands.  How many times and ways can you say, "It was beautiful?"  It was beautiful!! 
<![if !supportEmptyParas]> <![endif]>
Just before noon, it was exciting to see the big and picturesque city of Bergen come into view. 
<![if !supportEmptyParas]> <![endif]>
Stepping off the boat in Bergen, we were surrounded by other tourists.  This is, after all, a major tourist city with many tourists having this as their destination and many boat and bus tours begin and/or end here.  After some difficulty, we finally found our hotel. We were on the opposite side of the harbor than we had anticipated and we had to walk clear around the quay and through the bustling fish market to the SAS Royal. This fairly new hotel has architecture that blends in well with old buildings along the waterfront.  Here we had a nice room with a lousy view.  Out our one window we saw a red brick wall of a museum next door.  If our windows were open, we heard noise of tourists below. 
<![if !supportEmptyParas]> <![endif]>
<![if !vml]>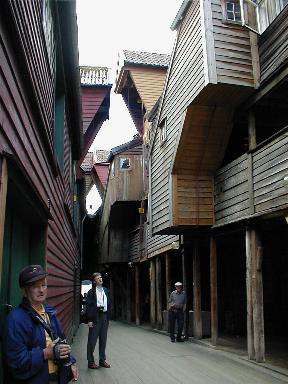 <![endif]>
Venturing out, we did a little shopping and looking at sweaters, silver, etc. The throngs of tourists were substantial and we milled about in this old part of the city.  This is the most famous part of the city and is called Bryggen.  It one of the most charming walkways in Europe (so says the guidebook) and is a collection of 14th century wooden buildings facing the harbor. This area was built up originally by the German Hunsa merchants.  This is the picture you see when you see Bergen and it IS special.  These days it is a fascinating honeycomb of shops and artists studios where painters, jewelers and textile workers produce original items.  It also boasts the oldest pub (tavern) in Norway.  It was here in the Bryggen Tracteursted that Keith broke his medical restriction on alcohol intake and shared a locally brewed Hansa beer with Peg at an outside table.  Besides being an excellent Norwegian beer, this brought back fond memories of the 1955 Oslo beer gardens for Keith.
<![if !supportEmptyParas]> <![endif]>
<![if !supportEmptyParas]> <![endif]>
< Keith, on right, down one of the lanes of Bryggen  
<![if !supportEmptyParas]> <![endif]>
<![if !supportEmptyParas]> <![endif]>
In one of the nicer tourist oriented sweater shops, we bumped into a couple we had met a couple of days previously at Balestrand.  They both teach at a college in West Virginia.  Here, in the middle of the store, we traded travel experiences and recommendations of places to go as well as books to read.  While in this store we noticed that they would be having a Grieg concert there that evening.  Deciding to come back later for the concert, we walked over to the central part of Bergen and checked out its plaza with statues of Ibsen and Ole Bull (the famous Norwegian concert violinist).  In this area we found an Italian restaurant for dinner.  The light summer salad was quite good (and healthy for Keith), the atmosphere was definitely continental, the service was mediocre.  After some more looking around we went to the tourist information center to learn how to get to Grieg's home Troldhaugen the next day. We then went to the sweater store for the concert.  Now this was a strange experience.  A couple of serious pianists played Grieg pieces, first solo and then together.  The piano was placed near the entrance of the store and about a dozen of us sat in chairs tucked in various spots in the store while other customers came and went, a few stopping to listen while most didn't let the music interfere with their shopping activities.
<![if !supportEmptyParas]> <![endif]>
Now it was time to return to the hotel to try out the new high tech internet connection we were supposed to have in our room.  In this hotel each room had a wireless keyboard with instruction on how to push the correct buttons to turn the TV on and into a monitor for the internet.  We were able to get to the stage where the screen required a choice of access for 15, 30 or 45 minutes, of course for a fee.  Thinking we could spend some time communicating with folks back home we chose the maximum.  Then the problems began.  The little button on the keyboard that was supposed to act like a mouse didn't.  Minute after frustrating minute passed and we could almost get close to accessing our e-mail accounts.  Eventually our time was up and nothing but frustration was accomplished.  So it goes in the high tech world. (Actually we explained this problem when we checked out of the hotel and they admitted that this was a very new system and they were having a great deal of difficulty with it.  They removed the charges.)
<![if !supportEmptyParas]> <![endif]>
What a day this had been, and a long one too.  By evening we were very tired.  We had started out the day in the peaceful solitude of remote Balestrand and had ended up frustrated with a keyboard in bustling busy Bergen.  Both places were beautiful in very different ways.
<![if !supportEmptyParas]> <![endif]>
<![if !supportEmptyParas]> <![endif]>
Day 7 - Friday, June 30
<![if !supportEmptyParas]> <![endif]>
Bergen, while busy and touristy, is still a very nice place to be.  As we left the hotel, the morning drizzle had stopped and it was a cool with scattered clouds.  We took the local bus from outside our hotel to travel over 8 km south of Bergen to the home where Norway's most famous composer Edvard Grieg lived.   After getting off the bus, we had to walk another 15 to 20 minutes to Troldhaugen ("Hill of the Trolls").  This meant we could tour the facilities at our pace rather that being on a tour bus' schedule plus we got the exercise and a nice look at the residential area.  Built in 1885, Grieg's beautiful old home still overlooks a picturesque lake.  Hidden in the trees below there is a small garden hut by the lake shore where he did most of his composing.  Around the hill, down another path from the house is a grotto like place where Grieg and his wife are buried in a cliff hewn tomb.  New buildings on the grounds include a museum building, a cafeteria, and a multi-media room where we watched a brief video on Grieg's life and work.  There is also a new sod-roofed concert hall. 
<![if !supportEmptyParas]> <![endif]>
Retracing our steps and another bus ride, and we were back in Bergen.  We now had time to check out the Museum of Fisheries where we were impressed with a model of a sloop and probably the most extensive collection of model boats ever, along with some interesting models of the trawlers and their nets.
<![if !supportEmptyParas]> <![endif]>
After that, we walked toward our hotel and on the way decided to check out an old stone structure that turned out to be the Rosenkrantz  Tower.  What a great place!  Just FULL of history.   Part of this much modified structure dates back to 1260 if you can imagine that. It was a keep and ceremonial hall. More of it dates from the 1560's as a residence and fortification.  The walls were massive stone and the narrow winding corridors and staircases were believably real in their dark coolness.  The restoration and documentation process was interesting to learn about.  It seems the tower suffered some severe damage at the end of WW II when a munitions ship blew up in the harbor.  This explosion figures prominently in another experience we had later in Stavanger. 
<![if !supportEmptyParas]> <![endif]>
Nearby was the famous Håkon's Hall.  This large imposing stone structure was part of the royal residence in the 13th century when Bergen was the capitol of Norway.  While this was an intriguing building, we had become rather tired of walking, so we returned to our hotel to rest and refresh. 
<![if !supportEmptyParas]> <![endif]>
Our next foray was in the other direction of town toward the art museums, stopping to buy some silver "Tundra" jewelry for Peg.  When we got to the museums it was after 4:00 and they closed at 5:00.  Opting not to be rushed, we decided to return the next morning.  Then we wandered around the various statues and fountains of the plaza in central Bergen until it was time to take the Fløibanen Funicular, which is a short tram-like railway line, up a very steep (26 degrees) incline to Mt. Fløyen <![if !vml]>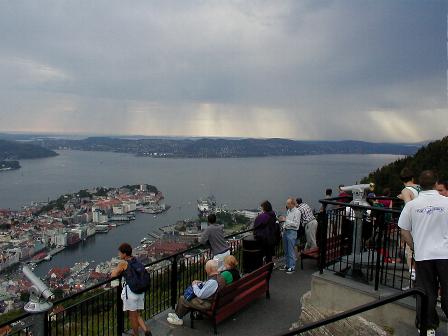 <![endif]>overlooking all of Bergen.  In 8 short minutes we were at the top.  
<![if !supportEmptyParas]> <![endif]>
Here was a restaurant, cafeteria, souvenir shop and playground complete with a giant troll.  We had shrimp sandwiches and berry tarts and a FINE cup of coffee while gazing at the incredible view of all of Bergen, the ocean beyond and an approaching storm.  We could see it raining in the distance.  We had tickets for the 8:00 Fløten Konsertene which was at the concert room adjacent to the restaurant.  These concerts are given regularly during the summer and the music this evening was presented by a Spanish violinist and a Norwegian pianist with selections that included works of Grieg and Ole Bull among others.
<![if !supportEmptyParas]> <![endif]>
 View of north Bergen from Mount Fløyen.
<![if !supportEmptyParas]> <![endif]>
We had planned to walk the paths down to Bergen, but by then, we were tired enough to opt for the ride back down to Bergen street level on the Funicular.  There was bungie jumping at the quayside.  A large crane was moved in for the purpose.  This is the same area where the open air fish markets are in the morning. The stalls and all the fish are closed and put away by 4:00 pm.  Peg was curious about where they go after that.  Another wonderful day and time to head to the hotel.
<![if !supportEmptyParas]> <![endif]>
For more photos from these days, check out our Photo Albums #6, #7, #8 & #9.
<![if !supportEmptyParas]> <![endif]>
PREVIOUS REPORT                  BACK TO TRAVEL REPORTS INDEX                    NEXT REPORT
<![if !supportEmptyParas]> You are Visitor
since 12/1/01<![endif]>