INSTALLMENT #2
[Day 4 - Tuesday, June 27,2000]
Peg & Keith Wheeler's Norway trip report, Summer 2000
<![if !supportEmptyParas]> <![endif]>
See Photo Albums #3, #4 & #5 for photos related to this Installment.
<![if !supportEmptyParas]> <![endif]>
Train from Oslo to Myrdal & Flåm - Express boat to Balestrand
<![if !supportEmptyParas]> <![endif]>
After an easy breakfast and checkout at our Oslo Rica Hotel, we were off to catch our train.  The train station, conveniently (thanks to Brekke Tours), was only a couple of blocks from our hotel.  Finding our train and our reserved seats was fairly easy.  We were traveling 2nd class – wow, this is great; it makes us wonder what 1st class must be like.  We had comfortable, spacious seats with footrests and large CLEAN windows.  The train started underground in the center of the city but was soon above ground on the outskirts of Oslo.  The ride was smooth and quiet on this modern electric train.  No clicketty clack on this train.  First we headed southwest through the suburbs of Oslo and then north and then northwest. We were impressed this close to the city that there seemed to be a lack of slums – the graffiti notwithstanding. Towns became fewer and farther between. We began to climb. We were struck with the lush greenness, the tidy homes and neatly laid out farms.  About half way on this train ride, as we continued climbing in elevation entering more forested mountains with beautiful lakes, we noticed more campers getting on and off.  This was obviously vacation/holiday country.  As we got into the higher snow country there were many trekker type healthy looking folk obviously enjoying this cold country.  Some looked like they were getting ready for some summer skiing.
<![if !supportEmptyParas]> <![endif]>
Passing the Hardanger glacier and the continental divide, reminded us that we had not counted on such cold.  The interior of the train was warm, but Peg was glad yet again she had packed and kept her black coat.  By then it was over cast but the views were still striking.  Many people got off at Myrdal with us and were taking the same Flåm route we were taking.  It was just a short walk through the small station house to the other side to get the Flåm line.  It turns out this is a popular leg of the "Norway in a Nutshell" tours which are internationally popular as evidenced by the fact the brochure is in 8 languages. (Also see this "Nutshell" page.)
<![if !supportEmptyParas]> <![endif]>
From Myrdal to Flåm on the Flåm Line is an incredible experience.  This older small electric train winds down from the high plateau though some of the most breathtaking scenery of deep ravines, waterfalls, snow-capped mountains and Norwegian fjord landscapes in panoramic views.  80% of the rail line has a gradient of 55%, the equivalent of 1:18 -- no small fete for the builders of 1923.  The train itself has 5 separate brake systems, each capable of stopping the train.  This was <![if !vml]>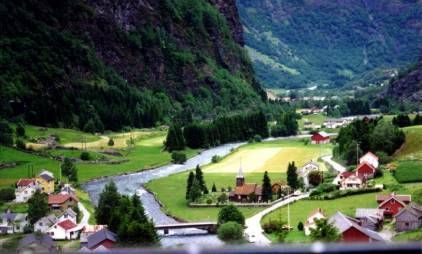 <![endif]>reassuring as we descended.   It wasn't opened until 1944.  It takes about an hour to cover the 20 km route with some 20 tunnels.
<![if !supportEmptyParas]> <![endif]>
<![if !supportEmptyParas]> <![endif]>
< View from the Flåm Line.
<![if !supportEmptyParas]> <![endif]>
At the bottom next to the fjord were several tourist shops and many large cruiser type ferries, one of which was the one that was to take us to Balestrand.  While we waited, Keith sat on a park bench and did our first "on-the-fly" download of pictures.  The first of many it turned out, but we found it ironic in some strange way.  Hopefully this is a web site where you can learn more about this rail line which is considered, "one of the most beautiful railway lines in the world":
Also see our Photo Album #3.
<![if !supportEmptyParas]> <![endif]>
Next was Flåm to Balestrand.  This was the first of three major rides we would be taking on what are called express boats.   These differ from the common smaller passenger ferries and the larger car ferries that are found throughout the country.  Express boats are modern, sleek, fast and stable catamarans owned by major shipping lines.   They run up to about 132 feet in length and can hold up to 285 passengers.  Most of them have very comfortable seating inside with the option of sitting on exposed decks to experience the view but also often the cold windy conditions of the fjords.   The company's web site is at:
http://www.fylkesbaatane.no/eng/
<![if !supportEmptyParas]> <![endif]>
Once seated inside the express boat, Peg promptly began to doze.  Keith was overwhelmed with the beauty of the fjords.  We had seen pictures of these magnificent geographical features many times, but to be actually sitting in a comfortable boat and cruising through these majestic mountains was indeed a special experience.  The boat was quiet and smooth as it glided through the fjord, making only a few stops, but the captain also pointed out some points of interest that always seemed to be on the other side of the boat. In what seemed a very short time, we were pulling up to the quay at Balestrand.  There a car was waiting to carry the luggage up the hill the short distance (one block) to the hotel.
<![if !supportEmptyParas]> <![endif]>
Kviknes Hotel - Balholm is a gracious historic hotel that dates back to 1752.  The idyllic setting deep on the Songnefjorden defies words.  The 240° spectacular view from the point encompasses water, mountains, snow, waterfalls, and small farms.  The art work and furnishings of the lounges and dining rooms were as elegant as it gets outside of royal palaces in our world.  The hand carved furnishings were amazing. This one is worth checking out their web site to learn more about the art, antiques and craftsmanship displayed in this grand old hotel.  Click on "Photo Gallery" for a series of small but great photos.   http://www.kviknes.no/engkvikne/ehoved.html           or check out our "Photo Album" #4 & #5.
<![if !supportEmptyParas]> <![endif]>
After checking into our room and giving the common rooms of this elegant hotel a quick once-over, it was time to take a stroll around the area before dinner.  Walking along the quiet lanes, we first came to the interesting "English Church of Saint Olav."  This is a rather small wooden structure built in the general style of the stave church in 1897.  Despite the tourist attraction of the hotel, the town itself was quite peaceful and quiet.  Balestrand is a small town of 2,000 residents, mostly small farmers, according to the tour book.
<![if !supportEmptyParas]> <![endif]>
At our first evening meal at the hotel, we were impressed that this is true European dining elegance.  The dining hall was windowed on two and a half sides with breathtaking fjord views.  While reservations were needed for seating, the serving was smorgasbord style with the exception of coffee and wine service.  The enormous array of choices was impressive in its variety, style and quality and in no way could it be compared to American style smorgasbord.  The seafood platters were works of art and the entrée counter held reindeer steaks, roast lamb, and several other meats and fish gloriously prepared.  The breads and the dessert counters were unimaginable.  The first night, our Italian waiter recommended a good Italian wine and the second night our French waiter recommended a French wine.  Both were good.  We asked them what they thought of California wines.  They replied that they didn't really think of them as wines.  Hmmf!
<![if !supportEmptyParas]> <![endif]>
After dinner this first evening there was a "Sounds of Norway" concert.  A pianist, Age Kristoffersen, who turned out to be Norwegian born but now from San Louis Obispo gave a pleasant concert to a sparse audience in the music room.  We found this delightful despite our overwhelming fatigue.  He was dressed in a bunad (traditional regional costume), had very white hair and the twinkle in his eye showed clearly that he enjoyed his pieces.  The best part was his commentary about each piece.  It could be some history behind the work, the composer, or his own early experiences with it. Of course we bought his CD's and visited with him after the concert.
<![if !supportEmptyParas]> <![endif]>
Right next to the concert room we discovered a computer room.  Yipee! We could try to make contact – After getting permission from the front desk, it was a mere matter of booting it up.  Woops! It booted up in Norwegian and with a Norwegian keyboard no less.  We found that we could log on to our California Saber Net provider to receive and send e-mail.  We had problems at first accessing our Yahoo e-mail account with all of our addresses.  I guess they have busy times.
<![if !vml]>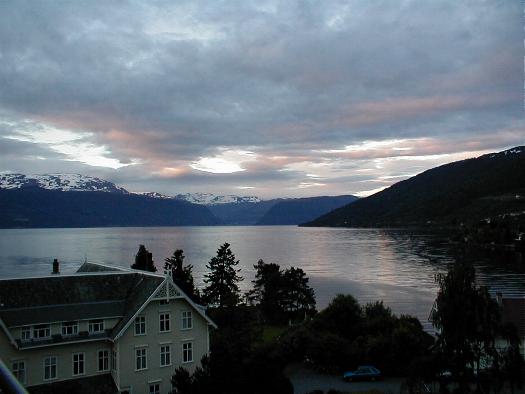 <![endif]>   
< Balestrand sunrise. >
<![if !supportEmptyParas]> <![endif]>
Day 5 - Wednesday June 28, 2000
Early in the morning in our room  we noticed that our laptop would tell us what time it was at home.   For instance, our laptop told us it was 8 PM yesterday in California but local time here was 5 AM Wednesday.  Keith's watch also kept both times so we occasionally checked to remind ourselves of the 9 hour difference.   The weather had been rainy during the night and was still overcast, drizzly and chilly that morning.  The sun came out later but it was still mostly cloudy at midday.  The afternoon brought scattered clouds.
<![if !supportEmptyParas]> <![endif]>
We ate our now-customary huge breakfast which would be sufficient to last us till dinner with just a soft ice cream cone around 3:00.  We set out for a walk about through village fruit and berry orchards and neighborhoods.  There were many interesting homes, a mixture of mostly well kempt old houses and more modern ones.  We were impressed with the beautiful gardens and colorful flowers -- especially the lupine; it comes in varied hues of pinks as well as purples.  Fruit orchards were closely planted and pruned for easy reach of humans – maybe they don't have a deer problem here. Berries are grown widely as are currants.  There must not be much erosion as they make their furrows straight down the hill.  We saw one excavation site (probably a home basement) with deep rich soil going down to great depth.
<![if !supportEmptyParas]> <![endif]>
We wandered into the little art studio of a sweet lady who does watercolors of Balestrand.  We bought a print of a baker lady that displayed a lot of character.  The artist gave Peg a calendar when she heard she was a teacher.  The artist's name was Bjørg Bjøberg and, if our memory is correct, she had been a teacher too.    The calendar had history behind the months.  She seemed to us to be very happy with her place on the planet and the beauty of Norway fjord country.  She enjoyed meeting people, using several languages and having such beautiful scenery to inspire her art work. . (Check out her lovely web site at: http://home.online.no/~bjoergfb/  ).  Balestrand, because of its fantastic natural beauty has for a long time been a haven for artistic endeavors.
<![if !supportEmptyParas]> <![endif]>
This meeting with the artist inspired Peg and she was soon sitting on the quay sketching a scene of the fjord.  Keith just enjoyed basking in the many beautiful views.  Another fine and elegant dining experience and then it was time for coffee on the outside deck, enjoying the view and waiting for the sunset that never came.  Soon it was time to retire for the night.  Just another glorious day in Norway!
<![if !supportEmptyParas]> <![endif]>
For more Photos see our Photo Albums #3, #4 & #5
<![if !supportEmptyParas]> <![endif]>
PREVIOUS REPORT BACK TO TRAVEL REPORTS INDEX NEXT REPORT
<![if !supportEmptyParas]> <![endif]>
<![if !supportEmptyParas]> You are Visitor
since 12/1/01<![endif]>