INSTALLMENT #1
[Beginning through Day 3 ~ June 23-26]
Peg & Keith Wheeler's Norway trip report, Summer 2000
See Photo Albums #1 & #2 for photos related to this Installment.
Disclaimer:  Well here goes. This was such a wonderful experience for us and so much happened along the way that we wanted to record everything so we could keep these memories fresh forever. We started out well for the first few days doing a write-up on our laptop every night. As time, events and fatigue progressed, we just jotted down a few notes, sometimes a day or two behind. I am sure there are some errors in this material. It is not meant to be an academic treatise. The facts we give come from what we were told (& subject to our misunderstanding and/or faulty memory), from our handy tour guides or brochures we picked up along the way. If any of you see any gross errors or misleading statements, please let us know. I'm sure we will be making corrections and additions to this. If any of you have any questions, please don't hesitate to ask. For any that are reading this that were not in on our original planning for this trip and would like to know how we organized and arranged it, please ask for that information.  We have tried to describe some of this on our BACKGROUND page.   Brekke Tours was a big help.  We invite your feedback.  Please let us know of any errors or omissions.  You can contact us by

Friday, June 23
Starting out, we take most of the day driving the 260 miles south from our Mad River home to our son Kirk's home at the Richmond Marina in the San Francisco Bay area. We make a few stops along the way for last minute shopping and to make copies of genealogical reports to share with those in Norway who are interested. After a short visit with our son and his wife, Karen, Kirk dropped us at Vagabond Motel in Burlingame (south of San Francisco International Airport), that is after a brief shopping trip for some special California wine that we forgot at their house. The Vagabond is not a great motel, but it was cheap (for this area), had a room available and was reasonably close to SFO.
Day 1 - Saturday, June 24
We got the motel courtesy shuttle at 5:30 am to SFO and here we were met the LONGEST waiting lines we've ever seen. No way could we progress up the line to the United check-in counter by flight time. We finally asked an employee and were allowed to check baggage at a different station and made our flight in okay time.
It was then 5 hours to Newark, New Jersey, and Anne Mary Mullane (Peg's friend from her FMF Japan tour) met us as did Bill Cathcart – Keith's old Army buddy from 40 years ago in Saudi Arabia and Bill's wife, Joan who was a delightful lady. Anne Mary had arranged for the Red Carpet room at United for us to visit the 2 or 3 hours. It was just enough time to really catch up, but not 40 years' worth. Ann Mary and Peg only had since last November and Japan to catch up on.
The boarding of the SAS flight was a little weird as we had waited a bit too long. They could have denied us our boarding, but they went ahead and let us on. We should have gone there right after we arrived instead of hanging out at United Red Carpet. Lesson learned: check in a full two hours previous to an international flight.
Dinner aboard the Atlantic seaboard flight included a nice gravlax (lightly smoked salmon) with ground black pepper and dill. Lime juice was squeezed on it and cucumber and cream cheese supplemented the fare. That was the appetizer. While we were enjoying this, the sun began to set, but the sunset lasted a long, long time – nearly until 10:00 by the Newark time. We are scheduled to get into Oslo around 8 am (2 am Newark time), a long day, but pretty easy and quite friendly except for the long line and wait at SFO.
The SAS flight cruised at over 600 mph at 36000 ft. Using the movie screen, the airline used a computer and GPS generated graphic which showed our position on several map projections. Keith being a map person particularly liked this feature. Our flight path took us over CT and MA; we could see the lakes of Maine, then across Newfoundland and Labrador we arched up just south of Iceland and over the top of Scotland. It was practically all cloud cover over the Atlantic but broke somewhat as we approached Norway.
Day 2 - Sunday, June 25
We crossed the coast of Norway just north of Bergen and there was snow on the mountain peaks and the glaciers were quite visible. It was very awesome to look down on the fjords. As we descended into the landing pattern approaching Gardermoen Airport 30 miles north of Oslo we were struck with the beauty of the Norwegian landscape. Everything seemed so fresh and green after an early morning shower. This major airport is located in a rural setting. The farms in this area are neatly laid out and all the houses seemed freshly painted.
We were arriving on a nice quiet Sunday morning, June 25, about half an hour early– relatively quiet airport – no customs to speak of. We just walked through "Nothing to declare" sign area, but really saw no other options anyway. We had worried about bringing in gifts of California wine because of Norway's restrictions on importing alcohol; we could have brought in gallons. We easily bought some Norsk kroner at the ATM and caught the bus for the city and our hotel: Rica Oslo. The 45 minute interesting and comfortable bus ride brought us right to our Rica Oslo Hotel which is situated very close to Oslo's central train station and not far from the waterfront. Of course it was still early morning so too early to check in to our room. The hotel staff, however, was very courteous and let us store our luggage in their secure room used for that purpose. Actually all of the hotels in which we stayed had such rooms for storing luggage. Maybe this is common everywhere, but it was new to us. Later in our trip we even stored one suitcase for 6 days while we stayed elsewhere.
Our first task in Oslo was to get our large heavy suitcase across town to the Rica Victoria Hotel where Brekke Tours was getting ready for a tour that would eventually end in Stavanger on July 3, the same day we would arrive there. This bag would be stowed on their bus and transported for us at no cost. It contained, in addition to extra clothing, Keith's genealogy material and gifts for our friends in Rogaland county. Our hotel clerk suggested that we walk the several blocks to the Victoria along Karl Johan Street. To our destination this is a mostly non vehicular promenade that leads from the old church near our hotel to the west where it enters the Palace grounds. Thanks to rollers on the suitcase the walk was pleasant though a bit hilly in places and bumpy with the cobblestone street.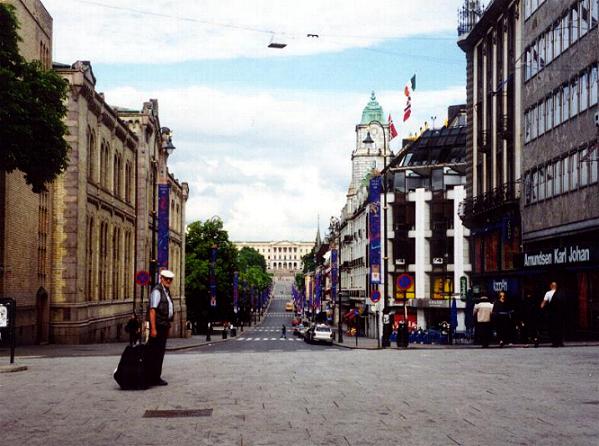 Sunday morning on Karl Johan gate (street) - Palace in background - Parliament building on left
Free of the suitcase, we started to explore downtown Oslo. As it was Sunday most of the shops were closed and there was little traffic on the streets at this time of the morning. We came across the interesting City Hall where Peg found the murals deeply carved in wood interesting. Then we walked down to the waterfront where many ferries and tourist boats were leaving. Tempted to go on one of these boats to the Viking Museum, we thought we better check first and find just where we would be going on our guided "Oslo Highlights" tour the next day. As we found that we would be going there the next day, we headed north from the waterfront to see if we could find the National Gallery. This was a particularly great find. Peg was thrilled to find a fantastic collection of works by Norwegian artists. We soon found that we were developing favorites among the many Norwegian painters. Tidemand, Dahl, Krohg, Backer, and Gude. Of course there were also works by the famous Norwegian painter Edvard Munch. We seemed most drawn to the works portraying landscapes, natural scenes and folk life. We also noticed that many Norwegian painters were not afraid of large canvases - some big enough to cover a whole wall. But what a surprise to also find the works of many of the great names in European art. Keith found himself in awe as he came face to face with the works of Picasso, Cezanne, Degas, Monet, Manet, Rubin, Modigliani and even a Van Gogh -- all in one room. And can you believe there is no admission charge to this gallery?! http://www.museumsnett.no/nasjonalgalleriet/flash_versjon_engelsk/from_our_collections.htm
Before we were able to visit all of the many rooms in the Gallery, we had to admit that we were running out of steam. We walked back to the hotel where we had a short wait before our room was ready. Our bodies said that it was bedtime, but the time indicated around 2 pm. Time for a short rest before our next adventure. The Rica Oslo Hotel was an interesting art gallery in itself. The theme of the hotel's décor was the use of painting and sculptures by prominent Norwegian artists. Each room enjoyed a reproduction of a noted painter with an explanation in Norwegian and English. The reception and other public areas displayed sculptures, paintings and tapestries.
The weather looked a bit threatening on this afternoon so we chose not to continue to walk around the city. Instead we decided to try the Oslo subway system for our next adventure. A subway station was just next to our hotel. After a bit of confusion about how to buy tickets, we took the longest subway line (according to the map) to its end (to Frognerseteren on the mountain above the city) and turned around. Fortunately this "subway" went above ground as it left the downtown part of Oslo. As it progressed up the mountain we were able to get an interesting view of Oslo below, of residential areas, and the area near the famous ski jump. People got on with bicycles on the way up with the apparent intent of an easy ride back down the roads and tails. It was now drizzling and quite green and pretty. We saw our first sod roofed houses. This was a good way for these country mice to get acquainted with a city subway system.  We did experience a little problem when we tried to download the digital photos we took on this trip.  The system being new to us, we did something wrong and lost them.  Another lesson learned about technology!
We were now thoroughly exhausted and for some strange reason chose to eat at an upstairs Chinese restaurant in the middle of the city. This was on a busy street and we could look down on the crowds out for their Sunday evening walk.
2 negative impressions: 1) Graffiti, a horrible US import - not much, but enough to stand out in this neat, clean and orderly country - we later were told that the reason the Norwegian "taggers" often used English profanity often is that the Norwegian language does not have obscenities equivalent to ours; 2) many little steps and ledges in walkways which would make travel difficult for those in wheelchairs (we saw none at this stage of our travels). Our hotel had raised thresholds throughout. It appeared that they had recently remodeled this older building and put in new fire doors, so periodically down the hall and at entrances to rooms were these new doors with raised thresholds. If you paid attention it was no problem, but we wondered how a drunk could navigate these speed bumps. We noticed it because of the wheels on our luggage. Not a negative, but interesting are the cobblestone streets (with many steps and curbs where you had to pay attention as you walked), the number of fine parks and fountains, AND the frequency of interesting statues found throughout the city. This IS Europe after all.
Day 3 - Monday, June 26
 Morning,  5 am    – jet lag can't sleep - time to write down some travel notes and bask in the realization that we are now so far from home and in such an interesting country. As our hotel room included breakfast (as did all of our hotel stays) we were down early to experience our first Norwegian hotel breakfast. Breakfast smorgasbord was an amazing array of breads, cold cuts, fish concoctions in mayonnaise, cucumbers and tomatoes. Some melons and juices, eggs and bacon were also available. Good coffee – nice and strong. The breads were the highlight – whole loaves, dark, seedy and herby that you cut with a large bread knife. We met and sat with a couple who had also just arrived in Oslo. They were from Iowa and would also be going to the west side of Norway to visit relatives.
"Oslo Highlights" tour was our only guided tour during our trip and on this rainy, rainy Monday morning it was a good time to spend most of our time under cover. The tour was via a double decker bus and the guide gave information in 3 languages: English, Norsk, and German. We were given a brief history of Oslo as we drove by some of the prominent places and buildings. It included stops at the Holmenkollen Ski Jump (this 1892 jump was rebuilt for the 1952 Winter Olympics and is still used for international competitions) and a walk through the Vigeland sculpture park. The sculpture park was most impressive. A lot about people and a lot about families and LIFE. The rain and the short time we were allowed were enough to make us promise ourselves we'd go back. Hopefully the weather will have improved in 3 weeks. Next were visits to the Viking ship museum and Fram ship museum. . The turn of the century "Fram" ship museum was the actual polar expedition ship. A whole building has been built over it and the below decks and cabins have all become interpretive displays of what the trek was like. We left the tour at the Fram ship and stayed at that site because there were other historic places near by we wished to see: the Maritime Museum was our choice. (we passed on the Kon Tiki museum.) The maritime museum had a great video of the history of the Oslo fjord, wrap around screen like. We rather wanted to see the outdoor folk museum but time constraints and the rain were deterrents. Then we returned to city center area at the docks via the ferry system which was fun. Lesson learned: We probably won't want to do a commercial "guided tour" again. A good guide book and plenty of time are a better way to see a place we think.  This tour did give us a valuable orientation though.
Back in the center of the city we found a coffee shop for a pick-me-up and returned to the hotel to refresh and get ready to meet the Norway Listers for dinner. For those not familiar with the Norway List, this is a list group on the Internet with the objective of sharing information on things Norwegian and Norwegian-American. This list is not just about genealogy, as it also includes Norwegian culture, language, cuisine, history and facts about Norway. Many members are from Norway and one group in Oslo invites those visiting their city to join them for dinner. You can check out the Norway List's home page at: http://www.rootsweb.com/~norway/NorwayList.htm And the "Oslo Reunions" site at: http://www.fagerback.net/NorwayListOsloReunions/
So at 5 pm on Monday evening we went to the Restaurant Haadverkeren. Elin Galtung Lihaug who had made the arrangements met us at the door. Also having dinner with us was J. P. Fagerback, a software developer, and Ole Kjřlseth, retired civil engineer. Elin is a pharmacist who works as a Sr. Drug Safety Scientist, Drug Safety Surveillance, for an MRI firm. She makes frequent trips to the US and was actually at the Bygdelag celebration in Decorah, Iowa, last year when we were there. JP had been a foreign exchange student in Arkansas in the 80's. Ole had been a world traveler with many engineering projects in different parts of the world. He, like J.P. and Elin, has been to the US several times.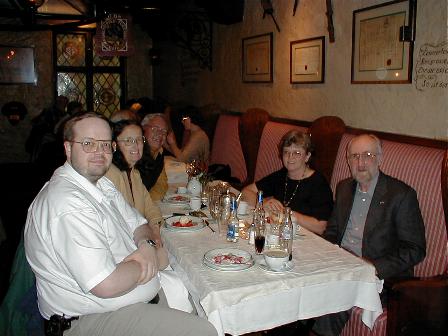 J.P., Elin, Ole, Peg & Keith - Norway List "Oslo Reunion #32."
The restaurant Haadverkeren was very nice and by Elin's design and perceptiveness we were early enough that it was quiet enough to visit. Elin has learned from experience that this is a good time. Just as we were finishing, it was filling and getting noisy. We both chose the reindeer steak (a favorite holiday meal Elin recommended) which was served in half inch slices about 2x1 arranged in a circle around steamed brussels sprouts with baby carrots all in a nice mellow sauce. Potato entrees were part of it and we shared a dessert of cheesecake and coffee. Others had strawberries but since our garden at home had been running over with strawberries as we left, we passed on that. We enjoyed this nice setting, the wonderful meal and most of all the accompanying lively conversation with these friendly people. This group made us feel really welcomed to Norway and gave us some early insight into things Norwegian.
After a leisurely stroll back across town, we returned to the hotel early and spent the rest of the evening getting packed and organized for our train trip the next day. However, Peg shouldn't have had the coffee because she had trouble getting to sleep that night and woke up just after 3 am again (not unlike her experience in Tokyo last year). The fact that we haven't seen much dark yet didn't concern us too much as our hotel room was an interior room. We are getting better able to understand a few words. The similar ones anyway.
DAGENS = Of the day, as in dagens fiske (fish of the day) duh-h-h-.   Kaffee dagans is house coffee.
VINDU = Window as in window seats.
Actually we found early on that most Norwegians were much more comfortable speaking English than we were at attempting our few words of mispronounced Norsk.
For more Photos see our Photo Albums #1 & #2.