In 1955, at the age of 19, Keith visited Oslo, Norway, while on a U.S. Navy Midshipman cruise. While he spent only a few days there he brought back fond memories that lasted over the many years. Keith traveled a fair amount when young; Peggy's interests lay elsewhere during her early years. Later, during their married years, they spoke often of traveling to far and exotic places, but this was just talk.
<![if !supportEmptyParas]> <![endif]>
<![if !vml]>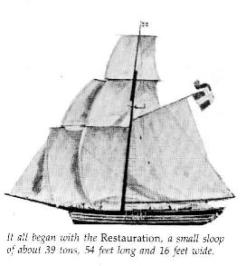 <![endif]>In 1995 Keith was hit by a surprise heart attack, followed by open heart bypass surgery and vacillating periods of health and illness. Two things happened as a result of these dramatic health events that relate to our Norway trip. First, this first hand lesson in mortality and the fragility of life made us aware that there were no guaranteed tomorrows. Putting things off until the future might not be a wise idea. If we were going to travel, we had better do it soon rather than later. Secondly, Keith took up the hobby of genealogy to give him something non-physical to do while recuperating from his heart procedures. This lead to his studying more about his Norwegian ancestors who came to this country in 1825. (See "KEITH'S SLOOPER ANCESTORS" page.)
<![if !supportEmptyParas]> <![endif]>
They came on the sloop Restoration ---
this small vessel, with over 50 immigrants,
is often referred to as the
"Norwegian Mayflower."
<![if !supportEmptyParas]> <![endif]>
Thanks to the Internet, Keith was able to make contact with individuals in Norway and the U.S. who were willing to help him better understand his Norwegian heritage. Resulting from posting queries on various bulletin boards he was able to strike up cyber acquaintanceships with several individuals who were helping him understand some Norwegian terms. One such individual, Kristian Velle, who lived not too far from where Keith's Norwegian ancestors had lived, was particularly helpful. Kristian not only answered Keith's questions, but sent him maps and information about the area. He even visited one of the farms where Keith's ancestors had lived during the 1500's, took photographs and sent them to Keith. He also encouraged Keith to consider visiting this area.
<![if !supportEmptyParas]> <![endif]>
Late in 1998 Peggy and Keith started to plan a trip to Norway for the summer of 1999. These plans were rather vague and we were not sure how to go about such a trip, how we would make travel and accommodation arrangements, where we should visit or how long we should stay. This problem was promptly solved when Keith's heart condition took a turn for the worse and he had to go back for a second open heart bypass surgery. Not knowing how long his recuperation would be, we cancelled our plans to visit Norway that year.
<![if !supportEmptyParas]> <![endif]>
As Keith was feeling much better during the summer of 1999, we decided to take a trip to Iowa to attend the Norwegian-American Bygdelag Centennial celebration at Luther College. (This is described in more detail on our "SUMMER 1999 TRIP TO IOWA" page.) Besides having a wonderful time, we learned a great deal about things Norwegian and traveling to Norway. We met many friendly folks who had been there and received helpful advice and recommendations regarding such travel.
<![if !supportEmptyParas]> <![endif]>
We now started to get serious about a trip to Norway in the summer of 2000. One recommendation we had received from several folks at the Bygdelag was to use the services of Brekke Tours & Travel of North Dakota. Contacting this very friendly and helpful travel firm, we found that they had a package tour called "Rogaland Emigration Festival Tour." This tour would start in Oslo, travel to some interesting places in the southern part of Norway and end up in the Stavanger/Rogaland fylke area in time to attend the festival in Stavanger to commemorate the 175 years of Norwegian emigration. We were excited about this as we would be able to attend this festival that would take place at the very site that Keith's ancestors sailed from on that first boat load of emigrants. We could also extend our stay after the tour ended on July 6th and visit more of the areas where Keith's ancestors had lived.
<![if !supportEmptyParas]> <![endif]>
But then the tour was cancelled, as not enough folks had signed up for this particular tour. We were at first disappointed, but then delighted when we found that Brekke could arrange an "Independent Tour Package" following a similar itinerary, but giving us more freedom to plan our own custom itinerary. We would start out in Oslo, visit such places as Flåm, Balestrand, Bergen, and Haugesund, and even attend two different emigration festivals, the one in Stavanger and another in Aksdal, Tysvær kommune, just north of Stavanger. We would have time on our own in the Rogaland area to try to discover more about the areas where Keith's ancestors once lived. We would then return to Oslo via the southern train route. (Click here for our initial travel itinerary that we modified somewhat. Also see our MAP page for a graphic presentation of our general travels.)
Next let us try to describe a series of serendipitous events that led to making this trip most extraordinary. While at the Bygdelag in Iowa the previous summer, Keith had attended a lecture by Knut Djupedal, Director of the Emigrant Museum near Hamar, Norway. In this talk, the point was made that many Norwegians are very interested not only in emigration from their country in general, but are also interested in learning more about their relatives that emigrated and their descendants. He invited members of the audience to contact him in Norway and to share information on emigrants to America and their descendants.
<![if !supportEmptyParas]> <![endif]>
Keith wrote to Mr. Djupedal sending information about his Norwegian ancestors and their descendants. Keith also asked about how he might go about finding any distant cousins living currently in Norway. Mr. Djupedal recommended that Keith contact a fellow by the name of Ingvar Frøyland who is the Cultural Officer in Tysvær kommune (municipality), this being the area in Rogaland fylke area of southwest Norway where Keith's great great grandfather lived before he emigrated.
So Keith wrote to Mr. Frøyland asking if he knew of anyone with knowledge of, or interest in, the Slogvik farm where Keith's ancestors once lived. By a wonderful coincidence, a short time after receiving Keith's letter, he happened to be attending a concert and was sitting next to Einar and Rotraud Slogvik. This couple are the current owners and residents of the Slogvik farm where Keith's ancestors had lived. While not necessarily related to Keith's Slogvik ancestors (we are still checking for a possible distant connection), this farm has been in Einar's family for many years and they are very interested in the history of their farm.
Thanks to this long chain of events, the Wheelers and the Slogviks were soon corresponding regularly by e-mail and we were invited to stay with them in their new home built on the very spot where the old Slogvik home once stood. This wonderful couple were also able to do a bit of research and find one third cousin once removed and three forth cousins who were living in the Tysvær area. Ingvar Frøyland also invited us to attend the Tysvær Emigration Festival concert in Aksdal on July 2nd.
As mentioned previously, Keith had corresponded with Kristian Velle who lived in the town of Jørpeland, just east of Stavanger. He also invited us to spend some time with him and his wife in their home. Keith had also contacted the Norwegian Emigration Center in the city of Stavanger looking for information about their planned Emigration Festival planned for the 4th of July. He also inquired about finding distant relatives currently living in Norway. Here again, we received encouragement to visit the area and we were pleasantly surprised upon our arrival not only to be given additional information about the festivities they had planned, but were also invited to be part of this celebration. An additional surprise upon our arrival was meeting a cousin the Center had found for us who lived nearby.
In preparation for this trip Keith had also joined the Internet Norway List. Here Peggy and Keith gained additional valuable information and make some wonderful contacts. They were invited to meet a group of Norway Listers from Oslo and join them for dinner on the second evening in that city. Keith started to correspond with a fellow living not too far from where they would be visiting Kristian Velle and his wife. This fellow, by the name of Lars Nag, helped Keith with some translation and, as they compared ancestor charts, found they were 11th cousins! So plans were made to meet in person in Norway.
Keith sent off several e-mails blindly to addresses in the Gjesdal kommune area south east of Stavanger where another part of Keith's ancestors once lived. This again resulted in almost miraculous contacts being made with distant cousins who invited us to meet with them and learn more about that area. Other contacts were made before we left and these, and more on the ones mentioned above, will be discovered in more detailed in our "TRAVEL REPORTS."
In retrospect, we are very happy that our planned 1999 trip got delayed so that we could learn more about traveling in Norway. And, most importantly, this delay gave us the opportunity to make these valuable personal contacts. Knowing what we know now, we possibly could have made this trip on our own without the aid of a travel agency. However, we consider the assistance given by Brekke to be most worthwhile. Their advice and assistance provided an excellent worry free structure for our itinerary. All the accommodations they arranged for us were outstanding. They took care of all of our major travel arrangements and reservations. Train and express boat connections went smoothly. The only travel problem we experienced was not of Brekke's making. The only unpleasant part of our trip was courtesy of United Airlines on the last leg of our return flight. Actually Brekke usually uses another airline but they booked us on United at our request because of our frequent flyer program and our desire for a brief layover in New Jersey. We highly recommend Brekke, especially for first time travelers to Norway. We cannot make such a positive recommendation for United!
<![if !supportEmptyParas]> <![endif]>