INSTALLMENT #9
[Days 14 & 15 - Friday & Sat., July 7 & 8, 2000]
Peg & Keith Wheeler's Norway trip report, Summer 2000
<![if !supportEmptyParas]> <![endif]>
See Photo Albums #19, #20, & #21.
<![if !supportEmptyParas]> <![endif]>
Walk around Slogvik Farm - restored mill, lake, visit at Laura's, fjord fishing - and
Visiting Nordre Askeland Cousins - Handicraft Cooperative, Skjoldastraumen.
<![if !supportEmptyParas]> <![endif]>
Einar had to go to work on his project with his excavator. This was Rotraud's "day off" - or was it ours?  She insisted that she must have a day to spread manure on the fields.  She and Einar were scheduled to "go on holiday" the following Tuesday, the same day we were leaving, and this was a "must do" chore before she could get away for their trip.  They planned to go to the north of Norway one way on the cruise ferry and to drive back home afterward ("for as long as the money held out").  They keep a holiday fund to which they contribute during the year and then travel as far as it allows when the time comes.  Two years ago they were able to come to America and traveled from Seattle to Mt. Rushmore.
<![if !supportEmptyParas]> <![endif]>
Keith had been studying the map of the Slogvik farm and near environs, especially that which used to be part of the original place.  Einar had furnished maps and other detailed information.  According to the always handy Tysvær local history book, volume 2, the name of this farm used to be "Slokevik" in older times (up to 1661).  It has also been spelled "Slogvig."  More recently it is written "Slogvik."  They think this name comes from the Norwegian word "slok," meaning millrace, and "vik," meaning cove.  This does not mean that there was a millrace here originally, but the landscape appeared to be shaped like a millrace.  Also, down by the old farmyard, in today's "bruk" (or farm) number 7 that Einar owns, there is a valley or an indentation and below this lies a beautiful inlet or cove.   According to the book, archeological finds indicate that the area of the Slogvik farms had been occupied as long as 4,000 years ago.  Records indicate that 6 people lived on the farm in 1664, 17 in 1801, and 26 in 1865.  By the end of the 19th century there were only 15 in Slogvik as people had moved out to other cities and communities and the immigration to America had taken its toll on the area's population.
<![if !supportEmptyParas]> <![endif]>
The original Slogvik farm was quite large.  The original farm was about 550 acres (2200 mål/dekar) and included a couple of small islands in the fjord.  After Keith's ancestor Jacob left in 1825, his brother Knut and later his sister Malene emigrated to America.  Another sister, Inger, inherited the farm but she married and moved away and so she sold to Jacob's youngest brother Anders in 1842.  Now he was the Quaker who stayed behind.  He and his wife had no children and in 1890, when he was 78, he gave the farm to the Quakers in Stavanger.  The Quakers rented it out until they sold it to Einar's grandfather in 1900.
<![if !supportEmptyParas]> <![endif]>
 As was the case with practically all farms in Norway, the original farm was broken down into subfarms (or "bruks") usually as the size of the family increased.  Keep in mind that this is beautiful but very rugged, rocky country.  Very little land could be put into regular agricultural cultivation.  Einar gave me a color coded map of the farm he current owns (Bruk 7) which is about 92 acres in size, however there were only 6 small parcels that were coded for "cultivation" (a little less than 5 acres or 19 "mål dyrka"), with a larger area of about 10 acres marked for "grazing" or pasture (this "beite" area can be fertilized).   A section is also marked for forest or "skog" (almost 13 acres).  In addition to some small ponds, some of this land is covered with the very beautiful Slogvikvatnet or lake.  The rest is rocky, mountainous, swampy, or covered with heather and wild grasses.
<![if !supportEmptyParas]> <![endif]>
<![if !vml]>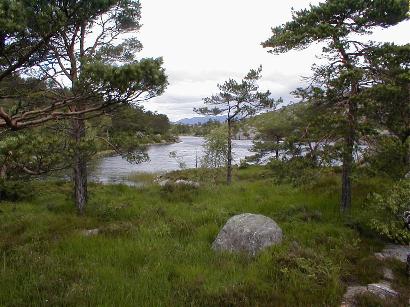 <![endif]> 
<![if !supportEmptyParas]> <![endif]>
<  Lake Slogvik
<![if !supportEmptyParas]> <![endif]>
<![if !supportEmptyParas]> <![endif]>
<![if !supportEmptyParas]> <![endif]>
The cultivated land is used mostly for growing grass for silage.  They have several head of beef cattle and a herd of sheep.  Some other parts of the original farm are owned by Einar's Slogvik cousins; some parts are now owned by others.  Einar's home on bruk 7 is where the original farm house was located in Jacob's time.  This original house was moved south to bruk 1 by Jacob's brother Anders and this bruk is now owned by Einar's first cousin Kåre.
<![if !supportEmptyParas]> <![endif]>
Anyway, we struck off by walking with PC, the dog, around a lower field not far from the quay.  It had already been manured -- Rotraud had been up earlier than us  -- the smell was richly farm-like.  We were looking for an old "dam site."  We think we found some old rock remnants, but they looked nothing like a dam.  Walking across the highway and up the hill, we came to the old "husmmans plass."  This is best defined as a cotter or tenant farmer's place from earlier times.  Here there now was a small cabin that was currently in use as a vacation cabin and as someone was there, we did not go too close.  Near this cabin could be seen the remnants of much older structures (probably the original house and farm buildings).
<![if !supportEmptyParas]> <![endif]>
Walking down the hill along the highway to the north, we spotted the old Slogvik mill that is listed as a historical site by the Tysvær kulture center.   There were trails down to and around it as if school children had frequented it.  More probably there are just a lot of local folks who enjoy checking out their own local history and the many Norwegians that come out of the cities to vacation in this area.  Whoever the former visitors, they had left the place in pleasant condition.  There was no litter or defacement; this made it rather nice.  We sat awhile before we followed the stream up to the lake. 
<![if !supportEmptyParas]> <![endif]>
It was on this walk that Peg became aware of just how much heather there is all OVER the countryside.   There were several varieties in bloom and it made for interesting walking.  Remember that she works hard at home trying to keep a few small patches of heather alive.  At first we avoided stepping on the heather especially, but eventually it became a matter of that being the best stepping grounds of all because to step elsewhere meant possible boggy wet areas.  It brought new meaning to the stories of travelers making their beds in the heather.  It was vast and springy, soft and light, not at all unlike a mattress. 
<![if !supportEmptyParas]> <![endif]>
It was nearing the pre-arranged time to return to the farmhouse for lunch.  Returning, we passed a field that Rotraud had been spreading the liquid manure on, we noticed that the fiberglass manure tank trailer had been tipped over.  It lay on its side and the tractor was missing.  We began to fear that she had been injured so after making sure she was not in the wreck, we raced back to the house and learned that she was okay.  Despite the ominous nature of the accident, she was not personally injured except for her pride.  However the fiberglass was ripped at the upper part of the tank and the trailer hitch was damaged somewhat.  It could have been much worse.  (Isn't that what is said of ALL accidents?)
<![if !supportEmptyParas]> <![endif]>
A very remarkable factor of this neighborhood was made evident by the manner in which Rotraud was able to recover from this major catastrophe of a tipped and broken piece of farm equipment.  She had already engaged the help of her neighbor (Einar's cousin Kåre) to finish the spreading of her fields.  He would be repaid for his time (he had to take an afternoon out of his schedule -- not always easy for a farmer) by a load of gravel he needed to have spread on his driveway.  Einar would bring this in his dump truck later.  This was not the first incident we saw while we were there of neighbors helping neighbors in this special farming community.   One must wonder if all Norway is like this or was this a special neighborhood.
<![if !vml]>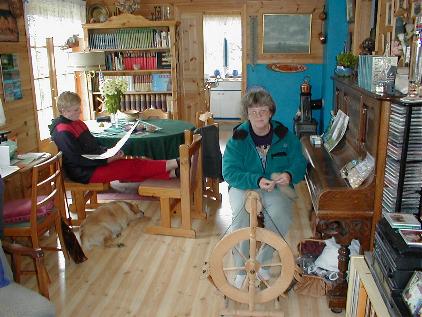 <![endif]>
After lunch, Peg sketched the fjord horizon from the front yard while Keith took pictures and studied the books Einar had collected.  When Rotraud returned from her ordeal and had showered, she took a break while Peg did some more spinning on her wheel.
<![if !supportEmptyParas]> <![endif]>
<![if !supportEmptyParas]> <![endif]>
<![if !supportEmptyParas]> <![endif]>
Peg spins while Rotraud and PC rest>
<![if !supportEmptyParas]> <![endif]>
<![if !supportEmptyParas]> <![endif]>
<![if !supportEmptyParas]> <![endif]>
After she was rested Rotraud got Peg started making "krum kake."  These were thin, waffles that were wound on a cone form while warm to make a kind of open ended cone that became crisp as they cooled.  Sweetened berry filled whipped cream would be inserted just before eating -- a VERY delicious and special dessert.
<![if !supportEmptyParas]> <![endif]>
At 4:30 we were expected for coffee at the home of Laura, Einar's mother.  Einar had come home early and in time to join us.  Laura is a recent widow and adjusting to that new role.  She attends a senior citizen's group a couple of times a week for cards and conversation.  She was dressed nicely and had prepared a nice spread of coffee and cake.  Edvard, her husband of 58 years died just last April rather suddenly.  It was both a surprise and an honor to learn the interest he had in the descendants of the emigrants from this area.  Apparently Edvard, Einar's father, was particularly looking forward to our visit.  We were told he would study the photos of Keith to see if he could detect any family resemblance.  We were sad that we missed him.
<![if !supportEmptyParas]> <![endif]>
As Laura spoke no English, Rotraud translated for us.  We took her almonds from cousin Emma, a calendar with pictures of the Redwoods, and an American flag.  She talked a great deal about her 5 children (4 daughters and Einar).  While we were there, one of her grandson's, Erik Halleland, came to visit with his girlfriend, Anna, and his 4 year old daughter.   Anna was a teacher -- more "teacher talk."   She taught 2nd grade.  
<![if !supportEmptyParas]> <![endif]>
After a late dinner, while Keith studied more books, Peg went fishing with Terje and Ellen.  They rowed the family motor boat (sans motor) a short distance from shore and cast in a few lines.  No fishing license is required on the fjord.  Terje caught something right away and Ellen caught even more in short order.  Peg caught one, but truth to tell was more interested in just being on the water and photographing the 11:30 twilight.  Terje sure knows where the fish bite and was very interested in having Peg catch something.  He also did the cleaning of the entire catch which was put in the freezer for family use.   Another late night.
<![if !supportEmptyParas]> <![endif]>
Day 15, July 8, Saturday - Askeland cousins
<![if !supportEmptyParas]> <![endif]>
Thinking we heard folks up and about, Peg and Keith got up but there was no one about after all.  We read until the rest joined us.  At 11:30 we left to drive south toward fourth cousin Ingrid's house for luncheon.  We stopped by the Tysvær Kommune Handicraft Cooperative to support the local handcraft folks.  Peg found a unique sweater and we purchased a few things for the house and family.  Keith bought a "NH" ("Norges Husflidslag" or Norwegian Handicrafts) lapel pin that he proudly wore the rest of the trip.
<![if !supportEmptyParas]> <![endif]>
Arriving at Ingrid's was a treat for the eyes.  She appeared at the door of her home in full "bunad," the national costume worn on holidays and other special occasions. 
<![if !supportEmptyParas]> <![endif]>
<![if !vml]>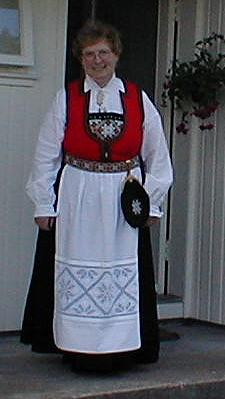 <![endif]>
< Keith's 4th cousin Ingrid Torbjørndatter Askeland/Austrheim >
<![if !supportEmptyParas]> <![endif]>
Ingrid welcomed us into her beautiful home.  She had prepared a lovely meal and we enjoyed the conversation and getting a little more acquainted with her.  She has been a widow since her husband Osmund died in 1985.  They had no children but she has kept busy as she has done administrative work for Tysvær Kommune for many years.  She proudly showed us the award she received for such work from the organization for kommune governments.  She also gave both of us lapel pins with the heron logo of the Tysvær Kommune.  She also presented a gift from Reidar Pedersen, the Tysvær Mayor, which was a book <![if !vml]>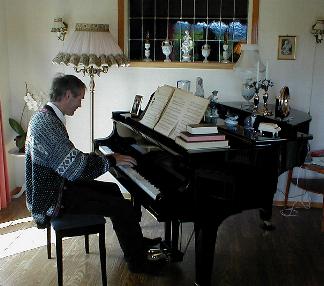 <![endif]>about a Norwegian policeman, originally from Haugesund, who rode horseback across the US. Afterwards we were all treated to her talented piano playing on her beautiful grand piano.  She had an English hymn book and we found ourselves singing Keith's mom's favorite, "Old Rugged Cross," and Peg's mom's favorite, "He Walks with Me and He Talks with Me."  That sure brought back memories.  We were extra surprised to learn that Einar plays the piano too.  He played some too that afternoon.  This man has no end of talents.  How many ex-teacher, farmer/excavator operators do you know that play the piano and paint fine works of art?  (He is pretty good at genealogical research too.)
<![if !supportEmptyParas]> <![endif]>
<![if !supportEmptyParas]> <![endif]>
<  Einar plays --- Edvard Grieg would be envious.
<![if !supportEmptyParas]> <![endif]>
<![if !supportEmptyParas]> <![endif]>
<![if !supportEmptyParas]> <![endif]>
<![if !vml]>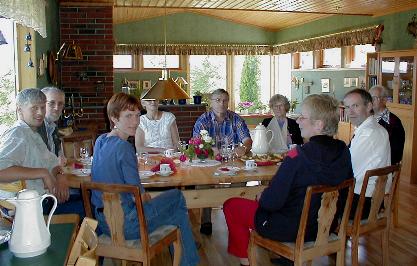 <![endif]>
It was then time to journey up the road to the modern and spacious home of  another  4th cousin Jostein Askeland and his wife Nina. 
<![if !supportEmptyParas]> <![endif]>
<![if !supportEmptyParas]> <![endif]>
In a Nordre Askeland home -
Left to right: Jostein, Keith, Nina, Inger Marie & Kåre Olsen, Johanna, Rotraud, Einar, Knut. >
<![if !supportEmptyParas]> <![endif]>
<![if !supportEmptyParas]> <![endif]>
This delightful couple has siblings and other relatives in the US, have visited the US on several occasions and speak excellent English.  They had gone so far as to fly the American flag from their flagpole in our honor.  What a heartwarming sight that was to see the flag waving in a beautiful blue cloudless summer Saturday sky.  Jostein's 86 year old father Knut (Keith's 3rd cousin once removed) and his wife Johanna, as well as Jostein's sister, Inga Marie, and her husband were there to greet us. Nina and Jostein have four sons all of whom were away on various outings.  Introductions all around and we were invited to the traditional and very lovely spread of foods beginning with open faced sandwiches and ending with scrumptious cakes.  Rumor had it Jostein, himself had made the cheesecake.  They also had some delicious raspberry punch from their garden's berries.  Yes, we had just eaten at Ingrid's, but this is what you do when you have callers.  So, if it is an afternoon of calling, it is an afternoon of beautiful rich food.  (Dieting is for the rest of life.)
<![if !supportEmptyParas]> <![endif]>
We then adjourned to their nice deck to enjoy the sun and fine views.  Peg ended up talking to Inger Marie and her husband Kåre who live south of Stavanger in Sandnes.  Kåre is a high school principal, and when Peg "jokingly" asked if he ever needed an English teacher, he offered her a job on the spot.  Peg isn't sure how serious he was with this offer, but it sure started her thinking about this possibility. 
<![if !supportEmptyParas]> <![endif]>
<![if !vml]>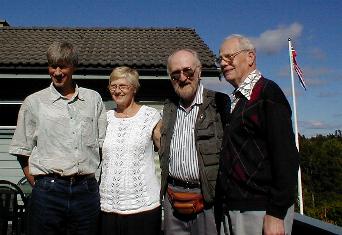 <![endif]> 
< Keith with 4th cousins Jostein & Inger Marie and 3rd cousin-once-removed Knut Askeland. 
US flag appropriately flying below the Norwegian banner. >
<![if !supportEmptyParas]> <![endif]>
Before leaving this family we walked a short distance down the lane to Knut and Johanna's pleasant older home where we were invited in for one last cup of coffee and more warm Norwegian hospitality. 
<![if !supportEmptyParas]> <![endif]>
Nina, having learned that we were interested in sweaters to buy for ourselves and family as the customary symbolizing souvenir of Norway, but not the typical "run of the mill" type, called a lady she knew who made them at home.  We stopped there on our way back to Slogvik.  She had just recently sold several to German tourists and her selection of big sizes was down, but we found two we liked that fit Keith.  The prices were excellent, but since we had had to borrow from Einar's travel fund stash, we still had to go back via Aksdal to buy more kroners.  We marveled again at how easy it was to find an ATM and to simply put in our card and the cute little machine was able to check our bank in Eureka, know we had sufficient funds, and cough out the cash in kroners in mere seconds.  (Here are some interesting on-line photos of Aksdal: http://home.online.no/~eihustve/ht990602.htm<![if !supportNestedAnchors]><![endif]>  &   http://home.online.no/~eihustve/ht9810ad.htm  )
<![if !supportEmptyParas]> <![endif]>
On the way back, we passed the turn off  to Slogvik and continued east a short distance to a place called Skjoldastraumen.  Here just past a quaint old church was a unique feature on the fjord.  This was Norway's only saltwater "sluice" (boat lock) dating from 1908 and is still in use for pleasure boats.  This is required because of a rather unusual feature here.  Here the fjord is very narrow; actually it is where two fjords, Hervikfjord and Skjoldafjord, meet in a narrow channel.  Tidal action can cause periodic strong currents that make it impossible or dangerous for boat traffic.  This old single lock solves the problem.
<![if !supportEmptyParas]> <![endif]>
We had parked the car across the adjacent bridge and walked back to look over the lock and the old rotating bridge that is no longer in use.  Rotraud proudly pointed out the interpretive sign that she had translated.  On the way back to the car, we stopped at a small convenience store and here we were able to find copies of the Stavanger Aftenblad for July 5th with the article and photos of Keith and his cousin. (See our "Newspaper Articles" page.)
<![if !supportEmptyParas]> <![endif]>
Back at the Slogvik's it was time to rest and organize our lives a bit.  One evening, maybe this one, Rotraud's son Terje returned from an appointment in Haugesund.  He had had two supplemental missions:
<![if !supportLists]>1. <![endif]>To pick up a book Rotraud had ordered for Peg.  She had been absolutely sure that Peg would like this long time favorite book.  It was Growth of the Soil by Knut Hamsun, a classic in European lit.  It had been recommended to Peg by her CSU professor once, but she had not read it at that time.  It was time to read it apparently.   Keith had read it and loved it.  She has since read it and enjoyed it immensely.  A really good read, and doubly so for having been in Norway and been a homesteader herself once. 
<![if !supportLists]>2. <![endif]>To take Keith's AAA auto card in order to obtain a "NAF Veibok."  NAF is AAA's international affiliate in Norway.  The Veibok is a sturdy paperback book that has a series of maps and tour guide pages that cover the whole country.  Of course it is all in Norwegian, but for "map freak" Keith it was a great treasure and a valuable future resource.  We are sure there was some charge for this book, but Terje would not tell how much, nor would he accept reimbursement.
<![if !supportEmptyParas]> <![endif]>
See Photo Albums #19, #20, & #21.
<![if !supportEmptyParas]> <![endif]>
PREVIOUS REPORT              BACK TO TRAVEL REPORTS INDEX NEXT REPORT
<![if !supportEmptyParas]> <![endif]>You are Visitor
since 12/1/01