INSTALLMENT #10
[Day 16, Sunday, July 9, 2000]
Peg & Keith Wheeler's Norway trip report, Summer 2000
<![if !supportEmptyParas]> <![endif]>
<![if !supportEmptyParas]> <![endif]>
Tysvær Sunday - Slogvik Brunch, Sandbekken, Tysvær Church, Cleng Peerson Monuments, Old School House, Slogvik Bruk 1, Fjord Rowing, Ancient Slogvik House Planks.
<![if !supportEmptyParas]> <![endif]>
This was the day all of the neighboring Slogvik cousins were invited to a morning brunch.  There were ten or eleven of us around the dining table which was heavily adorned with many foods including the fish, cheeses, fresh whole grain breads and fruits we were beginning to associate with Norway hospitality.  The conversation was interesting, lively and fun.  Everyone had a great time.  The morning was gloriously sunny and pleasant.
<![if !supportEmptyParas]> <![endif]>
<![if !vml]>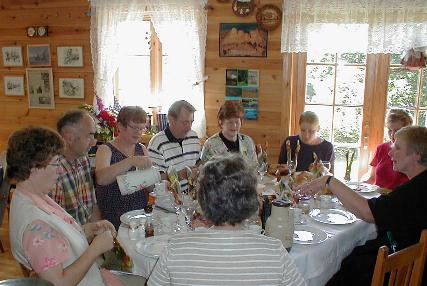 <![endif]>
< Sunday brunch at Slogvik farm.  Left to right: Hanna-Marie (her husband Kjell could not attend), Kåre & Gjertrud, Sjur & Berit, Rotraud's daughter Ellen, Sjur & Berit's daughter Eli, Rotraud and Peg with back to camera.  Hanna-Marie, Kåre & Sjur are siblings and 1st cousins to Einar who was hidden in the corner behind Rotraud. >
<![if !supportEmptyParas]> <![endif]>
Among the guests this morning was a young woman, Eli, who had spent a year in the US on a tour with a medical team as a rehab specialist.  She shared with us her amusement at the way many of the Americans she met assumed she wanted to emigrate to the US.  Many Americans seem to think that anything that is not US must be "third world."  They had not seen what we were able to -- that living in Norway is a very desirable thing.  We were aware that the development of North Sea oil had aided Norway's economy greatly, but we were still very impressed with the high standard of living that citizens of this country enjoy.  We don't know if it is true but we were told that Norway's standard of living and per capita income was second only to Kuwait.  Other things being equal, it is understandable that it would be difficult to leave this lushly green, picturesque and friendly country.  Granted, this was summer.  Some told us that for every pleasantry of summer there is often an equal and opposite unpleasantry in winter -- these long summer days soon turn into long winter nights.
<![if !supportEmptyParas]> <![endif]>
After the company left, Einar went to get his mother so she could go with us to the "Cleng Peerson House" at Sandbekken.  Actually this title is quite misleading since this particular house was built in 1840 and so can hardly be Peerson's birth house since he was born in 1783 and was living in the U.S. by 1840.  Although not known with certainty and bit controversial, he was born in Lervik and raised in Hesthammer, both quite a bit south of this place.  Moreover, this house was moved here from elsewhere in 1983.  Mostly Sandbekken serves as an excellent example of the lifestyle around the height of the emigration period, and since Peerson is known as "The Father of American Emigration," the name Cleng Peerson's house is not too far off for this historical point of interest.  Cleng had been sent by the Sloopers to America to make arrangements for their immigration, and he met them at the dock when they arrived in New York in 1825.  While Cleng would have been much older than Keith's Jacob, records indicate that they traveled together several times in search for new places to settle in the Midwest.  They were also "3rd cousins once removed.," so they had some family connections too. They both must have been restless sorts as Cleng eventually settled in Texas and Jacob in California.  Most of the other early immigrants stayed in upstate New York or the Fox River Settlement in Illinois.  (For more on Cleng, try:
http://www.lawzone.com/half-nor/peerson.htm 
<![if !supportEmptyParas]> <![endif]>
Anyway, back at the Sandbekken site, we were met by  cousin Jostein and Nina Askeland with whom we had visited the day before.  This gave Peg a chance to remember to say, "Takk for sist."  (Thanks for last time)  There was a pleasant young lady who was a substitute guide for the day.  We were her first tour in English.  She did a great job.  While we were there, other groups came along.  Some had bicycled out to the country on this fine summer Sunday afternoon at this popular recreation area.  A prominent feature on the ground floor in this small old house was the large open fireplace and chimney made of granite and clay.  This was used for both cooking and heating.  In the small upstairs Peg was delighted to find a beautiful antique loom and spinning wheel.
<![if !supportEmptyParas]> <![endif]>
<![if !vml]>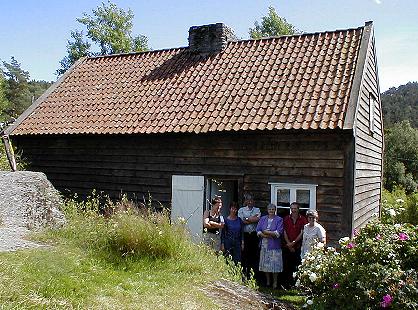 <![endif]>
 "The Cleng Peerson House" - in front, left to right: guide, Nina, Jostein, Laura, Einar & Peg.
<![if !supportEmptyParas]> <![endif]>
Coming out of this old house and after the required group photograph, we next toured another old house nearby.  This one, not as old as the first, was decorated and furnished as the average Norwegian home of the 1940's or 50's would have been.  Here in the kitchen another group of visitors were trying their hand making the famous and delicious Norwegian waffles. Before we could leave this charming area, Keith had to check out the old stone walled storage building tucked in the side of a nearby hill.  It was now time to say good-bye to Jostein and Nina.
<![if !supportEmptyParas]> <![endif]>
By the way, Sandbekken is fairly close to the Slogvik farm, being just over 3 km as the crow flies.  Because of he rugged terrain it is many times this distance by road.  One first has to go south to Hervik, then west, and then northeast.   By road Sandbekken is much closer to North Askeland where we had been the day before.
(For on-line pics of Sandbekken with the Cleng Peerson house, see:
http://home.online.no/~eihustve/ht9810sb.htm<![if !supportNestedAnchors]><![endif]>  and  http://www.norwaypost.no/NP/culture/muscleng.html 
<![if !supportEmptyParas]> <![endif]>
<![if !vml]>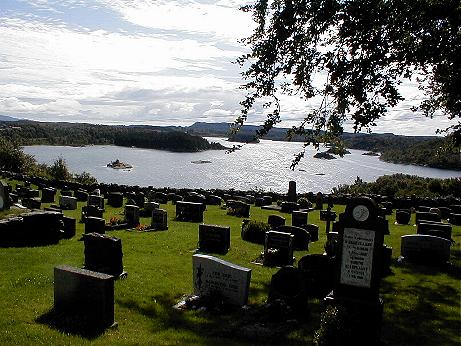 <![endif]>Our next stop, about 7 km to the southwest, was the Tysværvag church cemetery where Laura's husband, and Einar's father, Edvard was buried recently.  It was a lovely place.  Again we thought of Edvard and how we wished we could have met him.  From his resting place the view toward the fjord was exceptional.
<![if !supportEmptyParas]> <![endif]>
< Tysværvag cemetery view to the west.
<![if !supportEmptyParas]> <![endif]>
We really liked the Norwegian practice of planting living plants at the grave site.  Each had a small, perhaps 2'x1.5' plot at the base of the stone where perennials or annual color could be planted.  Everything looked very well tended.  There were names on stones in this and another cemetery across the road that were familiar.  Einar showed Keith where Kari Askeland Dahl was buried in 1893 and now lies below an old iron grave marker at another nearby cemetery.  Kari, daughter of Inger Slogvik, would have been Jacob's niece and was Jostein's great grandmother.  One really gets the feeling of very deep family connectedness and rootedness here.
<![if !supportEmptyParas]> <![endif]>
A very short distance below the church and cemetery is a monument dedicated to Cleng Peerson.  From here we drove further south through the interesting countryside to Hesthammar.  Here, where Cleng most likely grew up on the Hesthammar farm, was another monument to this prominent person.  From this area Einar pointed out the farms of South Askeland and Hersdal on a hillside to the east.  These farms figure into the history of the family (they were "yellow dots," but that will be explained in the next installment).  From here we drove south and caught a glimpse the big north sea gas plant at Kårstø on the southern tip of Tysvær. Rotraud's daughter Sonja works here.   Looping around to the west on another scenic road we returned to beautiful Tysværvag from a different angle.
<![if !supportEmptyParas]> <![endif]>
Retracing our way back toward the Slogvik farm, we made a stop at Einar's his old one room schoolhouse. Einar visited with the fellow who was remodeling it for a summer place and then we were invited in.  Here Einar reminisced as he pointed out where his desk had once been, with boys on one side and girls on the other.  In the yard outside, we met a nice little "fjording" or fjord horse (http://www.imh.org/imh/bw/nfjord.html ) -- the national horse of Norway.  Our friend in California, Cyndi, had asked us to be on the lookout for these.  Cyndi loves horses - especially work horses.  She shows her own Belgian, Kelly, at Draft Horse shows throughout the west.  Always on the look out for these sweet horses, we would often see them from a distance.  This one was up close and personal.  These are classy little work horses.  One usually says "little" because they are small by comparison to the standard Belgian or Clydesdale we are more familiar with.  Someone along the way had volunteered that they are not used for farm work anymore but are kept for pleasure.  They reportedly were very a very efficient work animal for the rugged Norwegian terrain with an ancient history.
<![if !supportEmptyParas]> <![endif]>
Leaving the old schoolhouse, Einar took Laura home -- she was a bit tired.  He then joined us where he had left us off at his next door neighbor, Kåre's house and farm.   Here we tried to identify the site where Jacob's brother, Anders, had moved the old original Slogvik farmhouse.  It was clouding up a bit and rain was threatening. Kåre's wife's sister, Karen, had come in a truck to help get the cut hay off the ground and moved to her place.  She is a professional potter with a shop in Haugesund but keeps horses as a hobby.  She and her sister, Gjertrud, made quite a picture out there in the field with their pitchforks tossing the hay over the fence to be loaded in the truck. 
<![if !supportEmptyParas]> <![endif]>
That evening, Keith took a boat ride with Einar.  Several times Einar and Keith had gone down to their dock by the huge boulder where fjord boats tied up in olden days.  Here were two boats - one fiberglass with an outboard motor that didn't want to work and Einar's old wooden "Viking" boat.  The latter had great character but also a strong tendency to sink.  After repeated bailing, it was decided that the more modern boat would be the safest way to experience the fjord.  Einar took comfortably to rowing while Keith enjoyed the ride and took pictures back toward the Slogvik farm.  When Keith complimented Einar on his rowing skills, Einar modestly mentioned that he had once won the rowing contest that has been held down the fjord at Hervik.
<![if !supportEmptyParas]> <![endif]>
Another very special event among the many, many special events: 
Meanwhile, back at the Slogvik farm house, Peg sorted suitcases and repacked in preparation for leaving in a couple of days.  Shortly after Einar and Keith return from their outing, Einar's cousin Sjur drove up with two planks tied to the top of his new car.  Keith was called out and Sjur explained that these were planks from the very house where Jacob was born and raised, <![if !vml]>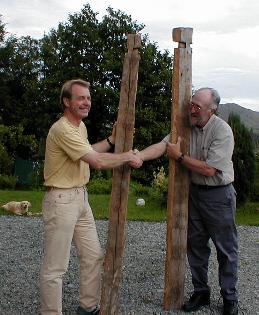 <![endif]>the house that originally stood here where Einar's new house now stands.  As mentioned, Jacob's brother had moved the house to the south near where cousin Kåre's house now stands.  Years ago the old house had to be torn down to develop the area for new farm buildings.  Sjur had kept a few of the old notched and pegged planks thinking he would someday make something from this ancient wood.  Now he was generously showing Keith these old pieces of wood that were so special.  The three men studied the grain and workmanship of these relics that were probably made by Jacob's grandfather around 1770.  Sjur offered these to Keith if he wanted them.  This again was an emotional time for Keith.  There was no way he could easily get these precious old boards home.  A decision was made, and Einar pulled out his saw and cut off about one foot of one notched end.  This, of course, gave Peg another packing job and we both were mentally rehearsing how they would explain this chunk of wood if they were questioned about it going through US Customs.  (This very special piece of wood was not inspected by Customs and is now on display in a place of honor in our Mad River home.)
<![if !supportEmptyParas]> <![endif]>
     < Sjur Slogvik & Keith >
<![if !supportEmptyParas]> <![endif]>
Preparations for the Yellow Dot Day:  Rotraud, having stayed home this day, now sat down and planned a detailed itinerary for the next day, which was to be a tour all around the Tysvær kommune area.  The goal was to visit the myriad of "yellow dots" on a map of various farms where Keith's various ancestors had lived at various times throughout various generations.  Einar had given Keith his very own Tysvær map which Keith took on practically all our outings and was the subject of much study.  Visiting all these places would be a formidable job, but something Keith REALLY wanted to do.  Rotraud assured us she really wanted to do it too, as many were places she had never been before either. She further assured us that she needed to do no packing for their holiday as they weren't taking much.  
<![if !supportEmptyParas]> <![endif]>
<![if !supportEmptyParas]> <![endif]>