INSTALLMENT #11
[Day 17, Monday, July 10, 2000]
Peg & Keith Wheeler's Norway trip report, Summer 2000
<![if !supportEmptyParas]> <![endif]>
See Photo Album #24
<![if !supportEmptyParas]> <![endif]>
The Tour of the "Yellow Dots" Day - Visiting Tysvær Farms, Sigmar Myhre, Nedstrand Store & Kleiberg House, Coffee at Rita's.
<![if !supportEmptyParas]> <![endif]>
Peg has often maintained that Keith's genealogy hobby is just an excuse to see pretty country and meet neat people.  There were plenty occasions this day that would support this theory. 
<![if !supportEmptyParas]> <![endif]>
Keith considers himself pretty lucky as much genealogy work had already been done on his ancestors.  Because they were "Sloopers" and figured so prominently in Norwegian-American immigration history, much has been written about them.  In J. Hart Rosdail's Slooper book, mentioned previously, ancestor or "pedigree" charts were given for Keith's Norwegian ancestors.  Some lines in these charts went back into the 14th century.  Other than names and the few available dates, little additional information was given about these ancestors.  However from the little bits and pieces of information provided and from the names themselves (remember the old Norwegian naming system where the last name indicates where they lived?), Keith could put together a list of place names where his ancestors had lived in the Tysvær area.  With help from Einar and Rotraud he was able to find most of these places on his handy-dandy Tysvær map.  These names he then highlighted with a yellow marking pen.  Our task for this day, with our trusty guide Rotraud at the helm, was to visit most of the places represented by yellow dots on the map.  The goal was to get a feel for the country and try to take a photo if possible.  Einar had to work as this was the last day before their scheduled holiday cruise.  He had to complete a job and move his excavator to a neighbor's farm to be used while he was gone.  He had already taken several days off work to be with us.
<![if !supportEmptyParas]> <![endif]>
But first there was another mission.  We had to go to Aksdal to the bookstore.  Keith had totally fallen in love with the Norwegian "bygdeboker" or local history books.  There were 9 volumes for Tysvær, the Slogviks had given Keith Vol. 2 which had much information on the Slogvik farm and Jacob's, as well as Einar's, families.  Adding 4 more volumes would provide valuable information on other ancestors, related lines and their farm history.  Peg agreed to pack the books if Keith would agree to handle the large suitcase that had been quickly gaining weight.
<![if !supportEmptyParas]> <![endif]>
Wait!  Aksdal is a yellow dot.  Jacob's mother's ancestor Gaut Aksdal had lived here in the latter part of the 1500's.
<![if !supportEmptyParas]> <![endif]>
- WARNING - BORING GENEALOGY STUFF AHEAD -- PROCEED AT YOUR PERIL OR DELETE AT YOUR PLEASURE.
<![if !supportEmptyParas]> <![endif]>
Driving east from Aksdal, we soon passed the outskirts of Grinde with its late iron age stone monuments.  More of Jacob's mother's ancestors lived here in the 1700's.  Continuing eastward, we pulled up a country lane to the farm of Aukland.  This was a new name to Keith as it was not found in the Slooper book, but had been found by Einar in his research of Jacob's ancestors.  This farm is just west of the Stakland farm where the old Quaker Church that we visited previously is located.  (Yes, Stakland is a yellow dot too.)  Soon we were traveling east again on the main road and past the sluice/lock area described previously.  Driving back into the hills a bit, we came across the Finnshus farms where Rasmus and Rasmus's daughter lived in the 1600's and 1700's (again Jacob's mother's ancestors)
<![if !supportEmptyParas]> <![endif]>
Our next stop was quite spectacular.  We were looking for Ørke as spelled in the Slooper book, or Yrkje (as currently spelled).  This again took us off the main road and down to the very west tip (end) of Yrkjefjorden.  This is a quayside village at the remote end of a rather <![if !vml]>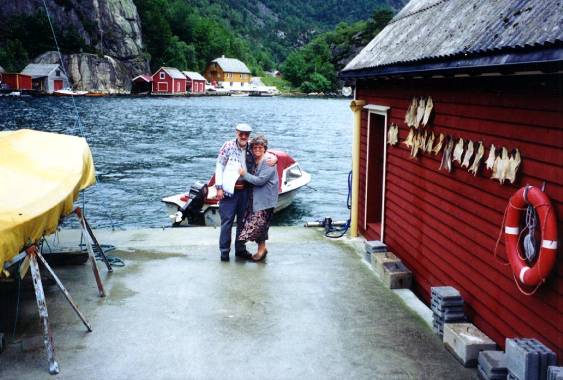 <![endif]>large fjord (according to the map).  We came upon it from overland, and it appeared tiny, quaint, and (yes, it's becoming a trite adjective . . .) picturesque.  It was an overcast and wind blown day -- the remnants of a small storm having passed over during the night. There was a hillside garden that invited closer appreciation of the bright flowers and assorted shrubs.   This is a place to which we'd like to return.  (And, yes, the photo Rotraud took of us there did turn into the Wheeler's 2000 Christmas Card.)
<![if !supportEmptyParas]> <![endif]>
<
Keith & Peg at Yrkje
<![if !supportEmptyParas]> <![endif]>
<![if !supportEmptyParas]> <![endif]>
Back on the main road, we drove quite a distance south and then east, again through spectacular countryside with views of mountains and lakes on one side and fjords on the other, dotted with clean little farms with barns and outbuildings.  We arrived enough ahead of schedule at the beautiful village of Nedstrand that we had time for coffee and a bite to eat at the local marina.  We had gone to Nedstrand to try to find the Kleiberg  Farm.  Rotraud had never been here before and was curious too.  There was a central looking general store.  The term "general" was taken quite seriously here.  In addition to a complete grocery store, there were departments for hardware, marine needs, clothing, toys and a complete sewing and yarn selection.  This would be a good place to get the basket goodies Peg wanted to send with Einar on their holiday cruise the next day.  She had great fun finding all sorts of sweets and treats and fruit to pack for a surprise.
<![if !supportEmptyParas]> <![endif]>
Before Rotraud could complete her question to the proprietor of the store about the quest we were on, he took her into the back room and made a phone call for her.  She found herself on the phone with "Cleng Peerson himself."  Actually, his name is Sigmar Myhre a local historian, author, and frequent role player of Cleng Peerson at public events.  He was "coming right over."  Rotraud wanted to surprise Keith so she sat him down at the best (only) table in the house which was covered with a clean white tablecloth and looked out the plate glass windows trimmed with lace curtains.  Yes, this is a grocery store.   Here Keith was plied with coffee and attempts at English conversation by the store owner.  Keith was a bit bewildered as to why he couldn't shop with Peg and Rotraud. 
<![if !supportEmptyParas]> <![endif]>
<![if !vml]>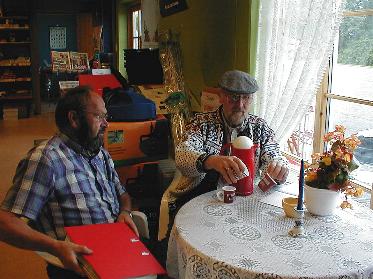 <![endif]> 
Sigmar & Keith at the Nedstrand store
<![if !supportEmptyParas]> <![endif]>
"Cleng" appeared with a stack of binders and books.  These were draft copies of the soon-to-be-published Nedstrand Bygdebok.  He soon identified Jacob's grandfather and great grandfather who had lived on the Kleiberg farm.  Of course he had additional information to that of the Slooper book.  Keith was delighted and again overwhelmed with emotion at meeting this noted historian.  He had seen his pictures on the internet   (e.g.,  http://www.rogalandslag.org/Nord-Rogaland/tysvaer.htm  - Sigmar is in full costume in the picture on the right - the picture on the left was taken from the Stakland Quaker graveyard).    Keith was provided with copies of relevant pages from Sigmar's data, courtesy of the store owner.  It seemed all work had stopped and precedence was being given to this visiting American descendant of Tysvær. 
<![if !supportEmptyParas]> <![endif]>
This celebrity status continued as "Cleng" chauffeured us in his huge custom Dodge van.  He took us up the hill through the town of Nedstrand, climbing through a series of sharp switch backs up a steep mountain side north of town.  Here on a bench of land overlooking the town and the fjord to the south, was the Kleiberg farm.  Next to a modern farm house was a small building that we were assured was the original Kleiberg farmhouse.  "Cleng" believes it was probably here that Keith's 4th and 5th great grandfathers were born.  This house had to have been built in the 1600's but had been so well kept up and painted, it appeared contemporary from a distance.  Imagine a 400 year old wooden house in the US!!  We looked inside and took a few photos.  The structural walls were of notched and pegged planks like those Sjur had brought over the night before.  The roof beams were ancient looking poles and appeared to be the originals.  AMAZING!
<![if !supportEmptyParas]> <![endif]>
<![if !vml]>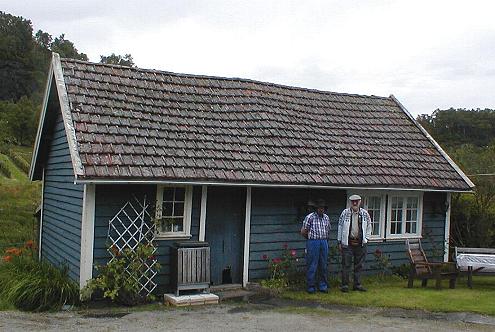 <![endif]>
The old Kleiberg house with "Cleng" and Keith in front
<![if !supportEmptyParas]> <![endif]>
The neighboring fields appeared fertile and green. Berries of some kind appeared to be a featured crop.  Driving just a short distance back down the hill, "Cleng" took us to a special view point.  This is known as Holekleiv and gives a breathtaking, panoramic view of Nedstrand below and the fjords to the south.
<![if !supportEmptyParas]> <![endif]>
<![if !vml]>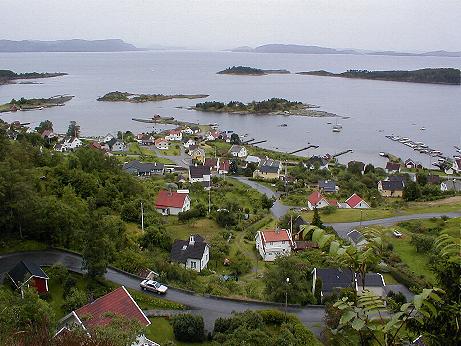 <![endif]>
"Viewpoint Holekleiv" - looking south over Nedstrand below
<![if !supportEmptyParas]> <![endif]>
On down the switch backs and into town, we visited briefly the Nedstrand Bygdemuseum (rural museum) in the restored old school house.  It was not open but Cleng had a key.  It was a work in progress funded largely by a successful local emigrant to America.  Keith recalls a special and very old "keep fish alive" boat not unlike a 5 ft long wooden kayak.  With the spaces between the slats and a covered top with hatch, fish could be placed inside and kept alive while this little craft was towed behind the fishing boat.  Clever.
<![if !supportEmptyParas]> <![endif]>
This delightful deviation from the Rotraud's detailed itinerary, put us a bit behind schedule.  We now had to go directly to Rita's for coffee and cake, which was scheduled for 3 pm.  We backtracked west and then went south along the Hervikfjorden.  We were now directly across the fjord from Hervik, so Slogvik was just a bit further north.   Rita Kvæstad and her husband, Geit, both of whom are German and good friends of Rotraud, are vets and work from their beautiful farm home.  It was a lovely, spacious home and had a fine view of the fjord.  Rita, like so many others we met on our trip, apologized for her poor English and then proceeded to carry on a conversation in excellent English.  Daughter, Iris, played a nice piano accompaniment for our visit. 
<![if !supportEmptyParas]> <![endif]>
Backtracking again, we started the drive north along the west side of the lake called Lysevatnet.  We were looking for the farm called Vassenden.  It seemed we were going too far, but we continued until suddenly we ran into the edge of Yrkjefjorden.  We had gone too far.  While this took us out of our way, it enabled us to see an "unscheduled" yellow dot farm named Haugen where the Kleiberg patriarch was born in 1630.  Searching more carefully along the lake we were eventually able to see the Vassenden farm.  This farm was hidden behind trees and the road down to it was not inviting, so we viewed it only from above.  This is where Jacob's paternal grandmother was born in 1750. 
<![if !supportEmptyParas]> <![endif]>
Driving then back to the eastern side of the Hervik fjord, we stopped at a view point where Keith could take a picture of the south end of the large Borgøy island where Østabøvik is located.   This is the place that Einar believes is the Ystebö farm, home of Jacob's paternal maternal great grandmother.  (Had enough yet?)  It was a pretty view.  Heading north back up the same road we came on earlier this day, we stopped only briefly so Keith could take a picture of the Lindanger area from the road.  This is where Holger Olavsen Lindanger was born in 1570.  His family had lived previously some distance away in Skiftun, a farm we would visit in two days. (this will be reported later -- stay tuned) 
<![if !supportEmptyParas]> <![endif]>
We stopped for gas at Skjoldastraumen, the sluice/lock place.  Then it was on to the farm called Vårå.  This is where Jacob's mother's ancestors lived for several generations during the 1600's.  As we drove up to the farm house, Rotraud was very apologetic about the appearance of the farm.  The owner of this farm had a sideline business of dismantling old farm equipment and selling off the parts.  Realizing that this type of business would require areas of clutter, we were not in the least bit offended.  In the US someone would not even give a second glance at this, however, here it stood out in contrast to the very neat and tidy way most Norwegian farms are kept.   Norwegian "junky" is still rather neat compared to US slums.  (Here is an interesting sideline:  California Governor and U.S. Supreme Court Chief Justice Earl Warren's family came from this area.  Justice Warren's great grandfather, Halvard Olsen Vårå, was a cotter or tenant farmer at Vårå in the early 1800's.  It was here that Earl Warren's father and grandfather were probably born.  At first Keith thought that he and Earl Warren are not cousins.  BUT WAIT, after returning home, with some help of another Norway List member and studying his precious Tysvær bygdebøker, Keith found that he and Earl Warren were "fifth cousins once removed"…!!!)
<![if !supportEmptyParas]> <![endif]>
We were now on a peninsula jutting north into the fjords north of Slogvik.  We looped around to the west side where we found the very attractive and neat Fikstveit (or Fekstvedt) farm.  This farm even had its own road sign giving the name of the farm at the beginning of the lane.  It was from this farm that Jacob's mother and grandfather and 4 previous generations had hailed.  The farmer here came out to meet us and showed us where he believed the old farm house once stood.  It is now just a depression in a grassy field near a more modern farm house.  Again, the view of the fjord and the countryside were striking. 
<![if !supportEmptyParas]> <![endif]>
The last two stops on this tour would be the Svinali farms.  These two farms, Øvre (upper) Svinali and Nedre (lower) Svinali, were places where more of Jacob's mother's ancestors had lived.  Keith had known very little about this line until recently when Einar shared recent research he had done.  At the Øvre Svinali farm lived an elderly Norwegian bachelor farmer and his two elderly sisters.  Rotraud commented that they were quite wealthy as published in the public tax records (there are no secrets in Norway).  This friendly, NBF pointed out across a field where he believed the original farmhouse once stood near an ancient rock wall.  We then drove around to the Nedre Svinali farm, but the people there that day had little knowledge of the history of this place.
<![if !supportEmptyParas]> <![endif]>
During this day of driving around this beautiful rural countryside, we were not only impressed with the natural beauty, but also with the friendliness we met at every turn.  Of course it helped to have our expert tour guide who could speak Norwegian where we could not.  But people just seemed basically friendly and very willing to help.  (Maybe Rotraud kept us away from the mean folks..?)  It was so obvious at the Nedstrand store, but also when ever we drove up a lane to a farm, people would stop what they were doing and try to help us in our quest to learn more about the farms where Keith's ancestors once lived.  Two things were apparent.  First, that practically all the folks we met were very interested and knowledgeable about the history of their area.  Secondly, there were no restrictions to entering these areas.  We saw no "No Trespassing" signs.  We were told that landowners cannot unreasonably restrict access to their land.  This attitude, policy or law is well illustrated by the published Tysvær kommune's "Visitor's Code" which reads, "Enjoy the countryside, walk anywhere except on cultivated fields, please shut all gates and leave no litter.  Thank you!"
<![if !supportEmptyParas]> <![endif]>
THIS CONCLUDES YOUR YELLOW DOT TOUR (15 - COUNT 'EM, 15 … more?) --- YOU CAN BEGIN READING REGULAR STUFF AGAIN.
<![if !supportEmptyParas]> <![endif]>
Earlier, Rotraud and Peg had discussed what we might like to have for our farewell dinner after our yellow dot tour.  Peg had heard about "fiske kake" being a common Norwegian dish, but not being overly sure of exactly what it was, she inquired about it.  Of course, to inquire is to receive, and she half knew this.  Thankfully, it was VERY easy to prepare.  We had picked up some fish cakes and potato salad at the Nedstrand store so it was merely a matter of heat and eat. 
<![if !supportEmptyParas]> <![endif]>
After dinner we all sat about the living room and Keith and Peg wrote in the family guest book.  This was a special event and it was apparent that what we wrote would be important and remembered.  Moreover, it had been such a wonderfully exceptional and personally meaningful week that mere words were insufficient to express what we felt.  Making a feeble effort at wrapping it up and saying an official good bye to the family, we retired upstairs to pack and make arrangements for the next and last morning at this memory filled place.
<![if !supportEmptyParas]> <![endif]>
See Photo Album #24
<![if !supportEmptyParas]> <![endif]>
PREVIOUS REPORT              BACK TO TRAVEL REPORTS INDEX NEXT REPORT
<![if !supportEmptyParas]> <![endif]>You are Visitor
since 12/1/01