<![if !supportEmptyParas]> <![endif]>
INSTALLMENT #8
[Day 12 - Wednesday, July 5, 2000]
Peg & Keith Wheeler's Norway trip report, Summer 2000
<![if !supportEmptyParas]> <![endif]>
<![if !supportEmptyParas]> <![endif]>
Stavanger on July 5th - Emigration Center, Canning Museum, Old Town - Bus to Aksdal, Tysvær - "Reisen til Amerika" Exhibit, Quaker Meeting House & "The Last Quaker,"* Slogvik's, Hervik, Teacher Talk, Birthday Party (CAKES!!)
<![if !supportEmptyParas]> <![endif]>
Wow! Anything after yesterday HAD to be anticlimactic.  We had a few hours before we had to leave Stavanger by bus for Aksdal and the Slogvik's.  We finally got to visit the Emigration Center and see how they operate.  We joined the friendship society and made a few purchases through them.  We were able to personally thank the ladies for the fine job they had done the day before coordinating all the details of the celebration and for inviting us to be part of the activities.  ("Tak for sist." - as the expression of "thanks for last night" goes.)
<![if !supportEmptyParas]> <![endif]>
We took a brief walk through the Canning Museum where a group of tourists were trying their hands at threading the little plastic sardines on rods for smoking and then packing sardine cans with them.  It looked like they were having fun.  For those not familiar with the history of Stavanger, its major industry in years past was <![if !vml]>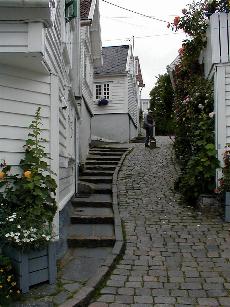 <![endif]>the sardine business.  We took a nice walk through the old winding streets of Gamle Stavanger (Old Town) which are the subjects of many photos of tourist destinations.  This part of the city is quite picturesque with its cobblestone streets and very old, but well kept, houses.  A few shops and artists' galleries added to the charm.  As the houses were quite close together there were usually no yards, but if there was any space or a window box, bright flowers could always be seen.
<![if !supportEmptyParas]> <![endif]>
<![if !supportEmptyParas]> <![endif]>
<  Street scene from the old part of Stavanger.
<![if !supportEmptyParas]> <![endif]>
<![if !supportEmptyParas]> <![endif]>
Thinking we had time for a "soft ice" (soft ice cream in a cone - a popular treat in Norway), we relaxed over them just long enough to make ourselves nearly late to catch the bus.  The driver was closing the luggage compartments as we ran up.  It was a comfortable ride through the outskirts of the city, over bridges, through tunnels, across islands and one ferry ride to Aksdal where we were to be met by Rotraud.  One of the two major tunnels that went under water (in place of bridges) was 6 kilometers (almost 4 mi.) long and over 200 meters (over 650 ft.) below the surface of the water, the second was 4 km (about 2 ½ mi.) long.  Again, very nice scenery -- it is truly difficult to find an ugly view in Norway -- actually we tried and failed to find any unpleasant view. 
<![if !supportEmptyParas]> <![endif]>
Rotraud Slogvik picked us up and there was time to visit the Tysvær kommune (municipal) library and the adjacent exhibition of "Reisen til Amerika" (Going to America), which chronicled the emigration story partly from one woman's diary.  The exhibit, with many great old photographs, was very nicely done.  Back in the library, Keith found Rosdail's Slooper book prominently displayed and had Rotraud check it out so Keith could show Einar.  We had a bit of coffee in the nearby shopping center and then kept our appointment with "The Last Quaker."*   Nils Stakland was at the historic Quaker Meeting House at Stakland (north west of Slogvik) to greet us.  (Here we use the common term "Quaker" for the Society of Friends.)
<![if !supportEmptyParas]> <![endif]>
This small plain building was bought by the Quakers in 1867 and rebuilt for their services.  Of the several meeting houses in Norway in the early days, this is the only one in its original shape and in its original place.  It is now being preserved as an historical site.  Nils told us about how the early Quakers were persecuted by the State church and local bishop.  He was <![if !vml]>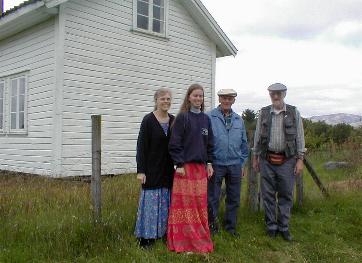 <![endif]>familiar with Keith's great great uncle, Anders Slogvik, (Jacob's youngest brother who stayed in Norway rather than emigrate) who was often in trouble the with law because of his beliefs and religious practices.  Apparently Tysvær was a particularly difficult place to be a Quaker; the bishop in Stavanger was somewhat more tolerant.
<![if !supportEmptyParas]> <![endif]>
< In front of the old Quaker Meeting House stand Nils' daughter, granddaughter, Nils Stakland, and Keith.
<![if !supportEmptyParas]> <![endif]>
<![if !supportEmptyParas]> <![endif]>
With Nils was his daughter, Synnøve Stakland, and her niece (also Nils granddaughter), Solveig Karin, who interpreted for us. The niece was visiting her grandparents while on a break from boarding school at the United World College and this bright young lady was an excellent interpreter and showed great respect for her grandfather.  We were shown the meeting house and then the small stone-fenced grave yard to the south where there is only one vacancy and it's awaiting Nils, the last Quaker.  He knew where everyone was buried even though the small simple stones had no markings on them anymore.  He was able to tell Keith where his great great Uncle Anders and his wife Brita were buried.
<![if !vml]>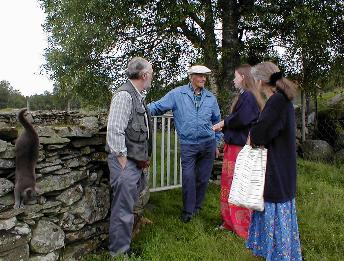 <![endif]>
<![if !supportEmptyParas]> <![endif]>
The discussion on the Quakers continues
as we leave the old Quaker graveyard.   
The graveyard cat decided to leave too. >
<![if !supportEmptyParas]> <![endif]>
<![if !supportEmptyParas]> <![endif]>
<![if !supportEmptyParas]> <![endif]>
<![if !supportEmptyParas]> <![endif]>
There was a wonderful gray cat there who posed for a picture and we adjourned to the Stakland home where Cecilie, Nils wife, had prepared cakes and coffee.  Karin's younger sister, Laila, also joined us.  What genuinely friendly people; what a lovely home.  There were examples of Nils wood working and many fine old photographs.  The view from their living room window could have inspired any artist.  This couple had just celebrated their 60th wedding anniversary.  She, nor any other living member of the family, had ever become a Quaker. This handsome 88 year old gentleman had an ageless quality about him and perhaps we're projecting, but he also seemed at peace with himself and his world.  It was quite clear that his family and the community held him in very high esteem.  We were deeply honored to have met him and his family and to have been welcomed into his home.
<![if !supportEmptyParas]> <![endif]>
Down the road a piece, we stopped to see where Einar Slogvik was working with his excavator.  He was in the process of ditching a bog to drain a field at a friend's place so that it could be used for farmland.   The workday was nearly at a close, so Keith stayed to drive back with Einar in his large dump truck.  Peg went ahead with Rotraud to begin preparing the evening meal.  After dinner, we took a walk about the place checking the various farm buildings and fields, and ending at the waterside.   In most of Norway, it is the practice to house cows an sheep inside the barn during the entire winter.  This creates a marvelous supply of manure that is returned to the fields at the proper time.  
<![if !supportEmptyParas]> <![endif]>
We talked and visited well into the evening over the stacks and stacks of books and research that Einar and Rotraud had been acquiring partly because of their own interest in the farm's history and partly for our benefit.  These volumes were a amazing testament and tribute to the Norwegian penchant for recording details and honoring their history.   Adding to this material were the maps and genealogy information that Keith brought as well as the Slooper book.  One end of their living room was transformed into a research library for the rest of our stay.   This was just the first of many evenings that because of the combination of our jet lag and the late Norwegian sunlight, we kept our hosts up late. 
<![if !supportEmptyParas]> <![endif]>
We then retired to a comfortable upstairs bedroom from where even at this late hour, we could enjoy the view of the fjord to the south.
<![if !supportEmptyParas]> <![endif]>
Day 13, Thursday, July 6, 2000
<![if !supportEmptyParas]> <![endif]>
The day begins with a now customary WONDERFUL breakfast of coffee, cheeses, crackers, and vegetables.  This is such a terrific way to begin a day that we will probably continue the fare when we get back to the US.  Rotraud, our tour director (a role she insisted she absolutely LOVES) had scheduled a morning visit at the Hervik Konservering (fruit jam and juice works) a world wide distributor of FINE gourmet jams and juices.  It also enjoys considerable popularity in the vicinity due to its quality product.   Hervik is located just a few minutes south of the Slogvik farm, also on the shore of Hervikfjorden.   We were honored to be given a tour around the facility by the owner/manager, Tor Romseland.  They were between seasons just then and the facility was undergoing cleaning and repainting, but it was nonetheless fascinating to learn about the ingenious processing and packaging methods they used. Tor also gave us a gift box of product samples which were delicious.  Check out their web site (in Norwegian) at: http://www.hervik.com/
<![if !supportEmptyParas]> <![endif]>
<![if !vml]>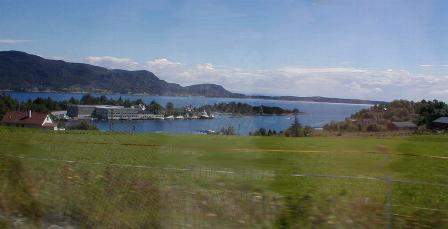 <![endif]>
< Scene of Hervik from the car window.
The large gray Hervik fruit processing plant can be seen to the left. >
<![if !supportEmptyParas]> <![endif]>
We then drove around the bay (or "vik") to  grocery store for some shopping.  That is always an insightful way to learn a bit about a culture and we found many interesting things at the local Hervik supermarket.  
<![if !supportEmptyParas]> <![endif]>
Rotraud had arranged for some lunch guests with whom Peg could "teacher talk."   Apparently Keith had requested this unbeknownst to Peg, so it was a little contrived at times, but nonetheless enjoyable and informative.  Annie was a high school teacher from Oslo and Harold was a local principal.   A very broad conclusion can be made that most students are the same the world over and teaching is not terribly different either.  Peg's questions were about the teaching of religion in Norwegian schools since there is a state religion, and how Norway deals with students after they complete the mandatory 10th grade. 
<![if !supportEmptyParas]> <![endif]>
In the late afternoon, we brought forth the several gifts we had brought from our various friends and relatives in the US to give to the Slogviks.  It was good to finally off load some of the large supply of almonds we had brought from cousin Emma Roney of Chico, California.  The family completely appreciated and enjoyed the items.  Almonds were a treat as they cannot be grown in Norway.  Peg did a bit of spinning on Rotraud's wheel while Keith, Einar, and Rotraud poured over the maps and research volumes about the area identifying where ancestors' farms had been.
<![if !supportEmptyParas]> <![endif]>
That evening had been set aside for the 60th birthday of a close neighbor.  Giving us a chance to get acquainted with more local folks, our transportation this evening was with cousins and neighbors, Sjur and Berit Slogvik.  Sjur is a math/science teacher in Haugesund, both spoke English well, especially Berit, and Berit had a sister living in Canada.  Einar and Rotraud drove separately.  Arriving at the neighboring farm, we were welcomed into the very nice home of this family (actually every home we had visited or were to visit could easily be described as "very nice" as all were in nice condition, nicely decorated and obviously well cared for).  By this time we were used to taking off our shoes upon entering, something Peg was familiar with after her visit to Japan, but still fairly new to Keith.  Rotraud warned us that there would be numerous cakes after we were served tasty build-it-yourself open-faced sandwiches.  Despite the warning, we were unprepared for 11 (count 'em -- eleven!) cakes for the about two dozen friends and family gathered here.  Each cake was, in its way, more delicious than the others, and we had to try each of them in turn as they were served.  Eleven pieces of cake!  There seems to be some kind of measurement of status associated with the number of cakes at special parties and marking a 60th year was one such very special occasion.  Someone suggested that this custom of serving multiple rich deserts came from earlier times when people were poor but wanted to show they could still feed guests with an impressive spread.  Each cake this evening was home made, very rich and truly elegant.  Fortunately these were rather low cakes and not the tall multi-layered cakes that we often have.  Of course along with the food there were numerous cups of delicious strong coffee. (Sorry, we took no pictures this evening.)
<![if !supportEmptyParas]> <![endif]>
The party in general was a bit awkward at times, being unable to understand or speak Norwegian, but people were patient and were interested in speaking English for us.  Many were interested in our backgrounds and what we thought of Norway.  As the evening progressed we got acquainted with two ladies that do volunteer work through the Red Cross.  They help with a telephone hot line in Haugesund for kids.  They indicated that there was a growing problem with some young people feeling they had no one to talk to.  Apparently this was resulting from more families where both parents work and have little time for their children.  This was the first we heard of such social problems.  Soon it was time to leave and catch a ride back with Sjur and Berit as Rotraud and Einar had already left.
<![if !supportEmptyParas]> <![endif]>
Another fascinating day in this beautiful area of Norway.
* UPDATE: We learned on our Dec. 2001 visit to Norway that Nils' family found this term offensive - They prefer the term "the only Quaker in Tysvær" at present.
<![if !supportEmptyParas]> <![endif]>
<![if !supportEmptyParas]> <![endif]>
<![if !supportEmptyParas]> <![endif]>