INSTALLMENT #19
[Day 25 & 26, Wed. & Thurs., July19 & 20, 2000]
Peg & Keith Wheeler's Norway trip report, Summer 2000
<![if !supportEmptyParas]> <![endif]>
See Photo Albums #38, #39, #40 and #

41.
<![if !supportEmptyParas]> <![endif]>
Oslo & Flight Home - Vigeland Sculpture Park, National Folk Museum, National Gallery, Sweaters, Leaving Norway.
<![if !supportEmptyParas]> <![endif]>
 Our last full day, Wednesday, in Oslo and in Norway dawned cloudy yet dry.  We had convinced ourselves that we could walk to the Vigeland Sculpture Park [ http://go.to/Vigeland/ - more links below] from the subway even though the guidebooks said there were more efficient ways.  We had promised a dear friend that we'd get her a book from the park to replace one she had lost in a home fire, but we wanted to go for ourselves as well.  So we took the subway to that part of town and were really glad.  It was a MOST pleasant walk and through a very different part of the city.  It was more residential -- mostly apartment buildings and yet it was still very much city.  It even felt a bit academic.  Was there a university near? 
<![if !supportEmptyParas]> <![endif]>
<![if !vml]>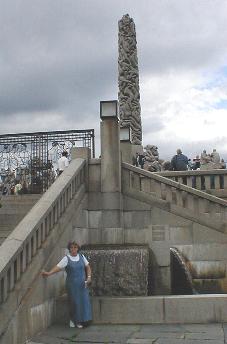 <![endif]>Planning to enjoy the park without the rain this time (remember, we had been here as part of a tour on Day 3,) we were not expecting quite so many tourist busses.  This large park is, after all, considered to be one of Norway's most popular tourist attractions with reportedly almost 2 million visitors per year.  There were really too many people to enjoy the park adequately that morning.  Oh well, we gave it a try and were able to spend more time this day trying to focus in on some of these statues.  This presentation of Gustav Vigeland's life work, with about 650 human figures, is most impressive.  Even with all the crowds, it does fall into the category of "must see."  We did get a few fun pictures and, of course, the requisite souvenirs.  Somehow we missed the Vigeland Museum.  If we ever return to Oslo, that will be on our "want to see" list.
<![if !supportEmptyParas]> <![endif]>
<![if !supportEmptyParas]> <![endif]>
<![if !supportEmptyParas]> <![endif]>
< Peg in front of the Monolith area.
<![if !supportEmptyParas]> <![endif]>
<![if !supportEmptyParas]> <![endif]>
<![if !supportEmptyParas]> <![endif]>
Still going on yesterday's subway pass, we walked back to the station and took the subway back toward town getting off at the right stop to walk to the ferry which took us out to the National Folk Museum.
[Sorry, it looks like we have lost some of our museum links - check farther down this page for hopefully some working links.]
 We didn't want to miss the stave church and Peg had heard there was a display about Sophie's World.   Sophie's World was a carefully designed interactive display for school kids featuring many of the issues raised in the Norwegian novel which was so popular.  Peg was still considering it for adoption in her World Literature class.  The regional bunad and period clothing exhibits were excellent, but we especially enjoyed the authentically reconstructed farm and traditional buildings depicting parts of Norway's regional history.  These were placed in settings that gave a near feeling of what rural, village and city life might have been like in past years.  We really needed more time and energy to do this open-air museum justice.  One could easily spend a full day here soaking up the history and the different parts of Norway that have been transplanted here.
<![if !supportEmptyParas]> <![endif]>
<![if !vml]>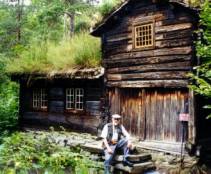 <![endif]>  <![if !vml]>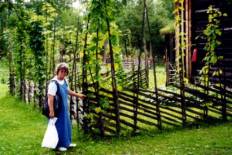 <![endif]>
Above, Keith sits in front of a mountain tenant farmer's place; Peg points out an interesting method of constructing a fence.
<![if !supportEmptyParas]> <![endif]>
<![if !supportEmptyParas]> <![endif]>
<![if !vml]>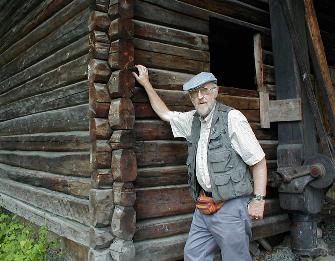 <![endif]> Keith found several of these old buildings which used the same kind of notched log/plank construction used in the old Slogvik house. >
<![if !supportEmptyParas]> <![endif]>
<![if !supportEmptyParas]> <![endif]>
<![if !supportEmptyParas]> <![endif]>
We were getting a little cranky and footsore, so we took an overpriced tourist trolley to its next stop, which happened to be the Kon Tiki Museum.  This put us within short walking distance to the ferry stop near the Fram Museum. Using our subway passes once again, we returned on the ferry to downtown Oslo and tried to find the vegetarian restaurant.  An hour and a half later . . . it found us, and we had a very late, delicious and healthy lunch.  On our way back to the hotel, we stopped at the National Gallery [ http://www.museumsnett.no/nasjonalgalleriet/flash_versjon_engelsk/index.htm - another link below] for one last look and to pick up a poster we wanted for our living room wall.  Moreover, we had a heightened interest in the Lars Hertervig pieces by now, and having missed the best known collection in Stavanger since that museum was closed, we  wanted to see what we could.  This gallery had only a few, but they were spectacular.  Another quest was to see if we could find a painting Martin Nag told us about of a Quaker Mona Lisa (actually "Siri Pedersdatter") by Tidemand.  He told us we would have to ask because it was in the archives.  We asked, but they couldn't find it.
<![if !supportEmptyParas]> <![endif]>
Still edgy and grumpy, Peg balked when Keith wanted to look for the cyber café (again) on the way back to the hotel.  His obsession won out and we found it.  Oslo, it seem, uses street numbers differently that we are used to as we had passed it several times --- maybe we were just tired.  The café was hidden below a record store in a basement.  Keith got assigned his computer, logged on, found we had no e-mail messages, logged off, paid the minimal tab and we were again on our way.
<![if !supportEmptyParas]> <![endif]>
Staggering back to our room and resting a bit, we were ready to hit the streets of Oslo yet again.  There were sweaters to buy and brown cheese to stock up on, not to mention dinner at an outdoor beer garden for our last night.
<![if !supportEmptyParas]> <![endif]>
Directly across from our Oslo Rica hotel room, at the base of the Clarion Hotel, was the Oslo Sweater Shop.
See:  http://www.oslo-sweater-shop.com/    It had tempted us on our first days in Oslo with its wide selection of Norwegian sweaters.  Keith, never having been a sweater person, felt little more than obligation, however.   As we saw more sweaters throughout our travels both in stores and on people, our interests increased.  Then, when he bought the one in Tysvær and found himself wearing it almost constantly, he became a convert.  Since he already had a light colored one, it seemed only proper that he should have a dark colored one like Einar's.   He had a particular model in mind and went into the store, found his size, tried it on, and bought it.  Store clerks like this kind of customer. 
<![if !supportEmptyParas]> <![endif]>
Next we went over to OsloCity shoppingcentre, the multi-storied mall we had visited earlier, purchased our ekte geitost cheese supply to take home, and checked the hours and menu of the open air café at which we were interested in having dinner.  We returned to the hotel to deposit our purchases and calculated our tax free refund as well as how much value we would be bringing in to the US for customs purposes.  It was now time to start converting what we had been doing from kroners back to dollars.  To our surprise, we found that we had not spent as much as we had feared, and our tax-free refund would help take the sting out of additional purchases.  This meant Peg could also purchase a second sweater.  Back to the Oslo Sweater Shop where she began by narrowing her choices down to six.  Keith was patient while she began the painful process of elimination.  With a final choice satisfactorily made, we wrapped up our shopping -- most stores were closed by now anyway. 
<![if !supportEmptyParas]> <![endif]>
<![if !vml]>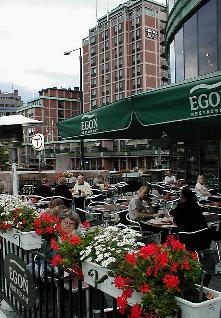 <![endif]>The evening was still warm enough and light enough to sit outside at the Egon Restaurant next to the train depot.  We sat outside for a long time before we realized we needed to go inside to order.  It was a pleasant, relaxing, and peaceful place, and it was interesting to watch folks come out of the train station, the clouds change in the sky, and birds swoop in to clean tidbits off of the tables.
<![if !supportEmptyParas]> <![endif]>
< Peg peeking over the flowers at the sidewalk café - Clarion Hotel in background.
<![if !supportEmptyParas]> <![endif]>
<![if !supportEmptyParas]> <![endif]>
It was hard to realize that we were going to have to be leaving this beautiful country tomorrow morning, but we were definitely exhausted.  Judging by the pictures we took of each other at that time, we were more tired than we realized. 
<![if !supportEmptyParas]> <![endif]>
Still reluctant to leave the city of Oslo, we walked a new direction toward the SAS Plaza, which had been such a noticeable structure of our skyline view.  To get there we needed to walk on the catwalk over the freeway intersection and into a network of glass, steel, and concrete which was a contrast to the other Oslo we knew of the old world flavor -- bricks and bronze. 
<![if !supportEmptyParas]> <![endif]>
Waking during the night, Peg took this stunning photo of the night lights -- a fitting farewell to a fantastic European city. 
<![if !supportEmptyParas]> <![endif]>
<![if !vml]>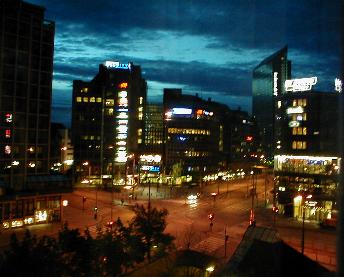 <![endif]>
View from hotel room - OsloCity shoppingcentre in center
- glass faced Radisson SAS high-rise hotel to right .
<![if !supportEmptyParas]> <![endif]>
Additional recommended links:
VIGELAND SCULPTURE PARK
<![if !supportEmptyParas]> <![endif]>
"Gustav Vigeland's Sculpture Park in Oslo, Norway" - very similar to http://go.to/Vigeland/ (and linked there as "a somewhat revised walking tour") but faster to load - gives placement of statues on the Bridge.
http://home.earthlink.net/~roethe/Vigeland/walk1.html
"Gustav Vigeland" - 17 very nice photos of park and statues with good text.
http://home.sol.no/~brinchma/sculpture.html
The "official" THE VIGELAND PARK site - a more comprehensive site with more "official" text, but a bit more difficult to navigate to all relevant linked pages - and also fewer and smaller photos. http://www.museumsnett.no/vigelandmuseet/2parken/2b_historikk/engelsk/2bframeset.html
<![if !supportEmptyParas]>"Grand Tour with a guide" (VirtualOslo) In addition to Vigeland Park, includes the Holmenkollen Ski Jump, the Viking Museum and the Kon-Tiki and Fram museums at Bygdøynes.
http://www.virtualoslo.com/html/body_grand_tour.html
The Norwegian Folk Museum
<![if !supportEmptyParas]> <![endif]>
Norsk Folkemuseum - Norwegian Museum of Cultural History (click on the British flag for the English version.)
http://www.norskfolke.museum.no/
Interactive map of the open air museum - take a virtual tour (Keith likes this one)
http://hellebard.norskfolke.museum.no/frilufts/kart/
A tour of the Folk Museum in Oslo
http://www.cyberclip.com/(slow)/Katrine/NorwayInfo/Album/AAfolk.html
<![if !supportEmptyParas]> <![endif]>
The National Gallery ("Nasjonalgalleriet") - IF you haven't found it already, and IF your computer/browser supports such things, go the following site and click on "FROM ROMANTICISM TO REALISM" for a brief slide show of works of some of Peg & Keith's favorite Norwegian masters.
http://www.museumsnett.no/nasjonalgalleriet/flash_versjon_engelsk/slideshows.htm
<![if !supportEmptyParas]> <![endif]>
Day 27 - Thursday, July 20, 2000. 
<![if !supportEmptyParas]> <![endif]>
Once we were up and going, not especially early, our departure was amazingly problem free and smooth.  Wait time was reasonable and connections were straightforward.  Probably Brekke had something to do with this phenomenon, but whatever the reason, we were not stressed, just sad to be leaving.  Having our last breakfast at the Rica Oslo, we decided this might be our favorite hotel breakfast room -- not the biggest or widest selection, just the coziest.  We were able to wheel our luggage right outside the hotel and be picked up by the airport bus, which stopped here at regular intervals.  The bus ride to the airport took about 45 minutes with views of dramatic clouded, gray skies over interesting farmland.  The city had not grown out to this new airport yet as it had had time to do in Tokyo and Bangkok (our only other international experiences.) We wondered if the Farmer's Union (NBS) was going to need to take a stand on this.  While it was the same airport we had arrived at on a Sunday morning, it was a very different (busier) kind of airport on this Thursday.   Check-in went smoothly and though we didn't know what we were doing, the airport personnel knew what we were supposed to do and English was spoken everywhere.
<![if !supportEmptyParas]> <![endif]>
Next, we took our suitcase of tax-free items and papers to the appropriate desk expecting to be inspected.  But since we had all the papers filled out and everything in one bag, we were waived through without inspection.  I guess we didn't look suspicious.  Tax-free shopping is an issue for tourists in Norway since the value-added tax is a hefty 23%.  While we found this refund process somewhat confusing and frustrating, it seemed worthwhile when making larger purchases. Since there was a limit of 300 kroners (about $35) before you could be issued a form, and the tax didn't apply to books, we only needed to deal with our few large purchases.  Then we had to keep the packages in tact with the little sticker on it.  There are different ways one can get the refund; apparently you can get more if you write to a special office once you get home and get a bigger refund, but we were happy with the 16.5% we got at the airport.  We had a choice of US dollars or kroner. 
<![if !supportEmptyParas]> <![endif]>
Before going through security, we still had a few kroner to use up on some last minute items.  No problem!  Peg found some pewter jewelry and Keith found a souvenir cap.  Prices were irrelevant by this time (at least for Peg.)  We had not come to Norway to save money (this became one of our 3 mantras --- the other two were: "dieting is for the rest of life" and "jet lag is a terrible thing to waste") and we had become quite a bit more relaxed once we quit trying to convert kroner to dollars at every turn.  The only thing that suffered was our bank account, and this was our "trip of a lifetime" --- it was all worth it. 
<![if !supportEmptyParas]> <![endif]>
After a bit of a wait for the flight, we boarded the SAS plane for a long and uneventful, yet comfortable, flight to Newark.  Arriving at Newark, after flying down the west side of the Hudson River, we landed and lined up for customs.  All of Keith's worries about importing heather, cheese and hunks of ancient wood were unfounded as we were waived through only to find that our connecting flight had been canceled.  United Airlines was in the beginning throes of its labor problem with its pilots.  We charmed the rescheduling agent by requesting seats together because "we had been traveling for 4 weeks together and still LIKED each other."  We think she was just glad to not have someone being irate with her.  Anyway we got vouchers for a meal (the choices turned out to be lousy) and crowded seats TOGETHER (maybe we should have held out for business class) on a flight 4 hours later.  The wait was miserable.  Someone had run over Keith's foot with a luggage cart and the waiting area was busy and noisy with uncomfortably hard seats. 
<![if !supportEmptyParas]> <![endif]>
Then it got worse.  We got on the plane and waited on the tarmac for an hour and a half when our plane was required to pull out of the line and wait longer.  When we were finally back and entering the take off lane, we looked to our left and saw an incredibly long line of planes also waiting for take off.  Someone said this was normal for Newark.  We couldn't understand it.  Once airborne, we found the flight attendant a bit short on pleasantries, the seats more crowded, and the one meal absolutely atrocious.  The only empty seat on the plane was next to us, but that made little difference it seemed.  They did manage to get our luggage on the right plane.  We got into SFO (San Francisco) about 11:30 PM and found the correct airporter van that served the North Bay where our car was waiting at our son's place.  The driver of the van was not a little miffed at the passenger before us who needed to be taken clear to hell and gone through the far reaches of the Berkeley Hills.   Then we had to negotiate the locked electric gate and wake up our son to get the keys to our car.  This now was well past midnight.
<![if !supportEmptyParas]> <![endif]>
Day 28 - Friday, July 21, 2000
<![if !supportEmptyParas]> <![endif]>
We had the option of staying and sleeping or getting a motel on the 5 hour drive to our home, but by this time we were still operating on Norway time and anxious to get home.  We drove through the night stopping occasionally for coffee, snacks and once to sleep briefly.  Stopping at the 24 hour market in Red Bluff and stocking up on fruit, we arrived home in Mad River just after daybreak -- maybe 6:30 AM or so. 
<![if !supportEmptyParas]> <![endif]>
<![if !supportEmptyParas]> <![endif]>
*** Is this THE END…?  ***     We will possibly  have one more installment of corrections, additions and afterthoughts.  We are now getting some good input from our intrepid Norwegian Editor in Chief, Rotraud Slogvik.  We invite any of you to: 1) let us know of any mistakes we have made;
2) point out anything that needs further clarification;
3) ask questions (hopefully the ones we can answer); and/or
4) whatever…. 
We value your interest in our trip. We have appreciated the comments and supportive remarks that many of you have sent.  We welcome any feedback you would care to make.  We will try to respond, but this web site has turned into a bit of a monster.  We might have to take a break from it for a while.  Someday, maybe it will be completed and all of the errors corrected … and then again, we just might take off on another trip…? … Back to Norway . . . ??  We will post any updates in Installment #20.
See Photo Albums #38, #39, #40 and #

41.
Med Varme Hilsen (with warm greetings),
Peg & Keith
<![if !supportEmptyParas]> <![endif]>
PREVIOUS REPORT              BACK TO TRAVEL REPORTS INDEX               NEXT REPORT
<![if !supportEmptyParas]> <![endif]>You are Visitor
since 12/1/01