INSTALLMENT #18
[Day 16, Tuesday, July 18, 2000]
Peg & Keith Wheeler's Norway trip report, Summer 2000
<![if !supportEmptyParas]> <![endif]>
<![if !supportEmptyParas]> <![endif]>
Leaving Stavanger - Train via Kristiansand to Oslo - San Jose Folks, Munch Museum, walk across town.
<![if !supportEmptyParas]> <![endif]>
Because we needed to check out early to meet the train on time, we were waiting in the hotel lobby for the breakfast door to open at 6:30 AM.  Enjoying an early morning cup of coffee, we struck up a conversation with a gentleman who was also waiting.  He, it turned out, was a Norwegian farmer from Canada on his commute to the oil platform.  Like Kristian, he worked on a drilling platform for two weeks and then was off four weeks.  Kristian had told us about the great distances some platform workers travel.  On his platform, one person commutes from Cuba while another from Turkey.  The individual we met this morning actively farms a rather large farm in Canada (we can't remember what Province).  He has someone look after his farm for the two week periods of his absences.  Transportation to work is paid for by the employer from anywhere inside Norway.  As we understand it, Norwegians who choose to live in other countries, perhaps because of marriage, partially pay their travel expenses. 
<![if !supportEmptyParas]> <![endif]>
Since we were early, we could choose a seat by the window with a view of the lake and the park, which made the enjoyable breakfast all the more enjoyable.  We have been asked to provide more detail about what we have been calling "the traditional breakfast."  We have been basing our perceptions on the several hotels as well as the two homes in which we stayed.  In all cases, these have been true "smorgasbord" in that one is provided with a vast array and variety of choices from which are built any combination of foods that is appealing.  Of course the variety of choices provided in the hotels was very great, but was by no means absent in the homes.  "Open faced sandwiches" are a standard fare.  Peg always had a cracker with brown goat cheese and cucumbers -- European ones with peels, not California waxed.  Small hot house tomatoes were often present.  In addition to the different crackers and crisp breads, there were numerous varieties of whole grain breads.  Some were sliced and some were set on a cutting board with a towel over them and a bread knife provided.  Additionally there were often individual whole grain buns, muffins, or pastries.  Topping options include different kinds of cheeses, various forms of pickled herring or sardine, smoked salmon, salted, or mayonnaised shrimp.  Cold cuts of meats were often a prominent feature and included a fish pudding in a white colored block which looked rather like cheese and sliced like firm tofu.  Jams and marmalades were plentiful.  Fresh fruits included melons, pineapple, strawberries, and citrus.  Fruit juices and milks had their own dispensers.  Often in the hotels there were warming dishes of fried eggs, bacon, sausage or potatoes.  Boiled eggs were often available, sometimes with your choice of 5 or 8 minutes.  Yogurts and dry cereals were also available.  Most importantly there was the ever present rich dark coffee.  We already mentioned that decaf was not an option.  Tea was usually available.
<![if !supportEmptyParas]> <![endif]>
We were able to make the short trek to the train station with all of our luggage in just one trip.  We looked like "over-luggaged" tourists.  Thank goodness, it was a short distance and no hills were involved.  We had only one busy intersection to cross with no traffic lights.  Let this be a warning to Americans traveling in Norway -- cars stop for pedestrians here.  You don't want to stand at a crosswalk unless you want to cross because they WILL stop for you.  Getting used to this could be hazardous when returning to California.
<![if !vml]>
<![endif]>
We arrived at the station in ample time and had no difficulty finding our car and reserved seats.  We again appreciated Brekke Tours' arrangements at this point.  This was a sleek, modern, electric train in which we would be riding for the next seven hours to Oslo, looping around the southern part of Norway.  Another warning for Americans traveling in Norway -- trains leave on time.  Keith glanced at his watch as we pulled out of the station.  It was 7:37, one minute past our scheduled departure time.
<![if !supportEmptyParas]> <![endif]>
                         Peg with her part of the luggage at the Stavanger train station. 
Our train is the sleek one on the left. >
<![if !supportEmptyParas]> <![endif]>
<![if !vml]>
<![endif]>Leaving the center of Stavanger, we were soon traveling south along the Gandsfjord.  Much of this area was suburban and industrial with much of the industry apparently related to shipping.  There were also marinas filled with small boats.  As we passed through Stavanger's sister city to the south, Sandnes, the fjord ended.  We then headed southwest toward the coast and the Jæren region, which is famous for its agriculture.
<![if !supportEmptyParas]> <![endif]>
            <View of the Jæren area.>
<![if !supportEmptyParas]> <![endif]>
The weather was overcast as we zipped through this farming region.  The terrain here is much flatter than we had seen previously, and the farms were larger.  It reminded us of the farming areas <![if !vml]>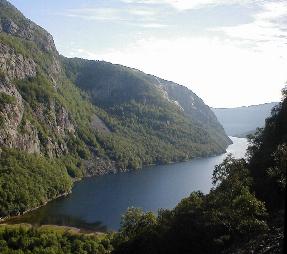 <![endif]>along the coast of northern California.  Soon we were getting glimpses of coastal marshes and lagoons and occasionally the ocean.  When we reached the city of Egersund, the train turned inland and we were soon in mountain valleys.  The weather cleared somewhat.  We never went long without a view that featured a water interest.  We were getting into high lake country with numerous rock mountains and rivers. 
<![if !supportEmptyParas]> <![endif]>
<![if !supportEmptyParas]> <![endif]>
A mountain view from the train window. >
<![if !supportEmptyParas]> <![endif]>
<![if !supportEmptyParas]> <![endif]>
<![if !supportEmptyParas]> <![endif]>
This also meant we were getting into tunnel country.  As the train sped across this ruggedly beautiful part of southern Norway, the tunnels became more lengthy; at times it almost seemed we were more in tunnels than out.  The presence of more farms indicated we were getting back to more civilization.  Before long we were pulling south into the major port city of Kristiansand. This is the southern tip of Norway.  As we neared the train terminal, we could see a HUGE ocean going ferry, possibly one of the ones headed to Denmark or Amsterdam. 
<![if !supportEmptyParas]> <![endif]>
This was also a major train stop with many folks getting on and many getting off.  The train was now considerably more crowded.  Since there was no turn around here, the train had to reverse direction to pull out and it continued "backwards" all the way to Oslo.  This was a source of consternation to Keith and Peg got a little motion sickness.  We heard several other <![if !vml]>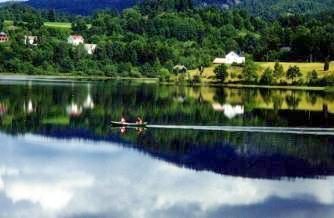 <![endif]>people speak negatively about this feature too.  Even from this backwards position, the views continued to be magnificent.  We traveled back into the mountains and lake country.  Of course, lake country seems to be all over Norway.  We were traveling northeast through the counties of Aust-Agder and Telemark.  We saw some small dimension logging in this area as well as these stunning mountain lakes with canoeists.
<![if !supportEmptyParas]> <![endif]>
< Just another great Norwegian view!
<![if !supportEmptyParas]> <![endif]>
<![if !supportEmptyParas]> <![endif]>
The weather began to turn and rain was imminent.  At one of the infrequent stops, we forget exactly where (possibly around Kongsberg), a group of people were getting on our car that we recognized.  What are the chances that other travelers from California, whom we met in Stavanger on the 4th and had also previously encountered in such diverse places as Decorah, Iowa and Ferndale, California, would be getting on this car?  They were part of the "Nordhahl Grieg Leikarring" folk dance group from San Jose
(See:  http://home.att.net/~williamlikens/ngls/ngls.html<![if !supportNestedAnchors]><![endif]> . 
Just after their Emigration Festival performances, they had taken part in the five day Nordic Folk Dancing and Music Festival in Stavanger.  Then, after a few other presentations elsewhere in Norway, most of the group had returned to the States.   Their dance director, Mikkel Thompson, his mother and a couple of other traveling companions, however, had been visiting family in this area and were now heading for Oslo to catch a train to Sweden for a wedding reception. What a surprise and delight!  Mikkel engaged us in interesting conversation from there until the outskirts of Oslo.  The tracks went underground at the edge of the city, not to emerge until we reached the station.
<![if !supportEmptyParas]> <![endif]>
We bid a quick good-bye to our friends from San Jose as they went to catch their next train.  We gathered up our luggage for our short walk to our hotel.  Again thanks to Brekke for knowing which hotel, the Oslo Rica, was most convenient to the station.  Having learned the routine, we easily checked in to the smallest room yet.  The view was great however.  If we had just one less piece of luggage, it would have been better.  But how much time were we going to spend in the room anyway.  Not much -- these were our last two days in Norway and the weather was trying to cooperate. 
<![if !supportEmptyParas]> <![endif]>
By now it was a little after 3:00 PM so there was still time to get to the Munch Museum.  http://www.museumsnett.no/munchmuseet/english/information.htm<![if !supportNestedAnchors]><![endif]>   We knew the subway system by now also, so we bought a reasonably priced 24 hour pass.  We are wondering if we even needed to do that as we were never asked for our pass anywhere on the inner city trips.  A mere two stops away we got off and walked the two or three blocks to the museum.  Rain was threatening as we entered the facility.  The collection was great and we learned a great deal about Edvard Munch's troubled personal life.  If asked what stood out, we would talk about two things.  One, the wood block prints were a new slant for us on his work.  The way he utilized the wood grain was awesome.  Keith found it interesting that there were several versions of the famous "Scream" piece.  Peg bought a poster, refrigerator magnets and some post cards.  Just before we left, there had been a serious downpour and everything was quite wet with the outside café totally abandoned and empty plates were full of water.  We had heard thunder.
<![if !supportEmptyParas]> <![endif]>
Zipping back to the subway station near our hotel we had a distinct cultural experience by having dinner at a fast food place in the multi-story  OsloCity shopping mall.  After the interesting, but less than great meal, we checked out a grocery store in the mall for availability of brown cheese to take home.  We then decided to walk the entire length of Karl Johannes Gate from behind the hotel to the palace.  (Have we told you that "gate," pronounced ga-ta, means "street" in Norwegian? This is a source of much confusion for "Gringo" tourists who keep looking for a gate.)  The rain had stopped and the clouds were very interesting.  We caught the tail end of the changing of the guards at the Royal Palace.  The sky by now was doing very dramatic and stunning things.  Photographs never quite capture it, but you gotta try.  Here we saw some storm damage of the earlier downpour.  The new gravel grounds cover had been seriously washed away down and over the street.  On the Palace grounds there was a very sweet statue to honor Queen Maude inviting more photo ops. 
<![if !vml]>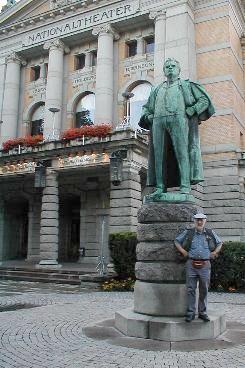 <![endif]>
We spent the remainder of the evening walking around checking out various floral plantings, buildings and other city sights.  Happening upon a vegetarian restaurant, we vowed to patronize it the next day.  Upon discovery of the vegetarian restaurant, we realized we were in the theater district, so there was the obligatory photograph at the foot of the Ibsen statue in front of the National Theater. . . or one with Bjørnson . . . or one of Holberg.  Here we include the one of Keith with Bjørnson.  You will have to check the (future) web site for ones of Peg with Ibsen and Holberg.
<![if !supportEmptyParas]> <![endif]>
                         Keith with noted Norwegian poet, playwright and novelist Bjørnson. >
<![if !supportEmptyParas]> <![endif]>
<![if !supportEmptyParas]> <![endif]>
Another long glorious day -- one in which we went from one side of the country to the other.  We had made up for all the sitting time on the train with a good long walk so we were quite exhausted.   We slept well that night despite the street noise below our hotel window.  We woke to a dogfight, however.  We were rooting for the lab over the pitbull.
<![if !supportEmptyParas]> <![endif]>
<![if !supportEmptyParas]> <![endif]>
PREVIOUS REPORT              BACK TO TRAVEL REPORTS INDEX               NEXT REPORT
<![if !supportEmptyParas]> <![endif]>You are Visitor
since 12/1/01