F. Council Bluffs & troubled flight home:

Monday morning we found the old downtown part of Council Bluffs - "under construction." In an old brick building we found a restaurant which was frequented by locals where we had breakfast and were again reminded that all restaurants in this country are not smoke free. We had a 10am appointment with an Irene Dawson of the Pottawattamie Genealogical Society to meet at the Frontier Heritage Library in the center of town.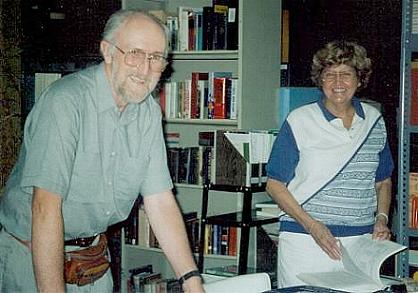 The library is usually closed on Monday, but after explaining our situation to Irene via e-mail, she agreed to meet us. Our time was limited to just over one hour due to the departure time of our flight. We were able to exchange some information of the Wheeler and Anderson families and Irene gave us some census data, a cemetery list and some more local history information. The 1850 US census data on the Anderson family was particularly useful. Irene agreed to do some more digging in their archives and to let us know what she could find.

With little time to spare we rushed over the Missouri River to the Omaha Airport where we quickly turned in our rental car and got ready to board our flight. We waited and waited and then were told that our plane had mechanical difficulties and the flight must be cancelled. It was then back downstairs to the United ticket counter to stand in line for over 3 hours to try to find an alternative way home. Eventually we were given an $8 meal ticket and passage on another airline later that evening to Dallas/Fort-Worth and then on to Sacramento. We arrived in Sacramento near midnight instead of the scheduled 3pm arrival. With a few naps along the way, we were home at daybreak on Tuesday.

Despite our return flight difficulty, our trip to Iowa was very enjoyable. We felt that we learned more about our Norwegian heritage and now look forward to our planned trip to Norway next summer and feel a bit more prepared. We also got a much better feel for the area that our ancestors settled in southwestern Iowa. While we did not have any great genealogical breakthroughs, we did obtain some useful leads and have already made phone contact with some very helpful people. We have been sent a great deal of information on the Osler family and how that line is connected in a couple of places to the descendants of the Wheeler brothers. We have made contact with a woman from Yuba City, CA, who has traced her daughter-in-law's ancestors back to S.M.B. Wheeler and has promised to send us more information when she returns from vacation. We still have to make contact with a couple of other sources by phone and mail.

We were very much impressed with the Midwest friendliness and hospitality that we experienced both at Decorah and in Pottawattamie County. We were impressed with the greenness and fertility of the countryside. Keith became more and more convinced that there are only three crops in Iowa: corn, soybeans and lawn. All the grass stays green and everyone seems to mow their area and even down the road. If one's farm house sits on two acres of open land, then there are two acres of lawn to be mowed. We also noticed that there were seldom fences between or behind homes. We also learned that midsummer is not the best time to visit Iowa especially during a record heat spell. After the intense humidity, we appreciated the dryness of California when we returned.

Maybe visiting Iowa in midsummer is not the "in" type of vacation for those in the know, but we will have fond memories of this trip.