Why?

In the summer of 2001, our good friends Ted & Susan from Project Amigo in central Mexico taught conversational English to medical personnel through a Rotary International volunteer program.
Ted & Susan asked us to join them in a similar adventure in the summer of 2003. As Peg retired from teaching in mid June, she was now free for such an adventure and Keith was willing and anxious to go. They flew out of San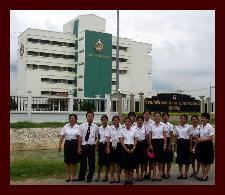 Francisco International on June 30th, stayed over one night in Tokyo (staying at the same hotel as Peg's FMF group in 1999), then on to Thailand. They volunteered for 2 months in a conversational English program at Boromarajoni College of Nursing near Ban Pong, Ratchaburi Province, 1½ hours west of Bangkok. They expected to work mostly with nursing students, but also with some doctors, nurses and pharmacists. A third month was spent becoming more acquainted with the various areas of this fascinating country.
---
itinerary - 2003
FLIGHTS GOING:
Monday, June 30 - Tuesday, July 1: JAPAN AIRLINES, JL 0001
From: SAN FRANCISCO, CA (SFO) - Departs: 1:00pm
To: TOKYO NARITA, JAPAN (NRT) - Arrives: 3:40pm
Arrival Terminal: TERMINAL 2
Class: Economy Seat
Aircraft: BOEING 747 JET Mileage: 5131
Flight Time: 10 hours and 40 minutes
[ over night in Tokyo ]
Wed, Jul 2: JAPAN AIRLINES, JL 0717
From: TOKYO NARITA, JAPAN (NRT) - Departs: 11:05am
To: BANGKOK, THAILAND (BKK) - Arrives: 3:30pm
Arrival Terminal: TERMINAL 1
Class: Economy Seat
Aircraft: BOEING 747 JET Mileage: 2868
Flight Time: 6 hours and 25 minutes

FLIGHTS RETURNING:
Thursday, Sep. 25: JAPAN AIRLINES, JL 0708 (Operated by JALWAYS)
From: BANGKOK, THAILAND (BKK) - Departs: 8:40am
To: TOKYO NARITA, JAPAN (NRT) - Arrives: 4:40pm
Arrival Terminal: TERMINAL 2
Class: Economy Seat
Aircraft: BOEING 747 JET Mileage: 2868
Flight Time: 6 hours and 0 minutes
[ 1 hour 15 min. layover ]
Thursday, Sep. 25: JAPAN AIRLINES, JL 0002
From: TOKYO NARITA, JAPAN (NRT) - Departs: 5:55pm
To: SAN FRANCISCO, CA (SFO) - Arrives: 11:10am
Arrival Terminal: INTERNATIONAL TERMINAL
Class: Economy Seat
Aircraft: BOEING 747 JET Mileage: 5131
Flight Time: 9 hours and 15 minutes