INSTALLMENT #15
[Day 21, Friday, July 14, 2000]
Peg & Keith Wheeler's Norway trip report, Summer 2000
See Photo Albums #28 (boat) and #31 (Martin Nag).
(Actually this starts late in the evening of Thursday, July 13.)
Jørpeland - Nighttime Crabbing, Library & Town Visit, Martin Nag.
Okay, so we were a little tired after our travels to Gjesdal and environs that day. But when Kristian showed us his newly invented crabbing "catcher" and commented that it would be a good time to go crabbing in about an hour, because of the tides, it took only a minor shift in gears to get ready to join them on a midnight adventure. Aud Marit put some coffee in a thermos and Peg got her Kokotat (fleece sweatshirt). Everyone else put on <![if !vml]>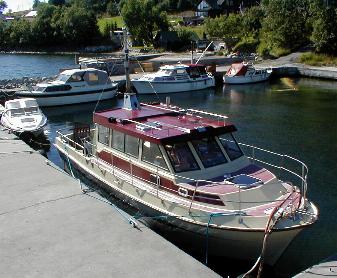 <![endif]>insulated coveralls, Keith borrowing one of Kristian's. Down at the boat dock we boarded the Velle's 33 foot cabin motor boat about midnight. This boat, itself, deserves at least two paragraphs of description.
< Kristian's boat
Kristian had purchased just the large deep fiberglass hull. From there, he built the complete boat himself. He installed the large Cummings diesel engine, which at idle brings it up to cruising speed. All the controls and navigation systems are state of the art. There is no steering wheel as a joystick is used. This makes it convenient when he is coming into tight harbors and can stand up with his head through the hatch above the controls. It is quite a sight to see him control the boat at this point with his feet. Additionally, it has no reverse in the normal sense, just a variable pitch prop which enables him to smoothly move from forward thrust, through neutral and into "reverse." The lever for this can also be operated with a toe. GPS or Global Positioning System, and an automatic navigation system are all integrated. He told us that when they took their longest cruise, which was to Denmark, that once they were underway, he just set the electronics and they sat back for ten hours of relaxation.
The interior of the cabin was particularly striking because of all the fine wood work Kristian had done. In the bow there were 4 bunk beds. Just aft on one side was a shower and WC; on the other side was a cozy private bedroom. On the main deck of the cabin, behind the control panel, were two swivel captain's chairs. Just behind this, was a table and seating with a complete mini kitchen opposite. An exposed afterdeck looked like it would be inviting on a nice day. This boat was kept at a private breakwater and dock just below their house. It is shared with several other neighbors.
The moon was full, and it was not completely dark, because you could still see distant hills on the far side of this wide fjord (Idsefjorden.) The water was a deep dark blue, but the moon light, reflecting on the shimmering surface, gave off a light of its own. There was something of an emotional need to remember how breathtakingly beautiful it all was since we were sans camera. It was night time after all and everyone knows you can't take pictures at night. Not good ones anyway. We rather wish we had tried however. Oh well, there was nothing for it but to imprint it on our memory as best we could. Our mission this night was not pictures; it was crab.
We cruised a few miles west past the Nag farm to a rocky protrusion called Nagaklubben. Here in a protected cove, we anchored and all four climbed into the fiberglass dinghy we had been towing behind. With Kristian at the oars, we were soon next to the rocky bluff. As Kristian explained it, when conditions are just right, the crabs crawl up the vertical side of these rocks and can be plucked off especially if you have a handy dandy underwater crab net. Even though it was not completely dark, a strong flashlight was needed to shine down into the water. We bumped along this rocky cliff for some time before we found the first small crab. Conditions must not have been "just right." The process of crabbing was enjoyable, but the take was negligible.
Giving up on the rocky bluff, we rowed over to one of the many low, flat rocky outcroppings, or as our dictionary calls them, skerries or reefs (the Norwegian word is " skjær"). Pulling the dinghy up on the rock, we got out and walked around the edge of the skerry with flashlight and net, searching for the elusive crab. No luck. So Kristian decided one more go around the rocky cliff of Nagaklubben and he would give up. He did have some luck, but eventually with only one small keeper and some punies in our bucket we decided we had enough of this adventure. It was time to climb back on to the big boat for some hot coffee. Peg had bravely managed to keep quiet about being seriously underdressed for this chilly evening, but Aud Marit seemed to know and brought her a warm blanket. Cruising back at 2:30 AM, the night lights of Jørpeland reflected ahead. Despite the coffee, we slept very well that night.
For some reason we slept late the next morning. This was okay since the library didn't open until 11:00 anyway, and that was the first item on our agenda for that day. Keith and Kristian spent a couple of hours there in the Jørpeland Library local history section while Peg looked for art books in Norwegian. Peg is not sure, but it seemed that the library was organized along the same lines as the Dewey Decimal system in US libraries. (Later she was told that, yes, they do use the Dewey system in Norway.)
There was a slight chance that Lars Nag (Keith's 11th cousin who lived nearby) would be invited to coffee and Peg didn't want to impose the baking of a cake on Aud Marit, so she made a point to visit a bakery and pick up a couple of cakes. After the bakery, the ladies walked around town a bit. This is the first time Peg saw a bottle recycling machine. It looked something like a large, red soda machine. In the grocery store, you could feed both glass and plastic bottles one by one into this machine, it would read what kind it was, calculate its worth and print up a little ticket when you were finished. You took the little ticket to the cash register and were given the cash. This is obviously a country committed to recycling, as we had often seen recycling stations conveniently located in many places along our travels.
When the guys were finally finished at the library and Keith had copies made of some relevant material, we all went to the waterfront where the art gallery was located. The building is called "Jørpelands Brug" and also houses a café and information center. [See: http://home.online.no/~strandrl/bruget.html ] The art gallery combined the work of a local ceramic artist and some local history. We took a short walk on the quay to where the Jørpeland River empties into the fjord. As we started to leave this area we came across a crab stand. Of course Peg had to take a picture of this "Jørpeland fish market" to add to her photograph collection of "fish markets of the world." Kristian still had his mind set for a crab feed so Keith bought us all enough crab to supplement our last night's catch. A little sour dough and some lemon and it would be a feast that evening!
<![if !vml]>
<![endif]>Getting back to the house in the early afternoon, we enjoyed coffee, fruit, and conversation on the comfortable deck. The weather was superb, and the view inspired Peg to try to sketch. Lesson learned: what you can't capture in a color photo, you sure can't capture with pencil and paper -- but it was fun trying.
<![if !supportEmptyParas]> <![endif]>
<![if !supportEmptyParas]> <![endif]>
< Peg sketching a fjord view from the deck of the Velle home - Jørpeland is in the background.
<![if !supportEmptyParas]> <![endif]>
<![if !supportEmptyParas]> <![endif]>
What happened next, was one of those unique Norwegian experiences that will not be forgotten. It was a visit with the famous local genius and historian, Martin Nag.   Samuel Norland, the farmer who owns the farm on which Martin Nag lives part of the year, had contacted Kristian and they had made arrangements for us to go for a visit after 4:00 PM.  Samuel's mother was a Nag, Martin's first cousin.  The Nag farm was just a very short ways from Kristian's home and we arrived there in no time. It was a bright sunny summer afternoon and the short walk up the field (no driveway or path here) to Martin's summer residence was pleasant. Who is Martin Nag? To answer this is a difficult task, but we shall try. This large, interesting, older gentleman, among other things, is a researcher, writer, historian, linguist, critic, and an occasional lecturer at Oslo University. He is, while somewhat controversial, considered something of a national treasure in that the government recognizes his brilliance and contributions to Norwegian culture. As it was explained to us, since most of his works are not commercial, he has no substantial income. Therefore, the Norwegian government provides for his support as they do with other select individuals of merit. While this is an intriguing concept, it is interesting to realize that other cultures do similar things. Japan preserves and supports master artisans in much the same way.
<![if !vml]>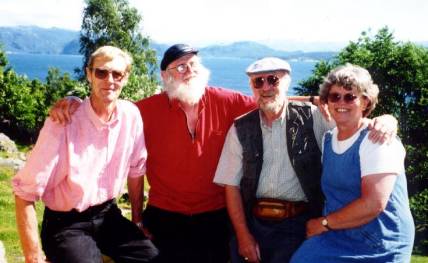 <![endif]>< Samuel Norland & Martin Nag and Keith & Peg Wheeler - on the deck of Martin's summer home between the towns of Jørpeland and Tau.
<![if !supportEmptyParas]> <![endif]>
We were told that in the past his interests were related to Russian literature, language, and politics. One of his current interests and area of research is related to the Quakers in Norway. We had heard about him, and apparently, he had heard about us. The worktable on his porch, which overlooked the fjord, was covered with reference material about the Quakers in Rogaland County in the time of Keith's Quaker ancestors. He was working on a theory about influences from Norwegian-American Quakers upon the Quaker movement in Norway. Specifically, he had done some research and writing on the Slogvik family. Martin knew that Jacob, his two brothers Knut and Anders and one sister, Malene, were Quakers. Jacob, Knut and Malene all eventually emigrated to America, so Martin theorized that these three siblings were instrumental in sending American Quaker leaders back to Rogaland county to support the struggling movement here. This made an interesting theory, but Keith had to admit that he had no indication that these siblings remained close. Actually, Keith didn't even know before this trip that Malene was a Quaker and that she emigrated. Furthermore it looked like they all ended up in different parts of the US. With some reluctance Keith had to tell Martin that Jacob changed religions and had become involved with the LDS (Mormon) and RLDS churches and was not a Quaker at the correct time for Martin's theory. Martin took this information with a bit of surprise but in full open mindedness and interest of a true researcher. It was very interesting to hear about Martin's respect for these early Norwegian dissidents who stood up to the State Church.
<![if !vml]>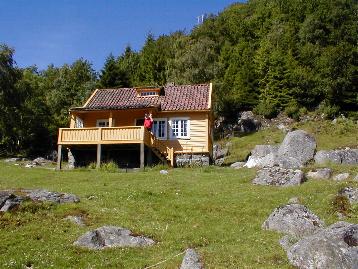 <![endif]>A question about Lars Hertervig, the famous artist from Borgøy Island (across from the Slogvik farm), who was also known to be a Quaker, led to Peg divulging that she was an art teacher and interested in the artist's history. Immediately, Martin offered her a copy of a book in which he had written several articles about the artist. He even made it official by autographing the article as he presented it. He also autographed a few draft pages from his current work in progress about the Quakers and presented it to Keith. Kristian bought one of Martin's current books dealing with "Myths of Norwegian Culture." (Sorry we can't remember the exact title of the book.) We then took a series of photographs for everyone's cameras, said good-bye, and walked down the hill. We have very fond memories of this special visit and of Martin waving good-bye to us from his deck.
   <Martin waves good-bye from his home.>       
Back at the house, Peg took her sketch pad and headed down to the quay hoping to sketch Kristian's boat. (This later turned into a little watercolor which we were able to mat and send to them.) Keith joined Peg at the dock later to take a series of photos of this boat and area. It was a pleasant, peaceful time. We returned to the house to join in a delicious crab feed. We had gotten word that Lars Nag would not be joining us this evening, but that we would go to his home tomorrow.
After dinner, we retired to the living room. Our conversation turned to Martin Nag's new book that Kristian bought. Kristian did a fun job of trying to translate the chapter on the "Myth of Pulpit Rock" since we would be touring the Lysefjord the next day just beneath this famous rock. Martin's somewhat abstract language didn't lend itself to easy or clear translating, but we think the gist of his perspective included the concept of tourists on pilgrimages searching for some elusive meaning in life. This could certainly be applied to us.
The remainder of the evening was quiet and we enjoyed watching the videos of the Velle's recent Mediterranean vacation. It was fun to see three Norwegian couples utilizing their sailing skills in the Mediterranean rather than the North Sea. They were having a really good time.
See Photo Albums #28 (boat) and #31 (Martin Nag).