INSTALLMENT #14
[Day 20, Thursday, July 13, 2000]
Peg & Keith Wheeler's Norway trip report, Summer 2000
<![if !supportEmptyParas]> <![endif]>
<![if !supportEmptyParas]> <![endif]>
Visit to Gjesdal and Sandnes areas - Tour Gjesdal, Madland Farm, History Group at Lima Farm Bygdatun, Seldal Farm, Høle.
Kristian was off and away early to get his firewood with his pickup and trailer.  He insisted that we use his car on this day for our quest to learn something more about the "other side" of Keith's Norwegian Ancestors.  By now, hopefully everyone is familiar with Keith's Jacob Slogvik.  After Jacob arrived in America he married a young girl named Serena (or Serine) who also came on the sloop Restoration.  Her father was originally from the Madland farm in what is now Gjesdal kommune; her mother was from just north of there on the Seldal farm in Sandnes kommune.  Both these areas are southeast of Stavanger and we briefly visited the Seldal area with cousin Ernst on the 4th of July.  Before traveling to Norway Keith had tried to contact anyone from these areas who might have knowledge of, or interest in, these ancestors.  Two individuals responded back: one, Rolf Hetland, is involved with the history group in Gjesdal and offered to take us to the Madland farm and meet with his group; the second, Gunleif Seldal, also wanted to meet us and share information on the Seldal family which he is researching.
<![if !supportEmptyParas]> <![endif]>
During the past few days Kristian had helped us arrange to meet with these two individuals.  We drove down Highway 13, to the south this time, through more strikingly beautiful terrain.  Passing the turnoff to the famous Pulpit Rock (we'll talk more about this later), we went over a granite rock mountain summit were we then started getting glimpses of the dramatic and the famous Lysefjord below.  Passing a new very high bridge that crosses the Lysefjord, we soon came to the ferry terminal at Oanes.  Here we would leave the car in the parking lot and take the ferry to Lauvvik where Highway 13 continues on to the west.  We were to meet Rolf Hetland and Gunleif Seldal when we got off the ferry on the Lauvvik side. 
<![if !supportEmptyParas]> <![endif]>
We were interested in not being late, so we were a little too early (by one ferry cycle).  This gave us a chance to look around on both sides of this ferry run.  This is a fascinating and beautiful area in itself.  Here the majestic Lysefjord begins about midway down the Høgsfjord. The ferry we would soon be taking used to have a triangular route connecting the 3 towns and points on this "T" intersection of fjords.  The new bridge we just mentioned connects Oanes on the north to Forsand on the south.  To replace the ferry crossing to the west, the world's first floating tunnel is planned to connect Oanes and Lauvvik. [For more on this tunnel, check out:   http://www.ntnu.no/gemini/1998-01E/36.html  ]
<![if !supportEmptyParas]> <![endif]>
Both gentlemen on the Lauvvik side were prompt and they were able to identify us readily -- we must have looked out of place.  We made a round of introductions and Gunleif explained that he had been away from home for two days and had to return there some distance away to get some papers for us, but he would  meet up with us later.  We joined Rolf in his car and drove mostly south, past the upper part of the Seldal farm to the town of Oltedal where we stopped at the "spinneri" (spinning mill).  It happened to be closed that day, but we were able to stop at the tourist outlet store.  Peg bought some yarn in the variegated color scheme of blues, golds, and magentas she had been noticing throughout Norway.  Keith found a sweater to buy for our daughter, but we didn't want to spend very much time at a tourist store on this trip, so we made our purchases and returned to the car.  [Check their site out at: http://www.gjestal.no/om_e.htm  ]
<![if !supportEmptyParas]> <![endif]>
From here we drove east to the bottom end of Høgsfjord and then southeast down the Dirdal valley.   Along this road were monuments that were related to WWII activities.   It was in this area that Rolf's father had fought the Germans.  Rolf further shared that his father, like many other older Norwegians, still holds hard feelings against Germany for the activities of WWII.  Keith could understand this because his brother was a Pearl Harbor survivor and still has similar strong feelings toward Japan. 
<![if !supportEmptyParas]> <![endif]>
We next came to Byrkjedalstunet, a restaurant and candle factory and outlet.  The 500 square meter shop had probably the largest variety of colors and sizes of candles known to man.  It was impressive. [Check it out:  http://www.byrkjedalstunet.no/lys.htm  ]  Across the street was a reconstruction of an old summer mountain farm setting.  There were goats and sod roofed structures with old tools and implements. [Check this site out for photos; no English text: http://www.byrkjedalstunet.no/setertun.htm  ]
<![if !supportEmptyParas]> <![endif]>
Next up and out of the valley we headed toward the southwest to Gloppedal Scree (we called it "Valley of the Rocks" - a scree is an accumulation of rocky rubble)  Here HUGE (think really HUGE -- the size of cars and buildings) boulders had fallen from the cliffs into the valley.  Rolf told us two versions of the origin of this phenomena; one folk lore and one geological.  We liked the one where an evil farm was punished by the gods and all that could be heard was the rooster crowing far below (presumably from beneath the boulders.) [Check out this site for some good photos, but text is not in English:  http://www.byrkjedalstunet.no/gloppedal.htm<![if !supportNestedAnchors]><![endif]>  or check this page for a description in English: http://www.subtech.no/RogBase/bjerheim.htm#Gloppedalsura  Scroll up or down on this page for more photos and info on this area south of the Madland farm.] 
<![if !supportEmptyParas]> <![endif]>
Norwegians are proud about the WWII battle that took place here.  A small group of 250 Norwegian soldiers took on two battalions of Germans  (800) in one skirmish and kept them from advancing on Dirdal.  44 Germans and one Norwegian fell during this battle. 
<![if !supportEmptyParas]> <![endif]>
While we seemed to have left the fjord country, there were still numerous lakes to add blue reflections to the already majestic scenery of green hills and white boulders and cliffs.  We were traveling in a southwesterly direction towards the major highway 18 which would take us north toward Stavanger and out of Bjerkreim kommune and back in to Gjesdal kommune.  Just before we reached the town of Ålgård, we turned right, heading out a narrower paved road that would end at the Madland farm.  Rolf had made arrangements to meet a local farmer who was familiar with the old Madland place.  Rolf pulled up to the main farm in this area.  Here we met the person who farms most of this area; he was to be our tour guide.  Rolf would interpret for us.  We walked down the country land toward Madland Lake and the old Madland farm house.  It was a fine summer day and we were accompanied by the farmer's stock dog.  We passed two other homes; one was a summer place and the farmer's father lives in the other.  The Madland home itself is also a vacation home, but it is in excellent repair.  However, the owner was away that day and had taken the keys, so we couldn't go inside to see the restoration work that had been done.
<![if !supportEmptyParas]> <![endif]>
<![if !vml]>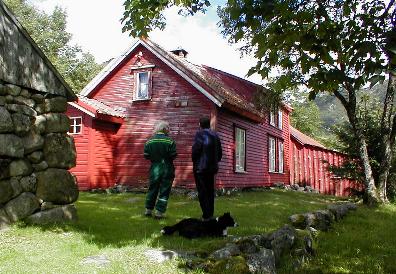 <![endif]><Old Madland farm house - farmer on left, Rolf on right - dog at the ready.
<![if !supportEmptyParas]> <![endif]>
This is the house where Keith's third great grandfather, Tormod Madland, was born in 1780.  His family had lived in this house for three generations before his birth.  That means that probably parts of the house were built around 1700 or before.  Other ancestors of Tormod were the first recorded owners of this farm and this was in the mid 1500's to about the mid 1600's.  The setting of this lovely farm was idyllic in that there was a stream running beside it and the near horizon was of a fine lake and sky giving it a genuine pastoral sense of peacefulness.  Attached to one end of the house was a barn and animal shed.  These were open and we were able to inspect the ancient notched and pegged timbers used in the construction.  Again we were impressed at how the well maintained exterior could mask such an ancient wooden structure.
<![if !supportEmptyParas]> <![endif]>
<![if !vml]>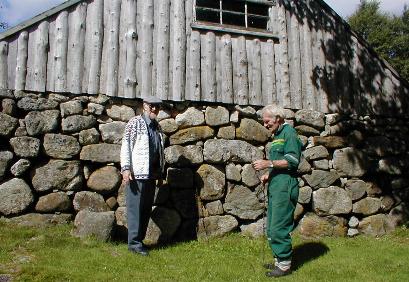 <![endif]>Just across the small door yard was a stunning out building whose foundation and most of its thick walls were of large loose stacked stone.  This was a huge building probably a combination barn and hay storage.  Again, the roof was framed with ancient poles, however, a more modern corrugated roof had been placed over the old roof planking.  On the south end of this building, was a "setting rock" of particular note.  Both of us had to sit upon it and we each found it extremely comfortable because of its contour.  The farmer suggested that Tormod's mother probably held him on her lap while she sat here in this protected sunny location.
<![if !supportEmptyParas]> <![endif]>
<Stone outbuilding with sitting rock behind Keith - farmer on right.>
<![if !supportEmptyParas]> <![endif]>
<![if !vml]>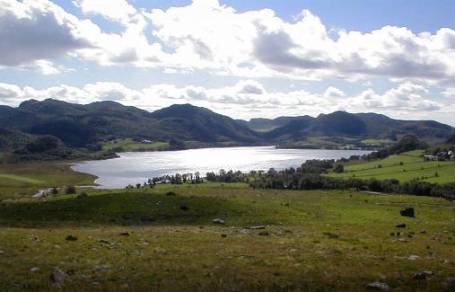 <![endif]>Before we left, we took a brief drive through a couple of locked gates up a steep dirt road to some upper grazing fields from where we could look down on the farm and the surrounding countryside.  Above and around us were many sheep and on a distant hill, we could hear (and see if we looked closely) the farmer's wife bringing in the cows for milking. 
<![if !supportEmptyParas]> <![endif]>
<Madland Lake and farm area - old farm house is in the trees in center foreground - creek follows horizontal line of trees on right.
<![if !supportEmptyParas]> <![endif]>
We left Madland and drove back to the west where we stopped at the old but well kept Gjesdal church.  Here we were shown the inside of this pleasant church by a friendly local lady and church member.  Keith and Rolf then inspected some of the adjacent cemetery.  Of course there were many "Madlands" buried here, but we had no time to search for any of Keith's distant relatives.  We were now late for our rendezvous with the history group.
<![if !supportEmptyParas]> <![endif]>
Skirting around the attractive Lima Lake, it was only a short distance to Limagarden Bygdatun on the edge of Ålgård.  This is a farm that has been turned into an historical center and museum.  We were greeted by 2 members of the Gjesdal History group, Gunleif, and two of Rolf's children who had bicycled there to help serve Norwegian waffles and jam.  Gunleif had been unable to locate us at the Madland farm, so had traveled on to the Limagarden center to wait for us.  Limagarden, by the way, means "the Lima farm."
<![if !vml]>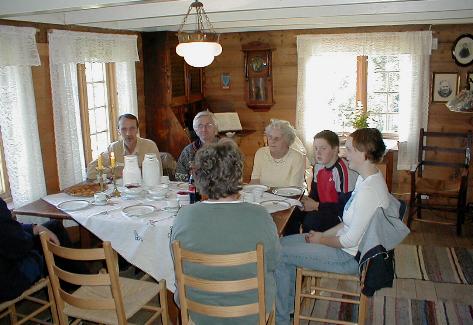 <![endif]>
This was not a particularly small museum.  It was quite a large farm house with several rooms, all of which were quite full of antiques and displays depicting life in another time.  In the living room the table was set to serve the refreshments, and after a brief tour of the house, we all sat down and enjoyed the pleasant company and surroundings.   
<![if !supportEmptyParas]> <![endif]>
< Inside the main Lima farm house with history group - Rolf cut off on the left, then Gunleif, two members of the history group, Rolf's son and daughter, Peg with back to camera.
<![if !supportEmptyParas]> <![endif]>
After the table was cleared, the three genealogists, Keith, Rolf, and Gunleif, fell to discussions and data comparisons.  Not surprisingly, a brief glance at Keith's ancestor chart revealed common ancestors -- yes, these two were cousins to Keith as well.  Interestingly, Rolf pointed out that the nice lady at the Gjesdal church was a cousin too.  Keith was particularly interested in getting information about the oldest Madland daughter, Marta, who had stayed behind and never emigrated.  Both Rolf and Gunleif gave Keith printouts with more information about his ancestors from this area.  They were very interested to learn more about the Madland descendants that emigrated, those that eventually settled in California and their descendants.
<![if !supportEmptyParas]> <![endif]>
This conversation in English had to be boring for the two center volunteers, but Keith was in his element.  Peg became restless and was curious enough about the other buildings to go out and walk around.  The volunteers soon joined her and a very thorough tour of ALL the buildings followed.  The two kids had long since bicycled home. 
<![if !supportEmptyParas]> <![endif]>
The rest of the center was impressive.  There was a model of the farm with archaeologist interpretations of how the land looked prehistorically.  This included a small stone age farm.  The larger barn housed a vast display of every farm implement imaginable and multiple examples of some.  In another building, there was an old 4 harness loom which was obviously used for demonstrations as it was completely warped and several inches of prior weaver's experiments were there.  The volunteers must have read Peg's mind and invited her to sit and throw a few shuttles.  This was exciting for Peg as she has had a longtime interest in textiles from the days she raised sheep and grew dye plants for the wool. 
<![if !supportEmptyParas]> <![endif]>
Eventually there was only one building left unexplored, and the guys were still talking.  The last building was the store room of uncatalogued donations.  Browsing among the shelves and cardboard boxes, Peg couldn't help but think of her mother and sisters who love this kind of thing.  The dishes alone would have brought groans of excitement to them.  Evidently, these items were awaiting their proper place in the history museum.  This place is a popular destination for school groups on history excursions as well as other community groups.  There were excellent facilities for classes and demonstrations of many kinds.  The dishes from our earlier refreshments had all be cleared away and washed in dishwasher, and the large modern kitchen was clean and neat for the next group.  This kitchen appeared to have been either recently remodeled or added on to in order facilitate the large groups that must come here.
<![if !supportEmptyParas]> <![endif]>
 [For more information on Limagarden Bygdatun:  http://home.netpower.no/nyboe/algard/guide/limagarden.html<![if !supportNestedAnchors]><![endif]>  ]
<![if !supportEmptyParas]> <![endif]>
Before leaving this group, Keith was presented with a copy of a book ("bygdebok") on farm and family history for Gjesdal kommune.  This was a very special book.  Even though it was written in Norwegian, Keith had become very excited as he was glancing through it and saw many of his ancestor's names.  Keith promised to send them all more information on the descendants of his Madland ancestors.  Good-byes were said to Rolf and the history group as Gunleif agreed to takes us back to the ferry by way of the Seldal farm and the town of Høle. 
<![if !supportEmptyParas]> <![endif]>
It had become late in the evening (around 9 o'clock) and the shadows and sunlight on the various land forms were making the already beautiful country even more so.  We went by quite a few lakes, arriving at the Seldal farm in the next kommune to the north.  Cousin Ernst Torkelson had brought us through this area on our whirl wind tour on the morning of the 4th of July.  On that trip, we had stopped at a crossroads that we now discovered was in the upper grazing regions of the large, original Seldal farm.  It was on this view of a rocky, rugged terrain, that Keith based his very qualified statement about understanding why ancestors had emigrated, part of which was regretfully quoted in the Stavanger Aftenblad.  Keith's statement to the reporter came out something like this, "A beautiful, but barren landscape. I can understand that they emigrated to find "fatter" (richer) grazing land, says Wheeler."  Keith continues to worry that he came across sounding like the "ugly American."
<![if !supportEmptyParas]> <![endif]>
<![if !vml]>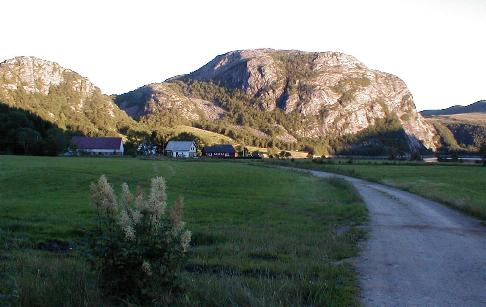 <![endif]><Seldal farm, Sandnes kommune - Seldal Lake barely showing on right.
<![if !supportEmptyParas]> <![endif]>
Gunleif took us down to where he was quite sure the original Seldal farm was located during the 1600's and 1700's when Keith's ancestors lived there.  This area was in stark contrast to the upper grazing land.  Similar to the Madland farm, the setting was beside a creek that flowed into a lake surrounded by what appeared to be flat, fertile farmland.  As it was getting late, we only had time to take a few photographs and then get back on the road. 
<![if !supportEmptyParas]> <![endif]>
<![if !vml]>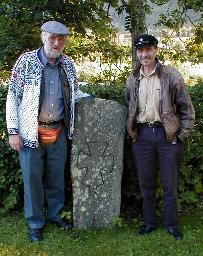 <![endif]>We then drove northward through the old Høle farm to the picturesque community of Høle.  Trying to get a picture to document this community where Keith had ancestors was a bit problematic because the sun was low in the sky making for only one good angle for the camera.  Gunleif showed us the old Høle church and cemetery where, if we had had more time, Keith could have spent hours searching for familiar names.
<![if !supportEmptyParas]> <![endif]>
<![if !supportEmptyParas]> <![endif]>
Keith & Gunleif at ancient stone marker in Høle Church yard. >
<![if !supportEmptyParas]> <![endif]>
<![if !supportEmptyParas]> <![endif]>
<![if !supportEmptyParas]> <![endif]>
<![if !supportEmptyParas]> <![endif]>
<![if !supportEmptyParas]> <![endif]>
<![if !supportEmptyParas]> <![endif]>
From Høle it is only a short drive to Lauvvik and the ferry.  The ferry ride back across the fjord was interesting in that there was a rare phenomena -- a sunset.  Even though it was quite cold, we stayed up on deck to watch it.  Returning  to Jørpeland after 10 PM (but still not dark), Kristian let it be known that this was a good time for crabbing -- the moon was full.  Just time to catch our breath before the next adventure.
<![if !supportEmptyParas]> <![endif]>
<![if !supportEmptyParas]> <![endif]>