Relatively little is known about Slooper Ole's middle son Soren. He was born, like his famous older brother, at Manchester near Niagara Falls, NY, but would spend most of his youth in north-central Illinois. Near the beginning of the Civil War he was recruited by his older brother in to the ranks of the Illinois company made up mostly of Norwegians from their home areas (Newark & Mission). Soren's company, Company F of the 36th Illinois Volunteers, went off to fight for the Union in September of 1861.
Soren was the lieutenant in command of Company F when he was killed in battle. The battle that ended the life of this 28 year old Norwegian-American was the Battle of Stones River near Murfreesboro, Tennessee. It is said that Soren's head was "blown off." (Norlie p 134) Soren's brother Porter, then a regimental Captain, writes the following in his account of the Stone's River Battle:
"At 2 o'clock P.M. I received orders from Gen. Sheridan to advance to the front to the left of the railroad .... We were here subject to very severe artillery fire. A twelve pound shell struck in the right of the regiment and killed Lieut. Soren L. Olson (a brave and faithful officer, commanding company F), Corporal Riggs, and wounding three others. ..." (Rosdail p 377)
See Soren's listing on Vesterheim's online Norwegians in the Civil War
His portrait scanned from small reproduction of page 380 of Rosdail's book, The Sloopers: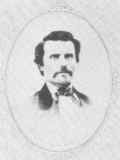 [click image for larger size]
_________________________________________
Lieutenant Soren Olson's Gravestone
in Stones River National Cemetery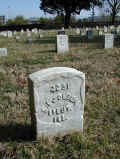 [click above for larger image]
Note that the Civil War headstone above spells his last name "Olsen."
The Stones River National Cemetery is located within the Stones River National Battlefield in central Tennessee and is now part of the US National Park System. See additional photos of this cemetery and battlefield, courtesy of Sherry Klein.
See the National Park Serviceís web site
And also Wikipedia's page for Stones River National Battlefield
For more on the battle that claimed Soren's life, see:
U.S. CIVIL WAR PHOTOGRAPHS - Stones River

&

CivilWarHome.com's: The Battle of Stones River (Murfreesboro)
_____________________________________________________