.
Porter is undoubtedly the most famous or well known of Slooper Ole's children. Rosdail, in his book The Sloopers, begins the almost 5 full pages on Porter with this statement:
Second in the Ole Olson family, was a son, Porter, who distinguished himself as Commander of the 36th Illinois Volunteers in the Civil War, and was killed in battle. (Rosdail p 375)
He held the rank of acting Brigadier General at the time of his death.
A most excellent article has been written about Porter Olson and the monument that stands in his honor in Illinois. This was written by Elmer Dickson and was originally published a Kendal Co., IL, historical society journal. It is now available on a RootsWeb page with the title of "Porter Olson Memorial".
The above online article by Dickson is highly recommended for a description of this prominent Norwegian-American and Civil War hero. For those Civil War buffs and/or those wanting additional life details and Porter's writings from the battle field, see the "Rasmus Anderson excerpt" linked HERE or in the left column.
.
See Porter's listing on Vesterheim's online Norwegians in the Civil War
.
His portrait scanned from the Rasmus B. Anderson book (see link on left):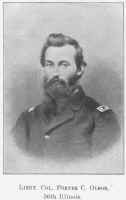 click image for larger size
2 ADDITIONAL SMALL PHOTOS OF PORTER OLSON,

thanks to Civil War "re-enactor" Mark Krausz.

Porter Olson in Union Officer's Uniform, unknown date

(no larger size of either photo available.)

Obviously a later picture, probably taken shortly before his death. His beard had turned gray even though he was still in his early 30's.
.
Read "CIVIL WAR BATTLE REPORTS OF PORTER C. OLSON" (3 Letters, 1st duplicating some of Rasmus Anderson excerpt.)
For more on the 36th Illinois Infantry Regiment, see:
For more on the battle in which Porter Olsen was killed, see:
Wikipedia's "Battle of Franklin II"

.
Furnished by Norwegian researcher Gunleif Seldal, a map showing:
Movements & Battlefields of 36th Ill. Inf. Regiment

For larger images, click on thumbnails below
Photo collection of Porter Olson Monument photos taken in winter 2003*

Millington-Newark Cemetery, Kendall County, Illinois
*Monument photos taken by volunteer members Anna M. & David J. of NorwayList in the support of a Norwegian research project by Gunleif Seldal telling the story of another Norwegian immigrant who served under Col. Olson, returned to Norway for his last years & is buried at the Høle Church cemetery. See photo below of unusual Civil War official grave marker for veteran Christ Lind now found southeast of Stavanger Norway.

_____________________________________________________