The New Year has turned, and since we have so greatly enjoyed all the holiday messages from friends this year, we've been inspired to create what you see here. It is our hope to update you all with the traveling and other pivotal events that have graced our family over the past couple of years. We further hope not to bore you nor brag overly, but it HAS been a rather eventful time.
In 2005, we sent neither cards nor letters, largely because of the abdication that comes when one is traveling. In November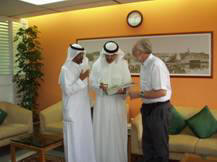 2005, Keith was invited to the Kingdom of Saudi Arabia, in order to donate slides from his military mission of 1960 to the Heritage Foundation (Al-Turath). Reluctant to go alone, he convinced me to join him. We bookended the tour with stays in Dubai. (which included one day of dhow-sailing in Oman.) We were treated royally, and Keith was amazed at the changes in Riyadh, while I was just plain-old amazed. I dealt with gender restrictions (including the black abaya) as best I could. We both came away feeling a fervent desire for others to understand the rich culture and sincere good will of these Arab and Muslim friends toward us. Keith continues to be an active student of this part of the world, but deeply concerned by what he strongly believes are horribly misguided political and military actions taken by the US in the Middle East.
In early December we flew to Honduras to spend 6 days of relaxing and snorkeling at Cayos Cochinos off the coast,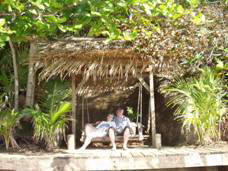 with our best traveling buddy, Sue Kosis. Afterward, we three visited a nature preserve and a beach resort on the mainland. When Sue had to go home to Michigan, we bussed inland to the Mayan ruins of Copán where we stayed several days longer than we meant to. A one-day drive took us to Antigua, Guatemala which we had to leave too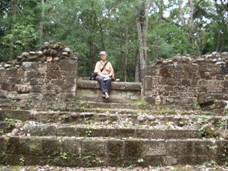 soon. Reservations and friends were waiting for us in Guadalajara, Mexico to take us to the state of Colima and Project Amigo facilities where we spent the holidays in the company of long-time friends, Ted Rose and Susan Hill. Mad River friends, Jack and Susan Rogers, joined us. Together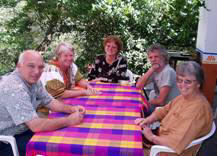 the four of us explored the Mexican state of Michoacán before the Rogers' returned to California, and we returned to Colima. We were thinking of checking out more of Central America. We weren't finished with Antigua; Nicaragua, Costa Rica, and Panama were also very intriguing as we continued to fantasize about being expats -- somewhere.
However, unhappy and unforeseen events were happening at home. Son, Richard had

broken his ankle on Christmas Eve, and complications were occurring. Then, sadly, Keith's nephew Steve, succumbed to a sudden heart attack on Jan 18. Adding sudden dental problems for Keith, we felt a need to come home, and did so. In early February, our dear, dear friend, Rotraud Slogvik passed away in Tysvær, Norway after a valiant 3 year battle with cancer. We miss her terribly. She was far too young.
Peg made three trips to Idaho helping her folks prepare to move. The sale of their place fell victim to the slowdown in real estate and remains unsold, so they are still there.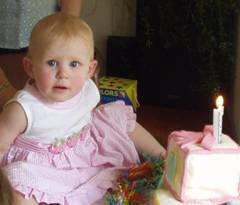 In early June our granddaughter, Anya, celebrated her first birthday. We have enjoyed getting to know her and watching her grow. What an amazing gift – to have a grandchild. Rich and Annabel have been immensely generous in letting her spend time at Mad River with us. She is a total delight – and so smart!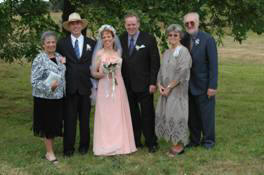 On June 30, daughter, Cheryl, married Mitch Lopate. Mitch is clearly Mr. Right, and we are ALL glad she waited -- especially her. They have moved to Alabama where they found a little farm they could afford. He is teaching English at the local Jr. College and she continues phlebotomy work with the Blood Bank in Boaz, AL. A sample of wedding photos are available on our new Picasa "Wedding of Cheryl & Mitch" site.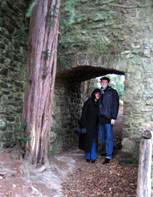 Kirk (aka Patrick) and Karen (youngest son and wife) made their big move in November this year. His company (Levi Strauss) moved them, their 2 cats and household items - including a grand piano, to Brussels, Belgium. THEY get to be the expats in the family. Oh boy! You can guess where our next trip will be. They have been enjoying exploring the old castles that abound in the countryside there. Visit their Picasa "Public Gallery" for some of their recent European photos.
We struggle along with the aches and pains expected for those of our age. Peg continues active with her local women's book club. News junky Keith keeps busy with his genealogy hobby, computer frustrations and active correspondence with friends around the globe.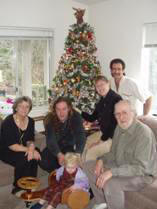 We closed the year with a pleasant and mellow Christmas among family and good friends. Note the "Anyamobile" (foreground) cleverly crafted by her Uncle Kent with some late night help from her dad.
Please accept our warm wishes that your 2007 year
will be meaningful, healthful and enjoyable,
& may a little more PEACE prevail in the world.
Keith and Peg Wheeler