From a personal journal kept in 1982

by Peg Wheeler

Excerpts pertaining to a late snow on Buck Mountain,

[Dinsmore area of

southeastern Humboldt County, California.]

We were in our 10th year of homesteading in a remote mountainous setting. Our older two children were on their own, Kent was a senior in high school and Kirk (Patrick) was a freshman. I was school librarian at Van Duzen Elementary, and Keith worked summers with USFS. The lifestyle was a continuous learning experience that seemed to deserve documenting. Now, it is awesome to look back on those times, our innocence, our sincerity, the effort, the outcome, and the satisfaction.

Title page to the journal
Mar. 28, Sun
A foot and a half of snow this morning. We had other plans. Kirk went to Oakland with his basketball team. We will need to go out and get him at Gordon's. Guess we shouldn't have taken the snow plow off.
We arrived to pick up Kirk. Left home 9:10 a.m. arrived at 12:20pm
He presented me with a bouquet of long stemmed red roses with a fern & baby's breath. How touchingly thoughtful.
There I was, guarding my precious bouquet on the turbulent ride home in Yellow Horse.
The snow plow broke. Will need to be welded. Won't make it to school tomorrow. Snow still coming down.
Tues. Mar 30.
We're snowed in!! 4 ft now with much more (3-5 ft) forecast over next few days.
Kent skied out yesterday. It's kinda neat he can do that. But it seems he's carrying this ski passion too far when I heard of him skiing down Hwy 36. thru Circle Z and Two Dott.
We tried to go out to work today but turned back at Snow Drift Summit. Probably 8-10 new inches since we plowed the evening before but 4-5ft. drifts over the road. Got [superintendent/principal] Dan [Goularte] ("Papa Tank") on the CB and made arrangements at school. It was a very pleasant relieved feeling to turn around and give up.
Mike & Vikki & 2 kids tried to get out & could have if their tractor hadn't broken down at Bull Pine Flats. They were forced to turn back and are staying in the octagon. This could be a several week ordeal.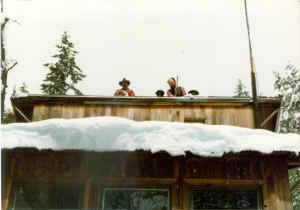 (photo of Mike, Keith and their dog friends on top of shop.
They were able to walk up the back side where the snow slide had created an easy ramp)
We spend the afternoon visiting and listening over the CB to other families' problems. Most all are snowed in. Ben Haidle is snowed-out. Terry Allen's rig is off the road at the Sore Thumb. Betty Haidle has a 6 ft. snow load capacity on their mobile home. Chuck Porcia doesn't have enuf hay for his horses so he's driving them down to Dinsmore Lodge tomorrow. The Kelley's (Todd and Carolyn) & Pat & Cheryl are recently back in their places for the coming growing season.
The snow slides off the roof often. It's getting hard to get around the house. The little window beside our bed is over half high with snow from the roof – will get out and shovel that out tomorrow.
It will be hard to keep the little ones amused. Will read to them and will make salt and flour clay.
The red roses are especially fragrant and lovely.
Our fuel for the cars is getting very low so we won't be able to make very many attempts to get out.
It's a little ironic that here we are, finally snowed in and it has to be with guests. It's a good thing they are as good a people as Mike and Vikki.
Fri a.m. 5:00 [April 2]
Can't sleep – very nervous. Mike & Vikki got out yesterday – barely.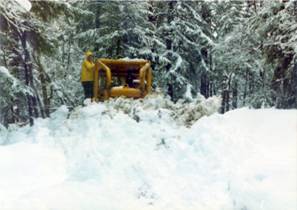 (Photo: Roy Church and Carl Warden arriving on Roy's D-8)
Roy Church dozed his D-8 up here yesterday – took him the entire day just to get this far. They left Ben here & went home for the night. We tried to urge them to bunk here but they weren't interested, saying they had dogs to feed.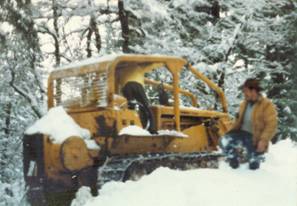 (photo of Mike Giacominni helping Roy Church park the D-8 at the Buck Mtn. place.
Mike and family then were able to get their pick-up out the trail Church had broken)
They (R. Church & Carl Warden) felt certain they could get up here again tomorrow (today). But it has been snowing and drifting steadily all night and they nearly didn't make it out last night. Ben's rig is stuck.
Much CB traffic all days. Keeping in touch with everyone. Kent is still out at Oak Leaf. I'm not worried about his safety. He may try to get in with Roy & Carl today. He can be a help. Snow Drift Summit seems to be the trouble maker. They talk of 8 ft. banks where Roy plowed. The weather reports indicate a lot more storm to come. Seems like it can't get worse and then it does.
Betty is still alone and not doing too well about it. But Ben is within a mile and Keith will break trail with the snowshoes if he has to in order to get Ben home today. Then if we could get Kent home, we could sit back and relax a little.
Yesterday was April first. Roy ran out of fuel at Bull Pine Flats so Keith & Mike snowshoed up with siphon equipment & got some out of Mike's broken-down cat and snowshoed it further to the D-8. This was done in record time but it still took too long and dark was nearly here when they arrived.
Ben stayed up till 11:30 with us & told us his life story – quite interesting and tension relieving. I drank too much wine which may explain my headache but it really feels more like tension. I must not drink so much coffee or eat so much salt.
Chuck decided to wait for Roy Church before taking his horses out but then yesterday when things seemed to be taking so long, he decided to make a dash for it today. I wonder how he'll do. It's getting light now & I do believe it's raining. The basic "mixed blessing" yay that it's warming up; boo that it will make the snow & other conditions more miserable – heavy etc.
There was an avalanche at Alpine Meadows Ski Resort where Rick and Mary [Harmon] work – serious I guess. 3 dead 12 missing. Beryl called R&M on the telephone and they are all right. Phew!
Total fall of snow adds up to around 5 ft. but it packs down with its own weight to considerably less than that.
April 2. continued
What a morning –
Kent is walking in from the highway. Church arrives around 8:00 to drive up with Mel Zabel. Chuck is taking out his horses and they flounder in deep drifts at Snowdrift Summit and Chuck P. sends out a desperate call on the walkie-talkie. He really sounds like he's dying. Meanwhile Keith & Ben have been able to plow only to Bull Pine Flats, so they set out from there to hike to Chuck. Ben has to turn back due to exhaustion – He chain smokes.
Meanwhile the meanwhile, Chuck gets his horses out and goes on his way but not before everyone (Betty, Beryl, Louise) decide to call out the F.S. Snowcat. When Chuck sends word that he's out & has met up with Kent everyone feels that their panic was premature.
Kent continues on and calls us from Ben's truck which is stuck at Mike's Meadow. Great relief! He is having a sandwich when Keith comes in view of him. Greater relief! It's slushing heavily all the time and so wonderful to have voice contact. They make it home finally with still enough energy to get Ben home. We're all going out to do that – I can't stand waiting here. My stomach is a knot.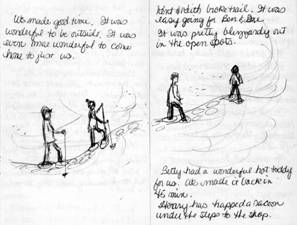 (image of pages from original journal with sketch of snowshoeing trek to Haidle's)
We made good time. It was wonderful to be outside. It was even more wonderful to come home to just us. Kent & Keith broke trail. It was easy going for Ben and me. It was pretty blizzardy out in the open spots. Betty had a wonderful hot toddy for us. We made it back in 45 min. Henry has trapped a raccoon under the steps to the shop.
Sat. April 3
They've cancelled school until the 13th. That takes a great deal of the pressure off. I've picked up a lousy head cold. Keith & Kent showshoed down to Todd Kelly & Carolyn's. (They are okay) and to Pat& Cheryl's. (They are also okay) Chuck is snowshoeing back in from Dinsmore. It takes him all day. He thinks he hears rifle shots. It snowed heavily most of the day.
Su. April 4
Spent most of day in bed. Keith tries to clear road around here to get at firewood. In the process, the front end goes out on Yellow Horse.
"Yellow Horse" [1964 Toyota Land Cruiser] parked by Thompson Creek & plowing near Buckhorn Summit.
That's both 4-W-D vehicles out of commission. It will be some time before we recover from this winter . . . -- financially and road condition-wise.
The green house is very warm. Should get going on many projects but crises keep intervening. This snow is not as deep as '74. But there seems to be more energy expended. Perhaps I don't remember '74 that well, but more likely it's having so many people up here now; and with CB contact feeling some response ability to them.
There was an effort this eve via CB to get a consensus of what people wanted to do re: having Roy Church come up to plow us out. Several people are comfortable yet and wanted to wait until the storms quit – now predicted for Wed or Thurs. Us, Shreeves, Porchia (Haidle had gone to bed) Others were more anxious – Petersons, Allen, Pollard, Bartee, Weaver, Johnansen
Tensions are growing among neighbors. It seems to be very difficult to admit to not being okay. It seems that the more anxious ones should take precedence so Roy Church was contacted. He agreed to try to get into his cat (which is still here) by horseback tomorrow. Porcia and Pollard will shovel at Snowdrift Summit. (God! I can't believe how appropriate that name has become this year) Kent is scheduled to go to Haidle's & shovel snow off their roof for them tomorrow. They said they'd pay him.
Did some snowshoeing around my flower garden behind/above the house. I was looking for the red VW hood that we use for a sled. It was a weird sensation trying to identify various lumps in the snow. The stuff is above windowsill height.
Kirk has an awful case of ring worm (we think) so we painted him with gentian violet. He looks a sight.
Cheryl's moonwalker boots have been wonderful.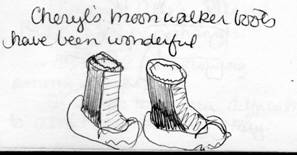 (image from original journal)
Keith is low on tobacco – the refrig has run out of propane – ha!
April 5 Monday - 97" total snow to date
Church tried all day to get in. In early afternoon, they called from Snowdrift Summit & wanted Keith to bring the Cat out to them. Keith has never driven anything bigger than a D-4 before, so there was over an hour of instruction on how to start the thing. It went thru Roy at Ben's pickup thru Steve Pollard, thru me at the house & Keith over at the cat which was parked by the barn. Keith finally got it going and headed out. Pretty hairy for him. It got high centered off the road once. He was met at Arrowhead Flat by Church's son and Chuck on snowshoes. They took it on to the highway. Keith walked back.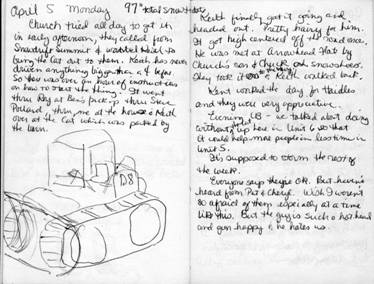 (image from original journal - sketch of Church's D8 Cat)
Kent worked the day for Haidle's and they were very appreciative. Evening CB – we talked about doing without the Cat up here in Unit 6 so that it could help more people in less time in Unit 5. It's supposed to storm the rest of the week. Everyone says they're okay, but haven't heard from Pat & Cheryl. Wish I weren't so afraid of them especially at a time like this. But the guy is such a hot head and gun happy & he hates us.
April 6 Tues.
A nice day working in barn. Not concerned with the others. An interesting sociological/psych drama going on. Not to mention weather pattern. Sure wish we could shut all the others out sometimes. The entire nation is receiving blizzard/winter conditions with Easter a few days away. It's totally amazing. I heard one report that this could go on for 3 weeks yet. We'll be hurting for firewood first.
It seems so foolish for so many of these people to not have reasonably large quantities of food on hand when they're living so remotely. It feels wrong to criticize life styles but damn it—. . .
And then also, this has been a very freak storm. Never before in all recorded history has there been this much snow in April. Who could have anticipated all this?
April 7 Wed.
Spent most of the day digging out cars & trying to determine the front end problems on YH. Gave up.
April 8 Thursday
Worked on getting firewood with sled. Kent snowshoed to Dairy Creekers. I worked in green house. It's heating up nicely during the day; need to check it in a.m. Tim Stretton skied in. Shit hit the fan over Terry Allen calling in the F.S. Snowcat. Food is getting boring. Terry called for the snowcat secretly (he thought) thru Beryl Peterson on "Talk to you later" – Channel 17 – to Bill Sellman his friend in Dinsmore.
When confronted over CB by Ben Haidle, Terry lied that his friend Bill sent it up. Ben really let loose both barrels & sparks flew. I cut in saying that we'd heard the secret call and Ben wasn't to take the full heat. Terry backed off fast. We found out later that several other people had heard it too. I guess Terry needs to lie to cover the fact that he hasn't got his act together. But the sad part was that all of us had been pulling together and getting supplies to one another – Busting butt – Dairy Creekers were down to rice flour& had just the day before given Terry some of their dogfood. It was a regrettable situation. Terry could have said "I'm calling in the cat for me; does anyone else need anything?" This experience has brought out the best in some people and the worst in others.
April 9 Fri.
Roy Church is heading back here with his D-8. We expected him by noon so the Dairy Creekers hiked up – Kent and Tim fetched them on snowshoes. Chuck and Linda were getting groceries and supplies in Eureka. We waited all day / revising our revised plans many times. Very frustrating. One of the more anxious days. Roy didn't get here till night fall. He left the Cat here and Keith and I rode in back of Ben's pick –up to Snowdrift Summit. In front was Roy, his son Kenny, Todd & Carolyn who rode out with them in their pick-up (Kenny's) We waited there for Chuck to bring up supplies. It was a lovely full-moon night. We had a peaceful time catching up on visiting. The moon & the lacy black oaks with the scattered clouds were special and will be remembered. Chuck, Linda & little Mike had to walk up the ¼ mile to their place without snow shoes. I guess they had a pretty ruff time. We didn't get to bed till 2:00 am.
April 10 Sat
We took Ben's truck to Dinsmore for supplies and to get Grey Wolf (1977 Toyota Land Cruiser) out. It's raining hard and making a real mess out of everything. Left GW @ Haslam's. Saw Mavis in Dinsmore. She'll send my check to the bank for me. Got back late 3:00 so couldn't get Ben & Betty's snowshoes to them till tomorrow. Kent, Tim & Kerry showshoed Kerry's supplies to their place.
There's some sort of truism about not being able to get out even if you don't need anything. It's not having the choice that seems to matter. We have a lot of food now.
April 11 Sunday (Easter – really) We're to hike (snowshoe) to Ben & Betty's today. Hope we can make it. They need to talk to someone. It is still raining; the creek is up. The Pelton wheel is down.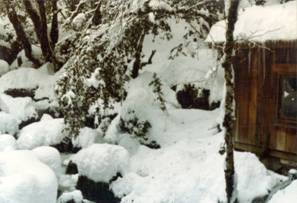 (photo of Pelton House and Thompson Creek during April snow of 1982)
Wish I could find something positive in all this but it's hard. The road is nearly gone – it's very depressing.
April 12 Monday
The hike to Haidle's was good and I realize my body can do more than I expect sometimes. I may have lost some weight. I would certainly like to be more physically flexible & I feel ready to do something about it. My stomach has been so nervous & upset that I can't eat anything anyway. Today I will be trying to organize the household for me being gone for a few days. I will hike out to work tomorrow.
April 13 Tues.
I hiked the 6 miles in 2 ½ hours. I think this is the first time I have walked the whole road in all the time we've lived here. Had an extremely difficult time plugging into school. Stayed over with Becky & Craig. We went to Fortuna to a dinner & a show. [Raiders of the Lost Ark] It was very good to get my mind off my trouble & pressures for a while. Still raining.
April 14 Wed
Keith hiked out in 1 ½ hour to take Gray Wolf to town for repair of steering knuckle. He was delayed because I had the key and because the highway had washed away. He stayed over with Ted Rose. I stayed with Jackie and Pat Savage and in their luxury, for the first time I began to question what we are doing. It certainly is inconvenient – but convenience is not what life is about truly. Oh well. Kent was going to try to get home to Kirk but didn't because it was snowing again.
April 15 Thursday
A clear Day !!!
Keith came back and was delayed at Bridgeville due to local vigilante action re: hold-up. The drive in was depressing. All our road work gone. At least we had a home to come to. It was not tornadoed or flooded away as some have been this winter. We just take one day at a time & do what we can.
April 16 Fri
Another clear day !!!
Kent set up laundry [at Dinsmore Laundromat] and we finished it together. 3 weeks worth – a feeling of accomplishment there.
Keith found broken axle on Yellow Horse.
A week –end--!
April 17 Sat
We worked in greenhouse mixing potting soil. Ben and Betty hiked down. We had lunch together. They're okay.
April 18 Sun.
We worked on the road. Still a lot we can't do til snow melts.
(image from original journal)
The daffodils are coming back to life although many were crushed under the weight of the snow. Despite what the USFS recommends it is perhaps not wise to prune the bottom branches of firs. The snow on the tops make them heavier & they bend over & get caught in the heavy pack. I hope they straighten back ok.
Everyone was very angry at one another today. It seems each of us had our own ideas and were unwilling to hear the other's. We got in a little firewood and Keith worked on Yellow-Horse's broken axle & sheared hubs.
The grape hyacinths are cute. I'd like them to naturalize.
April 25 Mon
How desperate seemed the urgency to begin on the garden. Now that some seeds were planted yesterday (carrot/onion/parsnip/peas) all seems in order and within the limits of its own season. After all, the apple trees are not yet blooming even. Getting the tilling done puts promise in perspective. The soil truly does improve in tilth over the years. One pass with a worn-tined tiller and it's practically ready to plant.
^^^^^^^^^^^^^^^^^^^^^^^^^^^^^^^^^^^^^^^^^^^^^^^
########################################
To WheelerFolk.org homepage To Wheeler Family Photo Albums